Review: Plant Power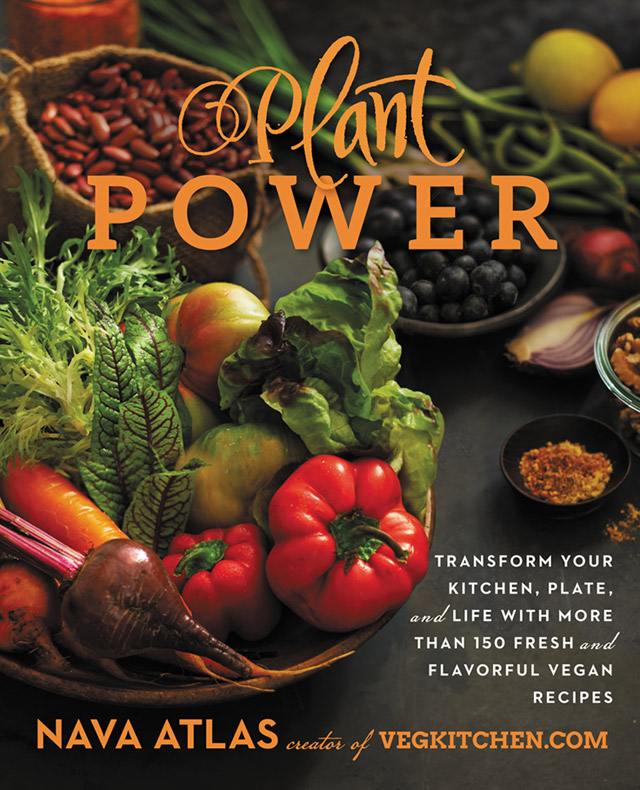 An approachable, non-intimidating entry into the world of cooking, Nava Atlas delivers on taste and ease to pique your culinary curiosity.
Plant Power by Nava Atlas is a cookbook I would immediately recommend when approached for suggestions for those new to vegan cooking. This cookbook is aimed at the beginner and novice cook, one who is plant-strong, plant-based, or plant-curious. ([aside] *those terms again!*). With over 150 recipes, there is plenty to learn in this cookbook.
The book begins with an extensive introduction, where Nava touches on her journey, plant-based diet myths, nutrition basics, and pantry and kitchen stocking. Very helpful also is the meal planning basics followed by make-ahead staples for the week. It is this sort of information that is peppered throughout – something that I learned through trial and error, and something I would have greatly appreciated someone telling me in digestible format when I began my culinary journey.
Please Stand-By
After the introduction, the recipes begin. I love how the cookbook is sorted – Nava's based her recipes on what I refer to as vegan stand-by's. Plant Powered Protein features mighty legumes; Bountiful Bowlfuls need no introduction, Pasta and Pizza, Asian, Tortilla Specialities, Wraps, Sandwiches and Burgers, Main-Event Veggies, and the misc. category: Breakfast, Lunch, Snacks, and Sweets. The chapters begin and end with useful information, such as simple side-dishes, simple salad suggestions, and how (and what) to roast. These sections are substantial, and serve as the method and building blocks for the recipe creation that follows. For instance, in Building Sensational Stir-Fries, Nava steps us through the process: choose your carbs, make the sauce, prep the vegetables (and make sure there's a mixture of hard, soft, quick), choose your protein, and cook. Also included is seemingly random information such as how to properly arrange a fruit platter and other such tidbits that the careful reader will pick up on.
The other novelty that this cookbook has and I embrace is the recipe structure. Most recipes are bare-bones recipes which taste great in their own right, but are written as launching pads to explore and make it your own based on the contents of your fridge. It is not uncommon for the variation suggestions – almost always more than a handful – to be longer than the recipe itself. In addition to the variations, most recipes have menu suggestions to 'complete the meal': add some grains, legumes, vegetables, and tweak the recipe separately to make it a filling, complete meal. Suggestions are also made for appropriate full meal side dishes with complimentary flavour profiles.
Regularly Scheduled Programming
What I consider basic staples of any culinary journey are included: Gingery Miso Soup, Latin American-Style Black Beans and Rice, Hummus, Quinoa Tabbouleh, Fresh Tomato Salsa, and Unbaked Fudgy Brownies. I tested some old favourites and some new-to-me recipes, for some variation. Old favourites that were solid weeknight meals included Curried Chickpea, Eggplant, and Green Bean Stew, a basic curry featuring the title ingredients. A great introduction to the world of curries, it was simple and filling. The other classic which I was excited to remember was the Sesame-Ginger Dressing. Normally I do not add ginger to my "Asian" vinaigrette, and the spicy, bright ginger was fantastic. New-to-me surprises included the Pasta with Beans and Greens with Variations, a prime example of how many variations one recipe can take. I made the basic recipe for the benchmark, and have since made more than one variation. The recipe is 'quintessential Italian' featuring fresh basil and sundried tomatoes in a fresh and vibrant pasta sauce. I threw this together very quickly, and it was devoured in the same amount of time. A fantastic dish for all seasons, I have some ideas for additional variations (above and beyond those suggested!): the Italian pasta sauce would marry well with spring produce of greens and asparagus, the summer glut of zucchini and eggplant, and brighten up winter squashes. The other recipe that I loved was the Asian Noodle Bowl with the Japanese-Style Carrot-Ginger Dressing. The Asian Noodle Bowl is a basic bowl heaped with simple pan-seared tempeh or tofu, bok choy, mushrooms, broccoli, spinach, and green onions. I paired it with the sublime Japanese-Style Carrot dressing, with the simple ingredients of carrots, ginger, rice vinegar, and a splash of sesame oil. The dressing was fantastic – super bright, super orange, and super delicious. I am not a Japanese food expert by any means, so I cannot comment if it is true to its origins, but I can comment on how delicious it is. Bright and cheerful, this dressing will be on rotation.
Overall, this cookbook is an approachable introduction to the kitchen, and a great basic cookbook for those trying out a plant-based diet. I learned some new flavour combinations, and found the recipe approach quite refreshing. It is perfect for the new cook, as it provides enough structure for a 'recipe' feel, but enough freedom to riff off the recipe and make it your own. With detailed substitutions for completely different dishes, culinary exploration and guidance is as easy as looking at the atlas. The "complete the meal" suggestions are also well thought out, and would make a fantastic feast.
The publishers have generously allowed me to share a recipe with you. The Asian Noodle Bowl with the Japanese-Style Carrot-Ginger Dressing was a favourite, and with the breadth of variations suggested and 'completing the meal' suggestions, it clearly illustrates how the book is structured and all the different dishes that could result just from knowing the basic building blocks. I hope you enjoy this platter and surprising dressing as much as I did.
For more information on Nava's books, please see her website. To purchase the book through Amazon, please click here
.*
Reviewed by Katie Hay
When Katie isn't exploring new cuisines and challenging food conceptions in the kitchen, she can be found at farmer's markets, building and designing bicycles, and planning her next life adventure.
*This post contains affiliate links. If the product is purchased by linking through this review, T.O.F.U. receives a modest commission.
Asian noodle bowls
Once you get the hang of this recipe, which is about equal parts soup and noodle dish, you'll want to make it whenever you crave a warming Asian-style meal that's ready in minutes. Make sure to gather up and prepare your veggies before starting, as the entire procedure goes very quickly after the noodles are soaked. Also, make sure the veggies are barely cooked so that they retain the maximum amount of flavor, color, and crunch. Bean threads are readily available in the Asian foods section of many supermarkets as well as in natural foods stores. You can also use other kinds of noodles, cooked according to package directions, and other vegetables, according to what you have on hand.
Serves 4
Three 2- ounce bundles bean threads
One 32- ounce container low- sodium vegetable broth
2 to 3 teaspoons minced or grated fresh ginger
1 to 1 1/2 cups sliced brown mushrooms, such as shiitake or baby bella
2 large celery or bok choy stalks, sliced diagonally, or 1 to 2 baby bok choy, sliced on a slight diagonal
1 medium red bell pepper, cut into short, narrow strips
1 cup frozen green peas, thawed
2 tablespoons reduced- sodium natural soy sauce or tamari
2 to 3 big handfuls baby spinach
3 scallions, thinly sliced (white and green parts), plus more for garnish if desired
Freshly ground pepper to taste
Place the noodles in a shallow heatproof container. Add boiling water to cover, then cover the container and let the noodles soak for 15 minutes, or until al dente.
Heat the broth in a small soup pot with the ginger and the mushrooms. When it comes to a gentle boil, add the celery or bok choy, bell pepper, and peas.
Return to a simmer and stir in the soy sauce, spinach, and scallions. Remove from the heat and grind in some pepper.
Once the noodles are done, drain them and cut here and there with kitchen shears or a knife to shorten, as they are very long. Divide them among four large soup bowls. Ladle the soup over them, garnish with scallions, if desired, and serve at once.
Per serving Calories: 219; Total fat: 0g; Protein: 4g; Carbohydrates: 50g; Fiber: 4g;
Sodium: 500mg
Complete the Meal
Serve with Double Fruit- Glazed Tofu (page 193) and a platter of baby carrots and cherry or grape tomatoes.
This serves as a nice introduction to Chinese- Style Vegetable Fried Rice (page
208) and any of the simple salad ideas on page 223.
Japanese-style carrot-ginger dressing
Whenever I go out for veggie sushi, I enjoy the gingery carrot dressing that comes atop the accompanying simple salad of tender greens. It turns out that this dressing is easy to duplicate at home. Serve it with leafy salads as part of Asian- style meals. See the photo on page 194 for one such delectable repast, featuring Skillet Tofu Teriyaki and store- bought vegetable sushi.
Makes about 1 cup (4 servings)
3 medium carrots, peeled and cut into chunks, or 1 cup baby carrots
1- to 2- inch piece peeled fresh ginger, or to taste
3 tablespoons rice vinegar, white wine vinegar, or apple cider vinegar
Pinch of salt
Pinch of natural granulated sugar
2 teaspoons dark sesame oil (optional)
Combine all the ingredients in a food processor. Pulse until the carrots and ginger are finely chopped.
Add 2 tablespoons water and let the machine run until the mixture turns into a coarse puree. Scrape down the sides of the work bowl from time to time. If you'd like a thinner consistency, add a little more water and let the machine run again. This is meant to be fairly thick, so don't overdo it with water.
Transfer to a small bowl and serve by spooning about 1/4 cup over the top of each salad.
Store any leftovers in a tightly lidded container in the refrigerator, where this will keep for
3 or 4 days. Stir before each use.
Per 4 – tablespoon serving: Calories: 9; Total fat: 0g; Protein: 0g; Carbohydrates: 2g; Fiber: 0g; Sodium: 42mg
Extracted from Plant Power by Nava Atlas. Published 2014 by HarperOne, imprint of HarperCollins Publishers.
Jul. 31, 2015
Comments Off on Review: Plant Power
Related Posts