Review: Rawsome Vegan Baking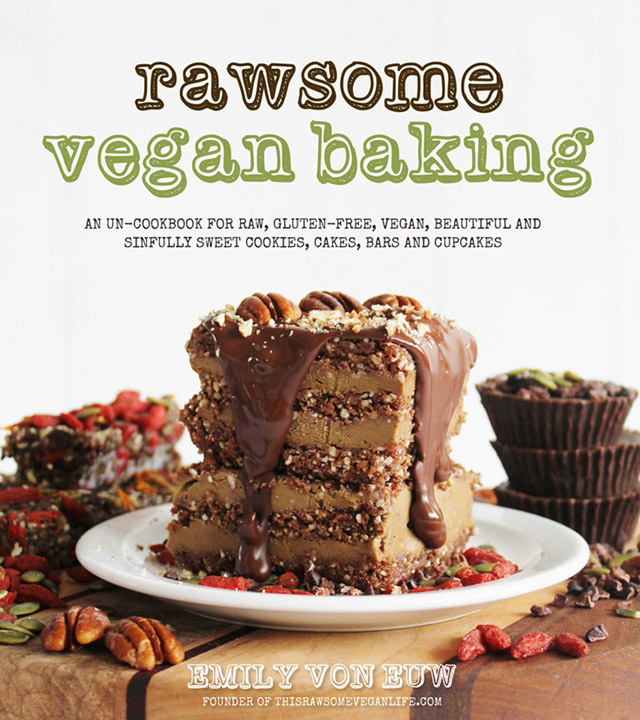 The Un-Cookbook of raw desserts, this tome proves once again that nothing bad comes out of a food processor.
It's hard to believe that Emily von Euw was only 18 when she started her first cookbook, Rawsome Vegan Baking. Author of the blog This Rawsome Vegan Life, it was no surprise when she penned her first book three years ago. She also did all the photography for the book, with pictures for almost every recipe. In the style of Vanessa Rees, the photographs are creative and enticing. The recipes themselves are inventive and simple, with a natural and uncanny ability at flavour pairings that exhibit so much talent and intuition, far beyond what her calendar age would suggest.
Slow and Steady Eats the Cookie
My sweet tooth is lamentable. I am notorious for taking six months to eat six cookies, and chocolate in my house lasts years. My favourite dessert is frozen banana with matcha powder sprinkled on top, as I am often too lazy to clean the blender and make a smoothie out of it. But when offered the opportunity to review this cookbook, a dessert cookbook, I knew I couldn't turn it down. With a refreshingly short introduction of two pages, Emily dives right into the good stuff: Cakes and Cupcakes, Bites, Bars & Cookies, Pies & Tarts, Pudding & Ice Cream, and Basic Recipes. When I first read through the cookbook, what immediately struck me (after the pictures) was Emily's preference for wholesome ingredients: prominent sweeteners are whole fruits, date paste, and the occasional coconut sugar. The bulk of the doughs are made from nuts and/or seeds, with the creamy fillings made from coconut meat, cocoa butter, bananas, or avocados. With characteristic brevity and humour, Emily notes in the Substitutions section: "Food is personal! … [Regarding substitutions of nuts, fruits, coconut, gluten, fat, etc. ] I promise you will be able to find something that works, or else I'll eat my hat." She gives you full artistic licence to play – her cookbook is just a starting point to discover the world of raw desserts.* With a list of over 40 recipes to try, it took me just over six months to test out a handful. I'm slowly working at the list, but with six or so recipes under my belt, it was time to share the glories.
Emily was the person responsible for introducing me to Banana Ice Cream, the Best Thing Ever. Ingredient: frozen banana. I hate bananas, but when frozen and made into soft serve, it somehow doesn't taste like banana, and reminds me more of the DQ soft-serve I grew up with. This led naturally to the next recipe, The Real Banana Split. A giant bowl of banana ice cream, with three flavours: vanilla, chocolate, and strawberry. Emily shows you how to batch whip these up, so your food processor isn't contaminated with the previous flavour and you only have to clean the processor once. Decadent and divine, it was a refreshing, delicious take on the classic. This also opened my eyes to other flavours, and I've since made both matcha and tahini ice cream, which were great!
Addicted to tahini, I knew my next trial was Hippie Halva. The complete ingredient list is sesame seeds, dates, and salt, and it is the best halva I've ever had. Not grainy and tooth-achingly sweet like commercial halva, this is a bite-sized fudgy morsel that tastes great. Leftovers freeze well, and, when incorporated into the soft serve, result in a halva blizzard. Who can resist that? To feed the tahini addiction, I have made a mental note to take it to the next level: halva, banana soft serve, tahini, and pomegranate molasses. Inspired by a splurge purchase at the store, I also made the Maca Cacao Truffles, not knowing what maca was. Maca is a traditional food from Peru, and was in vogue a couple of years back as the next big superfood. It gives a caramel flavour to dishes, and is a natural pairing with chocolate. These truffles are composed of nuts, dates, maca, and chocolate, and are luscious morsels perfect for on-the-go snacks or post-workout fuel. I loved the slight caramel that maca lended to the truffle, and, when frozen, it tasted almost like a caramel chocolate fudge ball.
The last recipe I have made (so far) was the Carrot Cake with Cashew Cream Cheese Frosting. Emily now has multiple carrot cake recipes on her blog: this is the original. Perfectly spiced and not overpowered by nutmeg, this carrot cake is carroty, a bit nutty, and a home run. I have since made them into truffles for bite-sized portable snacks, optimal deliciousness, and minimal mess when running out the door. My new birthday cake, this has it all. Still to make recipes include Buckwheat and Berry Cake, a cake where buckwheat is the base of the cream layer; Mini Beet Mousse Cakes with Sweet Cashew Cream and Spiced Nuts, cakes that are as pretty as jewels and just sound so inventive; Totally Tahini Cups with Coffee Cream Filling, 'inside out' Reece's Pieces to feed my tahini and coffee addiction at the same time; and Ice Cream Sandwiches with Rosemary Almond Cookies and Berry Medley Ice Cream, a dessert combination that sounds so odd it must work.
Rich in Personality
Most recipes are made of easy to find ingredients, common to any grocery store. Directions are simple: pulse in food processor, shape in the appropriate pan, and layer and freeze if required. Cleanup is the best part – as a vegan dessert cookbook, you can lick the bowl clean and eat as much 'raw' dough as you want! It is a nut-heavy book, making the desserts quite rich – a small morsel satisfied my desire for something decadent. Encouraged however by Emily's insistence of making the recipes your own, as well as her personal evolution in diet, I've used some substitutions in the past to make the dishes lighter. The cookbook itself is a delight to read, with Emily's personality on every page and in every photo. Some blurbs made me laugh, some made me think, and others taught me something about the secret powers of different ingredients. The photos I am sure took a lot of effort to attain that perfect composition – not a photographer, I think they would be difficult just from not eating the subject matter.
Since her debut, she has written and photographed a second book, 100 Best Smoothies, Juices, and Healthy Snacks, and has a third in the works, The Rawsome Vegan Cookbook set to release December 8, 2015. A long-time fan of her savoury creations, I cannot wait to dive into the third cookbook. If her instagram account is any representation, we are in for a world of flavour and creativity.
To whet your appetite with Emily's creations, the publishers have kindly let me share with you a recipe from the cookbook. Many are on her website, so I chose one exclusive to the book. I have yet to try it, but it's the first one to be made for my next summer BBQ. Triple Threat Chocolate Cake with Avocado Cacao Ganache and Ginger Chocolate Sauce looks to be the epitome of Emily: an unexpected ingredient with avocado ganache, and the spicy pairing of ginger and chocolate to surprise the mouth. Fancy enough for company, but with only a food processor required, you don't have to disclose how simple it actually was. Enjoy!
For more info on Emily's books, please see her website.
To purchase the book through Amazon, please click here
.**
Reviewed by Katie Hay
When Katie isn't exploring new cuisines and challenging food conceptions in the kitchen, she can be found at farmer's markets, building and designing bicycles, and planning her next life adventure.
* Since publishing the book, Emily has made a concentrated effort in providing all tested substitutions for recipes on her blog. If unsure if something works, or just curious, I strongly urge you to check out a couple of her recipes. I have my eye on the Banana Bread Cookies With Coconut Cream, personally.
** This post contains affiliate links. If the product is purchased by linking through this review, T.O.F.U. receives a modest commission.
Triple-Threat Chocolate Cake with Avocado Cacao Ganache & Ginger Chocolate Sauce
Unlike a lot of other raw vegan chocolate cake recipes I have seen, this one isn't overloaded with calorically dense nuts (hurray for buckwheat!). I love adding spices such as chile and ginger to chocolate because they enhance the natural flavor and really open up your palate. You create a delectable balance of bitter, spicy and sweet. The original lovers of cacao—the Mayans—paired their chocolate drinks with chile and called it "the food of the gods"… mmm, gimme a piece o' dat!
> Makes: 2 to 4 servings
Cake
1 cup (170 g) buckwheat groats
1 cup (100 g) raw pecans
1 cup (175 g) pitted dates
3 tablespoons (22 g) carob powder
Ganache
2 avocados
2 tablespoons (30 ml) melted coconut oil
2 tablespoons (40 g) preferred liquid sweetener
2 tablespoons (15 g) cacao powder
1/4 teaspoon chili powder
Sauce
3 tablespoons (23 g) cacao powder
3 tablespoons (45 ml) melted coconut oil
3 tablespoons (60 g) preferred liquid sweetener
1/4 teaspoon ground ginger
To Make the Cake: Process the buckwheat into flour in your food processor, then add the pecans and process the same again. Add the dates and carob and process until it all starts to stick together. Press one-third of this mixture into the bottom of a parchment paper–lined loaf pan, and then gently pull up the lining so the layer of pressed cake comes out in one piece. Set this aside and do it again with half of the remaining mixture. With the rest of your cake mixture, press into the bottom of the pan and leave it there.
To Make the Ganache: Blend everything in your food processor until smooth. Spread two-thirds of this onto the layer in the bottom of your pan. Then carefully add one of the layers you have set aside. Repeat. Put in the fridge overnight to set. If you want an ice-cream cake, put it in the freezer (it's also easier to handle when frozen).
To Make the Sauce: Mix everything together until smooth and combined. Take out your cake. Separate the cake from the sides of the pan with a knife and then flip the pan over. The cake should fall out but if it doesn't, give the pan a good shake. Now cut your cake into four sections and drizzle each one with your sauce. I stacked two sections on top of each other because more cake = better.
Jul. 14, 2015
Comments Off on Review: Rawsome Vegan Baking
Related Posts