Interview for xclusivx DIY Fanzine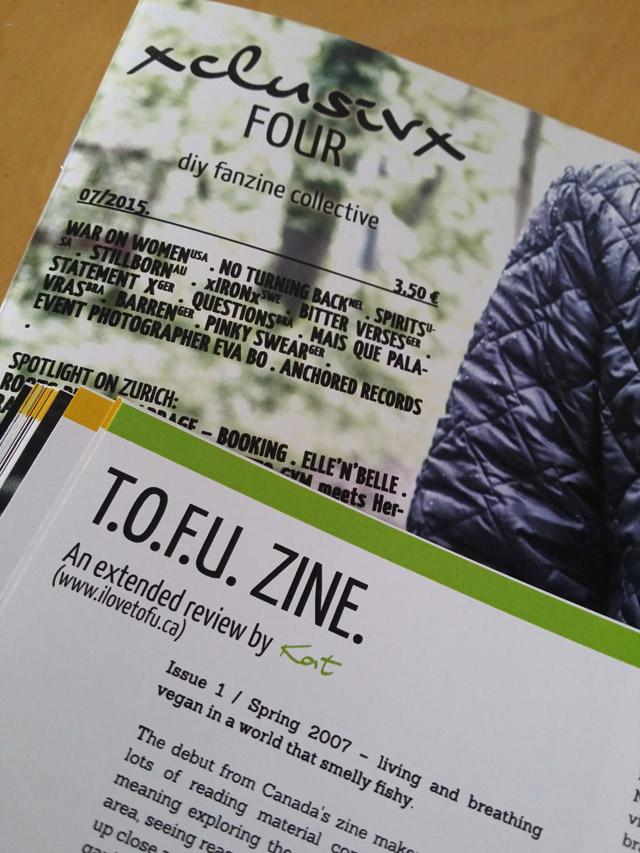 Finding out about other indie publications around the world is one of the many cool things that has come out of working on T.O.F.U., and connecting with xclusivx in Europe is on that list for sure.
Started in 2013, xclusivx is created by a passionate group of people who self-publish their magazine, and I was happy to be asked to be a part of the fourth one earlier this year.
I don't talk much about being straightedge, partially due to some of the more negative connotations that have unfortunately been attached to it, but it was nice to discuss another aspect of my desire to do no harm to others and myself with folks who held similar ideas.
Along with touching on straightedge culture, I also had a chance to talk about the future of the magazine, the importance of being an independent publisher, and more.
Of course, the fourth issue contains plenty of other great things, including an interview with Shawna Potter of War On Women, and a focus on being vegan in Zurich.
Find out more about the fourth issue here.
You can find xclusivx in the following ways:
Website | Store | Facebook | Instagram | YouTube
Aug. 17, 2015
Comments Off on Interview for xclusivx DIY Fanzine
Related Posts