Review: Rawmazing by Susan Powers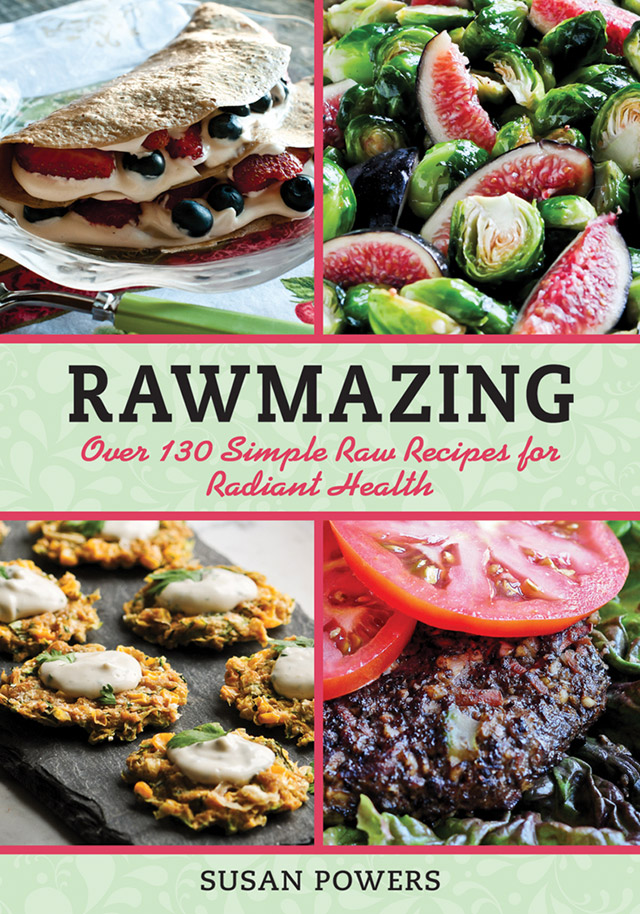 My heat tolerance is famously low, and as soon as May hits one of my least favourite things to do is turn on any sort of heating apparatus. When the opportunity to review Rawmazing by Susan Powers arose, I jumped at the chance, knowing that dining on salads for 4 months straight would be ridiculously boring.
Science Degree Not Required
Rawmazing starts with the briefest of introductions: hints to raw food preparation, how to stock your kitchen, and a helpful pantry list. Immediately after, 130 recipes await your sweltering kitchen, no heat required. Chapters read like standard meals: from breakfast to appies to desserts and everything in between, there is a recipe for each occasion. When perusing the delicious recipes to test, I dog-eared way more recipes than I could actually write about with legitimate 'testing methods'. I do not own any fancy raw equipment, nor does my kitchen look like a laboratory. I make my smoothies in my food processor, as I don't have a blender. Vegetable noodles are made with a julienne peeler, a splurge purchase made years ago on Amazon for free shipping. I wanted to review a raw cookbook without all the fancy equipment to see if the book was worth it for the raw-curious, and also to see how much I could make. As it turns out, I made quite a bit, and all was fantastic!
Reviewing my copious notes from testing, common adjectives kept arising in their 1/5 overall ranking: "Simple". "Fresh". "Clean". "Zippy". "Yum!" "Strangely delicious". The creativity of flavour profiles never ceases to amaze me in raw cuisine, and Rawmazing is a treasure trove of such flavours. Highlights included the Basil Veggie Primavera, which is a bright colour bomb of zucchini and carrot noodles tossed in a basil-heavy lemon pesto and topped with cherry tomatoes. Never would I have paired carrots with zucchini and pesto; now the bright, crisp addition is a favourite 'noodle'. The Spicy Veggie Stir-Fry was a constant surprise. With veggies such as broccoli, mushrooms, cabbage, and carrots, you'd expect an Asian profile. Not so – the dressing is made with sun-dried tomatoes, chili powder, curry power, and a hint of tamari. A different medley of flavours hits your palate at every bite, all the way down to the last vegetable. Much of that I attribute to the sun-dried tomato umami, which is insanely delicious. The Jicama Salad was another fusion surprise. Jicama, snap peas, scallions, raisins, and greens (my addition) are tossed in a dressing made of peanut butter, young coconut, and curry powder. I could not find young coconut, so I used unsweetened dried coconut flakes, similar to the ones you make for coconut bacon. The dressing with the salad was strangely addictive. The flavours almost reminded me of Jamaica, with curry powder and coconut being prominent. The peanut butter gives the dish creaminess and a hint of nuttiness, and yet the vegetables are not lost in this dressing. All are present, juicy, and crisp, making this a salad I would proudly bring to any (nut friendly) potluck.
Room for Dessert
I am not a big dessert person, preferring fresh or frozen fruit to end a meal. Here Susan delivers desserts that I could just not pass up. I do not know if the Strawberry Mango Salad was intended for dessert, but dessert it was. Made of strawberries, mango, jicama, blueberries, on a bed of lettuce, it is dressed with a simple red wine vinegar dressing. (Note: the dressing is actually a blueberry red wine dressing, but as I don't have a blender, I opted to include the blueberries whole. I missed nothing in flavour). Not your typical fruit salad, I loved the combination of fruit and lettuce with the simple red wine vinegar to add some acid. The different textures of fruit and lettuce tied in together with the red wine vinegar made this one of my favourite desserts to date. Another more traditional dessert standout was the Cinnamon Plumb Sorbet. Composed of the titular ingredients plus a dash of salt, this sorbet was surprisingly warming. It transported me back to Verbier Après-Ski times, with my frosted fingers clutching a warm mug of aromatic spiced cider. The cinnamon and plumb combination had the same festive feeling, and made me forget about the sweltering heat outside. Next time I will add some red wine to the sorbet, to make the transformation complete.
To Be Continued…
Even with the heat wave over and the oven back in my good graces, I will be returning to Rawmazing for more. The Carrot Hazelnut Soup, Turmeric Veggie Dip, and Baba Ghanoush are on my must make list. Next time I have to impress, the Tomato Napoleon with Basil Cashew Cheese and Basil Oil will be presented, hopefully to admiring eaters. Even with a limited raw kitchen, there is so much to explore in this book it cannot be missed. It only makes me covet a dehydrator that much more!
The cookbook itself is not strictly vegan – honey is in some recipes, but that can easily be substituted with any liquid sweetener of choice. Many of the dehydrated recipes, such as the crackers, crepes, and bars could be made in the oven, but I did not attempt for this review. The cookbook reminds me of the beloved Best of Bridge series from my childhood: a labour of love between four friends of my Grandma, who decided once day to write a cookbook. Solid flavours, creative takes on fresh local produce, attention to mouthfeel and aesthetics, and 'good, solid, cooking' are evident on every page. I invite you, heatwave notwithstanding, to venture into Susan's world of raw cuisine, and judge for yourself.
The publishers have let me share with you a recipe, and I have chosen the Jicama Salad. It won the award for most surprising, and I hope you are as surprised and delighted with the result as I was.
To find out more about Susan and her books, please visit her website.
If you wish to purchase the book through Amazon, you can find it here
.
Reviewed by Katie Hay
When Katie isn't exploring new cuisines and challenging food conceptions in the kitchen, she can be found at farmer's markets, building and designing bicycles, and planning her next life adventure.
*This post contains affiliate links. If the product is purchased by linking through this review, T.O.F.U. receives a modest commission.
Jicama Salad
If you haven't had jicama, you are missing out on a real treat. Jicama has a texture somewhere between a potato and a pear, with a slight sweetness. It is 86–90 percent water and is very hydrating. It has a very mild taste, somewhat reminiscent of apples, and makes a great addition to salads. High in vitamin C and with no fat, 1 cup contains only 45 calories. Enjoy it in this salad with a flavourful curry peanut sauce. This is a summer favourite around our house.
1 large jicama, cubed
1 cup pea pods, chopped
2 scallions, sliced
1/2 cup raisins
1/2 Peanut Curry Sauce
Peel and cut jicama into ½-inch pieces.
Cut pea pods into ½-inch pieces.
Combine jicama, pea pods, raisins, and scallions. Stir in Peanut Curry Sauce
Peanut Curry Sauce
3/4 cup peanuts, soaked 2 hours, drained
1 young Thai coconut, flesh from
1/4 cup coconut water, from young coconut
2 teaspoons curry powder
pinch Himalayan salt
Open young coconut and drain water out. Reserve water.
Remove flesh. Place ¼ cup coconut water in blender or highspeed blender. Add the flesh from the coconut, raw peanuts, curry powder, and salt.
Combine until smooth.
Excerpted with permission from Rawmazing: Over 130 Simple Raw Recipes for Radiant Health by Susan Powers. Copyright 2012, Skyhorse Publishing, Inc.
Sep. 30, 2015
Comments Off on Review: Rawmazing by Susan Powers
Related Posts