Review: The Easy Vegan Cookbook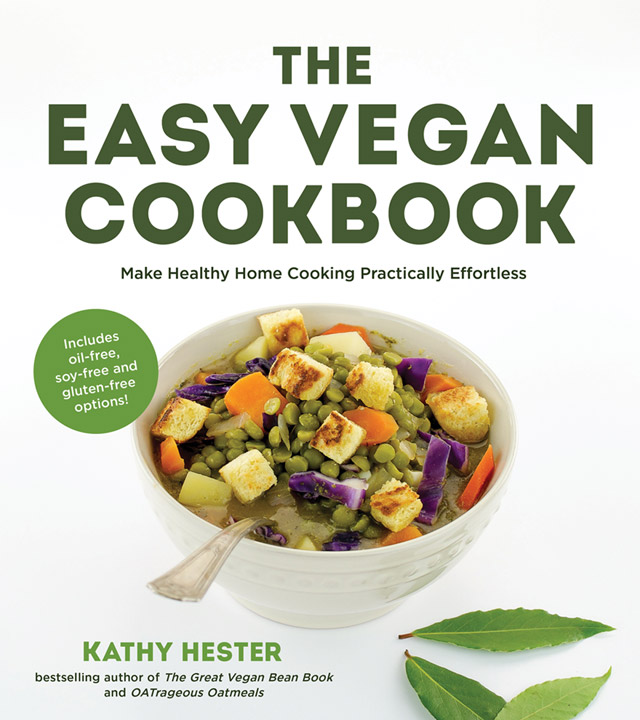 As strange as it sounds, I tend to avoid cookbooks with titles which promise the moon: "amazing", "best ever", "simple", "master" and "easy". These words give me such high expectations, and I have only ever been disappointed. I'm sorry Julia Child, but it takes work to master your easy dishes. So when Kathy Hester's latest cookbook The Easy Vegan Cookbook came to me for review, expectations were high and skepticism rampant. I should have known better however – Kathy's no stranger to easy cooking for the time-crunched, from cookbooks to a blog dedicated to such scrumptious dishes. With each dish I made, I was chastising myself for my pre-judgement, and judging a book by its cover. I implore you to not make the same mistake as me.
The book starts with a bare-essentials introduction. Included is an honest debate over planning vs. free-form meals: Kathy suggests planning 'themed' nights, giving you grocery direction but creativity when the night arises. I implemented this, and it is a true compromise that I've enjoyed. The bulk of the introduction is how to use your freezer as a pantry, with bulk cooking, freezing vegetables, and freezing staples like grains and beans included. With minimal prep work each week, you are guaranteed fresh ingredients for any cooked dish you could imagine. Knowing that those who are attracted to a quick and easy cookbook do not have time to read a copious introduction, the recipes immediately begin. Sorted into 9 chapters, they include: Make-Ahead Staples, Soups Save the Day, Simple Stews, Pushover Pastas, Manageable Mains, Speedy Stir-Fries, Easy Sandwich Fillings and Spreads, Straight-Forward Sides, and Desserts and Drinks. As the chapters imply, these really are manageable, speedy, easy, and straight-forward. Reassured, I started recipe testing with abandon.
Finding New Favourites
Beginning with breakfast, I made the Apple Zucchini Buckwheat Pancakes. I am prone to burning all flatbreads and am not a big breakfast food person. In short, a hard sell. These pancakes won me over so much that I've made 3 batches since. Successful gluten-free pancakes can sometimes be difficult, but Kathy strikes gold with buckwheat flour, baking powder, and apple cider vinegar for the base of the batter. Shredded apples and zucchini add body, banana as a binder and sweetener, and some warming nutmeg make these pancakes the epitome of fall in a pan. Not too sweet and perfectly spiced, I preferred to eat them dry or with some fresh applesauce spooned on top. Chewy and thick, they are amazing fuel for a busy day.
Another paradigm changer was the Sloppy 'Shrooms. Perhaps one of the few people to detest sloppy joes, I tried this thinking I would hate it. Not so! The mushroom and quinoa mixture is more to my liking texture wise, and the addition of bell pepper and carrot make it not one-note mush. The sauce itself is like a one-batch barbeque sauce, piquant with Worcestershire (I used balsamic vinegar and liquid smoke, as I do not have vegan Worcestershire), smoky paprika, and herbs. I served mine over a giant heap of lettuce and cabbage, and can only wish that this was the sloppy joes I grew up with.
Wanting to stop the onset of fall allergies, I made the Autumn Harvest Noodle Soup. Influenced by Eastern European spice profiles of cumin, caraway, and dill, the autumn harvest of mushrooms, rutabaga, carrots, and Brussels sprouts would cure any sniffle out there. Warm and comforting, my kitchen smelt of the Jewish deli's in Montreal. Next time I come down with a cold I will be making this hearty dish, and perhaps will top it with some sauerkraut to add a bit of pop (and probiotics!).
I cannot help but mention the Singapore Mai Fun, a delicious simple Asian stir-fry with the addition of curry powder to the standard Asian seasonings. I thought it strange until I tasted it – now I'm an addict. With the advent of fall, people fawn over pumpkins and winter squash, and rightfully so. I however fawn over the fresh cauliflower. With cauliflower in season, I made three cauliflower-centric recipes to feed my addiction. The Cauliflower Ricotta was tangy, herby, and everything a ricotta for stuffing should be. I made Italian-stuffed collard wraps with it, and could not stop licking the plate. The Cauliflower Mexi Mince was another stand-by component: in lieu of the popular lentil-walnut crumble, cauliflower ryce is spiced with taco seasonings to be stuffed in your Mexican plate del dia. I made a Mexican bowl with the ryce, and loved the texture of the mince compared to the lentil-walnut version. It complimented my bowl of lettuce pico de gallo, cilantro, and sliced cabbage wonderfully, and with its simple preparation will be the new taco meat of my kitchen. To finish off my ode to cauliflower, I made Cauliflower Masala, a simple curry of cauliflower and tomatoes, simmered in a spice mix of garam masala, coriander, cumin, and turmeric. I loved the warming colour the cauliflower took when simmered, and the dish itself was like a warm hug on a brisk day. The spice ratios were perfect, and the cauliflower wonderful vessels to sop up the delicate Indian seasonings. This is one curry I will be making on another Eeyore day.
Simple Measures
Each recipe has nutritional guidelines given, estimated based on serving size. Most, if not all, recipes are adaptable to soy, oil, or gluten free with ** denoted beside the appropriate ingredient and suggestions given. These suggestions almost allow for completely different dishes to be made using the same recipe, very similar to Plant Power. Many have slow cooker/stove top instructions as well, which adds to flexibility of the recipe. Ingredient lists are short, simple, and straight forward. Composed of pantry staples or common vegetables, Kathy knows inside and out what the busy weeknight meal scene looks like. She also went to the extra effort of listing the cup equivalents to canned items. Speaking only for the US and Canada, it is my experience that cans are not the same size, throwing off critical ratios. Not here – standardization of cups results in delicious ratio-binding every time. The cookbook itself is not fancy: a simple, no fuss, clear layout makes it extremely readable, and reflects the quality of the food. This book is indeed easy, and could be mastered by those who top out at unburnt toast. Its simple, straight forward, and quick results are targeted to the rushed who want delicious, healthy food on the table faster than it takes for them to kick off their shoes. Its delicious taste profiles and textural components are geared to those who wish to expand their creativity and MacGyvering in the kitchen, especially for those picky eaters, substitution suggestions, or recipes you know will be sure-fire wins at the omni/vegan dinner table.
The publishers have let me share a recipe with you, and I have chosen breakfast. The Apple Zucchini Buckwheat Pancakes were the first that came to mind: any pancake that makes me like breakfast is a powerful pancake indeed! I love them served by themselves, but for the traditionalists, maple syrup would be great. For lunches, I found that an apple zucchini buckwheat peanut butter pancake sandwich was a decadent treat for a miserable Tuesday. I hope you enjoy them as much as I did!
To find out more about Kathy and her books, please visit her website.
If you wish to purchase the book through Amazon, you can find it here
.
Reviewed by Katie Hay
When Katie isn't exploring new cuisines and challenging food conceptions in the kitchen, she can be found at farmer's markets, building and designing bicycles, and planning her next life adventure.
*This post contains affiliate links. If the product is purchased by linking through this review, T.O.F.U. receives a modest commission.
Apple Zucchini Buckwheat Pancakes
gluten-free soy-free option* oil-free option**
Did you know that buckwheat is gluten-free? There's something about the earthy flavor and the dark pancakes that make me think of fall, but they are good any time of the year. These are a delicious way to use up the last of your zucchini while adding in a fresh-picked apple. Plus, you get to have breakfast for dinner!
Makes 6 Pancakes
Dry Ingredients
1 cup (120 g) buckwheat flour
1 tablespoon (1.6 g) cinnamon
1 teaspoon baking powder
1/2 teaspoon allspice
1/4 teaspoon nutmeg
1/4 teaspoon salt
Wet Ingredients
1 1/2 cups (355 ml) soy milk (*use other nondairy milk)
1 teaspoon apple cider vinegar
2 tablespoons (14 g) ground flaxseed mixed with 4 tablespoons (59 ml) warm water
1 cup (124 g) shredded zucchini
1/2 cup (62 g) shredded apple
2 tablespoons (30 ml) olive oil (**use applesauce or mashed banana)
Maple syrup, to serve
Nondairy butter, to serve (optional)
Mix the dry ingredients together in a medium-sized mixing bowl and set aside. Add the vinegar to the milk. It will curdle if you use soy milk, making a faux buttermilk. Mix the ground flaxseed with the warm water in a small bowl; it will thicken.
Add in the rest of the wet ingredients to the flax mixture.
Start heating your pancake pan over medium-low heat. Lightly coat the pan with olive or coconut oil. (*Use a nonstick pan.)
While the pan is heating, add the wet ingredients to the dry and mix until well combined. Drop about ½ cup (118 ml) of batter per pancake.
Cook for about 4 minutes or until you see the edges get dry. Flip and cook about 2 or 3 minutes more.
Serve with maple syrup and, if desired, some nondairy butter.
Per pancake with oil: Calories 139.3, protein 3.9 g, total fat 7.6 g, carbohydrates 15.1 g, sodium 128.2 mg, fiber 5.5 g
Tips: When making larger pancakes like these, I use two skillets simultaneously to cut my time in front of the stove in half.
Don't limit yourself to zucchini and apple. Try adding berries in the spring, pears in the fall and carrots any time.
Reprinted from The Easy Vegan Cookbook Copyright © 2015 by Kathy Hester. Published by Page St Publishing. Photos by Ann Olivero.
Related Posts