Review: Crave Eat Heal by Annie Oliverio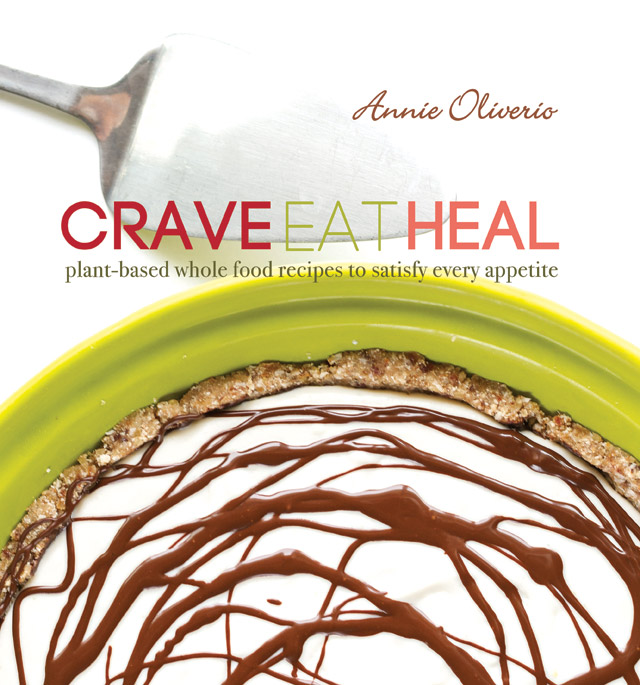 Like many, I let my cravings dictate what I eat. I am less of a taste eater and more of a texture eater: mushy is out and crunchy is in. Always. For the many of us who let our cravings run rampant at meal times, Crave Eat Heal is the book for us. Written by Annie Oliverio of an Unrefined Vegan, the book is organized by craving and full of unconventional and unique ways of sating that demon.
The book begins with a brief pre-amble, including a definition of what "plant-based" and "vegan" mean to Annie (See the review of My New Roots for some of my thoughts on these words). Ingredients ranging from the common, humble, foliage to the exotic sounding guar gum are quickly introduced. Some recipes are from other authors, each with their own introduction blurb as to what they crave, and how their contribution was a direct result. I liked this personal touch, as it let me see the creative process of staring in the fridge with that gnawing craving and coming up with a delightful dish from a variety of perspectives. With Building Block recipes coming up next, we learn many, many ways of how to dice tofu, and how to water sauté without burning things. (Aside: I actually *stopped* burning sautéed things when I stopped using oil and started using water. Miracles do happen!). Chapters are then sorted into 13 separate cravings, including emotions, the five mouth 'senses', macronutrients, and texture. I reviewed the whole cookbook twice, to make sure that I wasn't testing recipes from one craving from that specific day for my review. I did my best, and came up with some amazing results.
Down to the Crunch
First up: Crunchy. I love all things crunchy, period. But the Chopped Vegetable Salad with Ginger-Tahini Dressing absolutely blew me away. First the cacophony of vegetables: broccoli, cauliflower, zucchini, carrots, lettuce, and cilantro are tossed together in a gorgeous looking bowl. Cilantro adds brightness, and the dressing adds the zing. Composed of ginger, rice vinegar, aminos, tahini, and mustard, it is a combination I didn't think too much of while mixing it together. But when it hit the vegetables, magic happened. Umami from the aminos, zing from the mustard, creaminess from the tahini, and a bright pop from the ginger result in a salad that is more craveable than the craving itself.
The next demon was Spicy. Between Crunchy and Spicy, you have my Achilles heel. Sriricha and habanero hot sauce is a separate food group in my house, so standards were high. Alex's Spicy Mushroom Lettuce Cups (guest recipe) hit the spot. A riff off of stuffed lettuce leaves that I recall having once at an Asian restaurant, this is so much better. Not a huge mushroom fan, these mushrooms are treated with respect and soak up the amazing marinade made of aminos, ginger, rice wine vinegar, and sriracha with aplomb. The cups themselves are simple with the marinated mushrooms, scallions, carrots, and broccoli a gorgeous filling for giant lettuce leaves. Dipping Hoisin Sauce completes the dish: made of garlic, miso, Chinese five spice, rice vinegar, and sriracha, the sauce adds as much heat as you can take. This is also the first dish where I knew what 'spicy ginger' meant: the ginger adds depth to the dish and with the crunch of the lettuce cups I was a happy person indeed.
Similar success was achieved with the Buckwheat Noodles with Spicy Almond Sauce. My crunchy craving was sated with the gorgeous melee of carrots, snow peas, cucumber, zucchini, and red onion. The titular sauce was Thai at its best: almond based with miso, rice vinegar, sriracha, aminos, ginger, and bright lime, it took much willpower to not drink it directly out of the mixing bowl. Tossed in with the vegetables are buckwheat soba noodles, to allow for a vessel to get more dressing in every bite. The result is slurpable crunchy, spicy, fresh noodle salad that satisfied all my texture and spice cravings.
From Warm, I was especially impressed with the 5-Way Chili. The dish was warm in temperature but also in richness and depth. Standard chili is amped up with cinnamon, allspice, cocoa, and balsamic vinegar (my own sub for vegan Worcestershire, which I have yet to source). The end dish is a rich, deep, flavourful spicy-but-warm chili that warmed me to my toes.
Finally, for all the chocoholics out there, from Chocolate I tried the Blueberry Chocolate Anti-Inflammatory Shake. I do not crave sweets, and infamously stash all sweet items until well past their overdue dates. What drew me to this recipe was the combination of blueberries, matcha green tea, turmeric, and cocoa powder. Categorized under "sounds disgusting so I have to try it", it was amazing. A taste I cannot describe easily, I could only be amazed as I glugged down this decadent smoothie/shake. A repeat for sure, and one that tastes especially great after a long hard workout. Clearly I have more cravings to sort out, and I look forward to turning to Annie's book and offerings whenever the mood strikes.
Fun in the Kitchen
The book is full of humour and a bit of whimsy. From the dedication to her Vitamix to the chapter introductions with poems dedicated to the craving, Annie has fun in the kitchen. Recipes are fast, simple, and guaranteed to satisfy the craving and the hunger. Celiacs note: some recipes are marked as gluten free, but do have gluten-y items which can be substituted for something safe without losing the taste, texture, or mouthfeel of the dish. The publishers have been kind enough to let me share one recipe with you. Getting an A+ in my personal ranking system, the Chopped Vegetable Salad with Ginger-Tahini Dressing is something I could eat every day for a very long time. A cacophony of colour and texture, it satisfies my crunchy craving in spades. The dressing made of tahini, rice vinegar, aminos, and Dijon mustard is slightly tangy, slightly creamy, and slightly spicy, making this one of my favourite salads of all time. Enjoy this humble offering to your cravings, and may you be sated!
For more information on Annie and her books, please visit her website.
If you wish to purchase the book through Amazon, you can find it here
.
Reviewed by Katie Hay
When Katie isn't exploring new cuisines and challenging food conceptions in the kitchen, she can be found at farmer's markets, building and designing bicycles, and planning her next life adventure.
*This post contains affiliate links. If the product is purchased by linking through this review, T.O.F.U. receives a modest commission.
Chopped Vegetable Salad With Ginger-Tahini Dressing
Serves 4
I try to eat a big salad each day but sometimes I just can't face a bowl of greens staring up at me. Although this salad does include some greens, the predominant crunch comes from the vegetables—just enough to trick my mind and stomach into thinking I'm not really eating another big salad.
Salad
2 cups broccoli, cut into bite-sized pieces 1 cup cauliflower, cut into bite-sized pieces
1 yellow squash or zucchini, quartered and sliced
1/2 red bell pepper, seeded and chopped into bite-sized pieces
1 cup carrots, peeled and sliced on the diagonal
1 (15-ounce) can chickpeas, rinsed and drained
1/2 cup chopped fresh cilantro
4 cups chopped romaine lettuce Chopped roasted peanuts or soy nuts, for garnish, optional
Dressing
1/4 cup rice vinegar
1/4 low-sodium tamari or soy sauce
4 cup tahini
1 Tbsp. fresh grated ginger
1/2 tsp. "prepared" horseradish (not sauce) or Dijon mustard
1/4 tsp. ground black pepper 1 small clove garlic, minced
Place a steam basket in a deep pot and add about 1⁄2 inch of water. Bring the water to a boil, then turn to medium-low and place the broccoli, cauliflower, and squash or zucchini in the basket. Cover pot and cook for 5 to 8 minutes or until the vegetables are crisp-tender, but still retain their color.
Meanwhile, add cold water and a handful of ice cubes to a large, deep bowl. When the vegetables are done, carefully add them to the bowl of ice water, stir, and let them sit for a few minutes to quickly cool them. Drain well and set aside.
In another large bowl, add the red bell pepper, carrots, chickpeas, and cilantro. Stir in the steamed vegeta- bles. Set aside.
In a small bowl, whisk together all of the dressing ingredients and pour over the vegetables in the bowl. Divide the romaine lettuce between four large bowls; divide the vegetables between the bowls and sprinkle with chopped peanuts or soy nuts, if using. Serve.
Suggestions
Dry-fried or oven-baked tofu would be yummy on top of this salad.
If you prefer, skip the steaming and just eat the broccoli, cauliflower, and squash raw.
Mix in the romaine lettuce with the other vegetables if you'd like everything coated with dressing. uLet the salad rest in the refrigerator for 30 minutes or so to really soak up the dressing.
Gluten-free | High raw | Oil-free | Easy Total time: 20 minutes
Oct. 28, 2015
Comments Off on Review: Crave Eat Heal by Annie Oliverio
Related Posts