Review | Food52: Vegan by Gena Hamshaw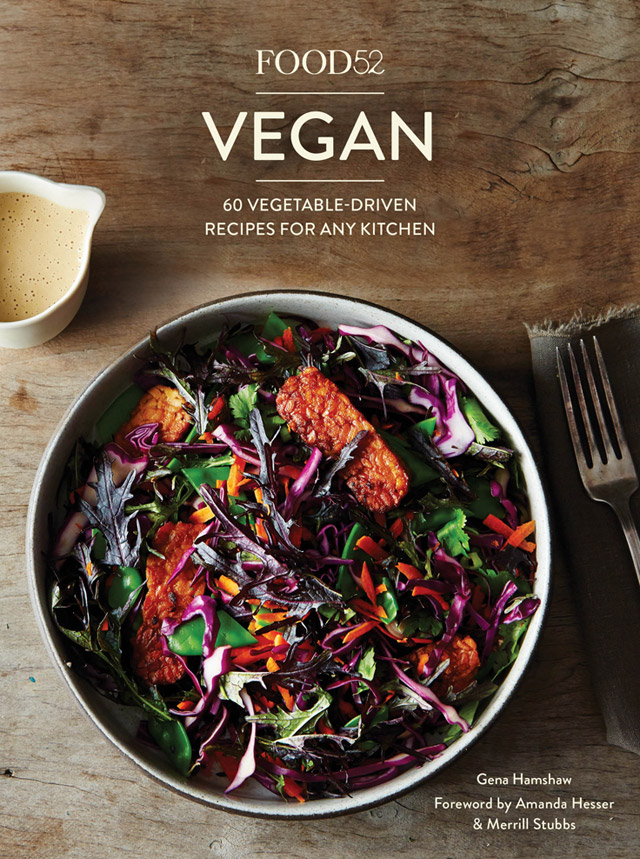 When she's not busy at school, managing her nutritionist practice, or writing on her blog The Full Helping (nee: Choosing Raw), Gena Hamshaw is a regular contributor to the column Food52. It is here that Gena started exploring the cooked food realm after focusing (so successfully, I might add) on raw vegan fare. Food52 recently came out with a series of cookbooks, with the Vegan edition penned by Gena. When I heard of this, I immediately knew that I had to review this cookbook for you, what with the success of the first cookbook Choosing Raw.
Food52: Vegan is aimed at anybody who is curious and willing to explore in the kitchen. It is quite clear that the book stemmed from a magazine publication: the layout is classy-chic and almost every one of the 60 recipes included has a full-page gorgeous picture that makes me think I should buy a coffee table just to put this book on it. Alas, with no coffee table, I was *forced* to give the book the kitchen time it deserves, and test over 1/3 of the recipes.
Getting to the Heart of the Matter
The book begins with a single page introduction from Gena, opening with "At its heart, vegan food is just food." This simple sentence is the basis of the rest of the book. The next page gives a dedicated index to "Vegan 101" tips and tricks, conveniently beside a recipe where they are applicable. The recipes themselves are structured like a 5 course meal, with breakfast as a bonus. I made my decisions on what to test 100% by the accompanying picture. This led me to the Tofu Scramble, which was phenomenal. I don't like tofu scrambles, the only other one I've loved being from Gena's first book, and here again Gena does it right. I don't know what it is about her seasonings of nutritional yeast, mustard, turmeric, tahini, and tamari: maybe it's the proportions; maybe it's the addition of veggies and spinach. Whatever it is, it's amazing. The Summer Rolls with Spicy Peanut Sauce was another stand-out. Fresh, crunchy, vibrant, and overall amazing was my notes. The Thai-inspired peanut sauce is sublime with perfect ratios of peanut to lime and sesame. The rolls are made of fresh herbs, cucumber, jicama, red cabbage, and avocado, resulting in an explosion of texture and colour as soon as you bite in. The veggies also lend themselves well to the dipping sauce – cauliflower would just taste odd, but here the colourful crunchy roll is complimented wonderfully. I devoured mine double-fisting with Sriracha for the complete experience.
Also in the realm of hand-held food was the Cauliflower and Oyster Mushroom Tacos. Due to laziness, I made this in bowl form and it was fantastic. The recipe is below, so you can judge for yourself. I loved the toothsome mushrooms with the crispy, slightly charred roasted cauliflower; colour and texture of the dish highlighted even more when served in my royal blue IKEA bowl. Seasoned generously with taco spices and served on top a bed of lettuce (in my bowl form) and perhaps some avocado crema and pico de gallo, you cannot go wrong with this dish. Continuing in my "hand held" themed review, my final moment of awe was compliments of the Lentil Sloppy Joes. Again, Gena applies some sort of genius here as the sloppy joes taste exactly like they did when I was a kid. I loved the diced bell pepper mixed in with the lentils, onion, and garlic. The extra crunch really set them off, and with a DIY-like BBQ sauce seasoning, the lentils are the perfect balance of saucy tomato smokiness. Served with some crunchy quick pickled coleslaw (my addition), somehow lunch at my desk became something to look forward to.
Quality, Not Quantity
With only 60 recipes in the whole book, it is not the biggest cookbook out there, but it is one deserving of every inch of kitchen space. I believe that with only 60 recipes, Gena was given the freedom and time to make it perfect. Each recipe covers all the senses and mouthfeel requirements, resulting in dishes that would win over the biggest veggie-phobe. With her background in raw cooking, every recipe honours each ingredient, with perfect ratios of spice, acid, flavour, and texture. As a reviewer of both her cookbooks, it was interesting to see Gena's recipe evolution, and experimentation with more cooked foods and flavour profiles. Fearless in the kitchen, I loved her takes on familiar comfort food. After all, at the heart, vegan food is just food.
The publishers have let me share with you one recipe, and from those tested (and still on the docket) I have chosen the Cauliflower and Oyster Mushroom Tacos. This recipe would be fantastic at a make-your-own taco dinner, as a fancy main at the football (or hockey) party, or even as a quick pick-me-up after a long day at work. Enjoy!
For more information on Gena and her books, please visit her website.
If you wish to purchase the book through Amazon, you can find it here
.
Reviewed by Katie Hay
When Katie isn't exploring new cuisines and challenging food conceptions in the kitchen, she can be found at farmer's markets, building and designing bicycles, and planning her next life adventure.
*This post contains affiliate links. If the product is purchased by linking through this review, T.O.F.U. receives a modest commission.
Cauliflower and Oyster Mushroom Tacos
SERVES 4
A lot of vegan tacos are filled with rice, beans, or faux meat, but vegetables can provide plenty of substance and flavor all on their own. In this recipe, spice-rubbed, crispy roasted cauliflower meets chewy, tender sautéed mushrooms, and the result is a satisfying contrast of textures and flavors. Don't be afraid to slightly char the cauliflower; that will just give it an even better flavor—trust me on this one. The garnish of cilantro complements the other flavors perfectly, but feel free to use different toppings, such as salsa, guacamole, sliced avocado, or hot sauce.
1 head cauliflower, cut into small florets (6 to 8 cups/600 to 800g)
4 tablespoons (60ml) olive oil
1 tablespoon chili powder
1 tablespoon smoked paprika
1 teaspoon ground coriander
1⁄2 teaspoon ground cumin
Pinch of red pepper flakes
Salt and pepper
1 cup (115g) thinly sliced Vidalia or Spanish onion
1 large or 2 small poblano chiles, thinly sliced
1⁄2 cup (75g) chopped red bell pepper
1 clove garlic, minced
6 ounces (170g) oyster mushrooms, thinly sliced
2 teaspoons freshly squeezed lime juice
8 (6-inch/15cm) crisp corn tortillas
1⁄2 cup (20g) chopped fresh cilantro, for garnish
Preheat the oven to 425°F (220°C).
In a large bowl, toss the cauliflower florets with 2 tablespoons of the olive oil until evenly coated. Sprinkle with the chili powder, paprika, coriander, cumin, red pepper flakes, and a generous pinch of salt. Toss again until the cauliflower is evenly coated. Spread the cauliflower on a rimmed baking sheet.
Bake for 20 minutes, until crispy.
Heat the remaining 2 tablespoons of olive oil in a large skillet over medium heat. Add the onion, poblano, and red bell pepper and sauté until the onion is tender and a bit golden, about 15 minutes. Add the garlic and sauté for another minute. Stir in the mushrooms, then season with salt and pepper. Cook until the mushrooms are tender and crispy (5 to 8 minutes). Remove from the heat and stir in the lime juice. Taste and adjust the seasonings as desired.
For each taco, put 1⁄4 cup (60ml) of the mushroom mixture in a tortilla. Top with some of the roasted cauliflower and a tablespoonful of cilantro.
Dec. 08, 2015
Comments Off on Review | Food52: Vegan by Gena Hamshaw
Related Posts