Review | Eat Like You Give a Damn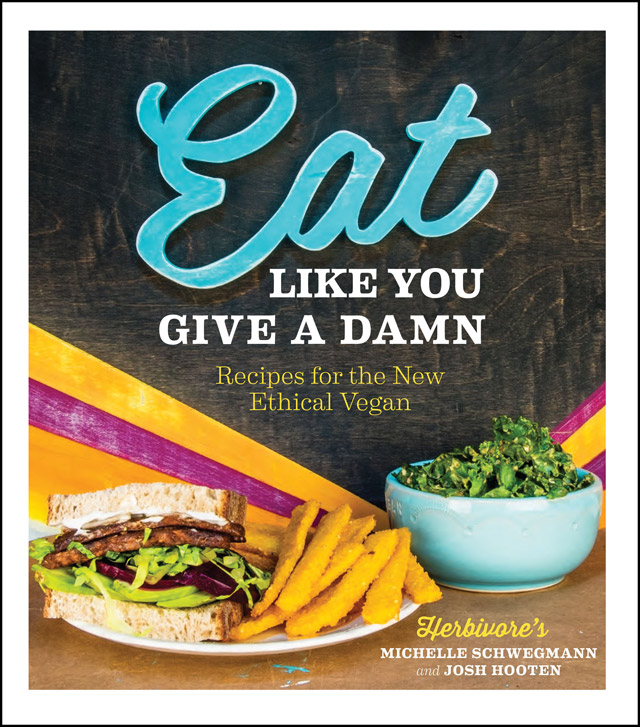 Eat like You Give a Damn can only be described as Vegan Comfort Food. From cover to cover, Herbivore's Michelle Schwegmann and Josh Hooten give us down-home recipes with a side of compassion. The cookbook starts almost as a manifesto, with the introduction being an essay by an Anonymous undercover animal's rights activist. Following that is a brief story as to the start of their Portland shop Herbivore, and why they went vegan. A quick FAQ page offering answers to common stumbling points some may face when exploring a vegan diet, as well as guidance for vegan kids and how to stock your pantry rounds out the information side of the cookbook, all being very succinct and to the point. Then it's on to soul nourishment: putting your ethics on the plate.
The recipes are broken out into Breakfast, Basics & Staples, Salads & Soups, Sides, Mains, and Baked Goods. All the recipes are whole-foods based with the addition of tempeh, tofu, and, for the lucky Portland crowd, soy curls. They are all very simple to prepare, extremely flavourful, and come together quickly. One immediate benefit of these recipes is that they utilize ingredients common to any North American pantry, making the recipes very approachable to the new vegan, new cook, or veg-curious.
The Bowls Are Strong With This One
Back to basics for some, or an introduction to a whole new world, Michelle and Josh go to great lengths to include simple recipes that are the foundation for many a 'what should I have tonight?' dinner. With four different variations of a tofu scramble (and a super helpful tip as to how to get some crispy bits!), a plethora of easy recipes (such as four ways to make vegan bacon) and staples, this book has plenty of answers for the hungry cook. There are also helpful tips and guides as to how to grill, fry, marinade, and cook tofu to give it the respect it deserves. Along with all of this, the book also offers a concise salad guide: 50 Ingredients to put in a salad. For those new to the whole-meal balanced salad, this guide offers umpteen different combinations that are unique, filling, and satisfying. One perfect example of this in action was their Chopped Salad with Spicy Hot Chickpeas. Essentially, it is the contents of your entire fridge heaped in one giant bowl, doused in homemade ranch dressing and tossed with hot-sauce covered chickpeas. My idea of comfort food, it was crunchy, creamy, tangy, and spicy: the perfect bowl to clean out the fridge before a weekend away.
Go-To Brussels Sprouts were a hit. Simply seasoned with Braggs and pepper, they were crisp morsels of deliciousness that reminded me that sometimes simple is best. The Apple Peanut Butter Smoothie was a wonderful surprise. I am not a smoothie lover, as I like to chew my food. But this smoothie combined the titular ingredients with banana, blackstrap molasses, and cinnamon for a result that almost tasted like a mocha. I have no idea how that came to be, but the smoothie disappeared in no time! I cannot wait until warmer weather to turn it into ice cream. Bowls are also a big portion of this book, with the Curry-BBQ Soy Curl Bowl and Beirut Bowls only two of the many offerings included. The Curry-BBQ bowl was a nod to Portland's Native Bowl, and immediately transported me back to my daily lunches where Ted and Noah would laugh at this crazy Canuck who had an addiction to their creations. It combined all the crunch I desired, with a fantastic mish-mash of flavour from the BBQ sauce, curry powder, and Don't Be Blue Cheese Dressing. It was one bowl where I could not stop diving in, constantly surprised as to what treasures my fork came up with. The Beirut Bowl on the other hand was Middle-Eastern inspired, spiced with Za'atar (a blend of basil, oregano, thyme, and sumac) and topped with the quintessential Tahini Sauce, something that induces a panic when it's low in my house. Greens, tomatoes, chewy farro (or buckwheat, as was the case for me), chickpeas, salty olives, and red onion finish off the bowl for a whole-meal deconstructed falafel. I love falafel, and I love it even more when I can whip up the same flavours and mouthfeel on a weeknight in the time it takes for me to put on my sweats.
With so many comfort food options to try, many are still on the docket. This list is lengthy, but includes Herbivore Chili, Slow Roasted Tomatoes, Savory Breakfast Grain Bowl, Roasted Beet Burgers and Cheesy Polenta with Mushrooms, Swiss Chard, and Pinto Beans. I've never understood the hype of polenta, but I am sure that with this cookbook I may see a glimpse of what others rave about.
Let Them Eat Kale
For the new vegan or the new cook, this cookbook is an approachable introduction to vegan cooking, proving that vegan food can be familiar and comforting. To help me illustrate this, the publishers have generously let me share a recipe with you, and I have chosen my hands-down favourite of the whole book. If I could eat this for breakfast, lunch, and dinner every day, I would. It's the infamous Only Kale Can Save Us Now Salad salad. Hear me out: I have heard all the kale jokes. I know that kale salad is the default of many a panicked restaurant chef when faced with a vegan. But when treated right, kale is magical. This kale is massaged and generously coated in a garlicky lemon-tahini dressing that, with the addition of nutritional yeast, is almost nutty. The crisp leaf kale hides pockets of this dressing gold all the way down to the last bite. Don't be afraid to eat the whole thing – I did! With one bite of this salad, you will understand both the stereotype of "vegans and their kale" and why we take it. Go on – enjoy.
For more information on Michelle and Josh, as well as Herbivore, please visit their website.
If you wish to purchase the book through Amazon, you can find it here
.
Reviewed by Katie Hay
When Katie isn't exploring new cuisines and challenging food conceptions in the kitchen, she can be found at farmer's markets, building and designing bicycles, and planning her next life adventure.
*This post contains affiliate links. If the product is purchased by linking through this review, T.O.F.U. receives a modest commission.
Only Kale Can Save Us Now Salad
I don't like to waste superlatives. When people say that something changed their lives, I roll my eyes along with everyone else and chalk it up to a familial tendency toward exaggeration. But I'm not kidding or overstating the truth when I say just how much this simple salad has had an impact on my life. It gets my family eating lots of raw leafy greens. It gets my grade-schooler exclaiming loudly and excitedly, "Kale salad, kale salad, kale salad, kale salad!" Mother of the year? That's me.
Makes 4 Servings
2 tablespoons tahini
2 tablespoons lemon juice
2 tablespoons reduced-sodium tamari
2 tablespoons nutritional yeast flakes
1 tablespoon flax meal
2 teaspoons onion granules
1 teaspoon garlic granules
1⁄4 cup water, plus more as needed 9 cups torn curly kale leaves (about 1 bunch), in bite-sized pieces (see tip)
1⁄3 cup hemp seeds or chopped raw sunflower seeds (optional)
To make the dressing, put the tahini, lemon juice, tamari, nutritional yeast, flax meal, onion granules, and garlic granules in a large bowl (large enough to accommodate the kale leaves). Add the water and whisk to combine, adding more water if the dressing seems too thick. (Tahini varies in consistency.)
Add the kale leaves to the dressing and mix using your hands. Don't be shy now! Rub the dressing into the kale and make sure to distribute it evenly. Sprinkle the optional hemp seeds over the top if desired. Serve immediately or store in a covered container in the fridge for up to 2 days.
Tip: Before you get started, you'll need to clean and prepare the kale. Hold the stem of a kale leaf in one hand, and with your other hand pull the leaf up the stem. When you've removed all the leaves from the stems, tear the leaves into bite-sized pieces (you can compost the stems). Give the leaves a good bath in cold water, and spin them dry in a salad spinner.
Per serving: 142 calories, 8 g protein, 5 g fat (1 g sat), 22 g carbohydrates, 437 mg sodium, 218 mg calcium, 3 g fiber
Jan. 21, 2016
Comments Off on Review | Eat Like You Give a Damn
Related Posts