Review | Superfoods 24/7 by Jessica Nadel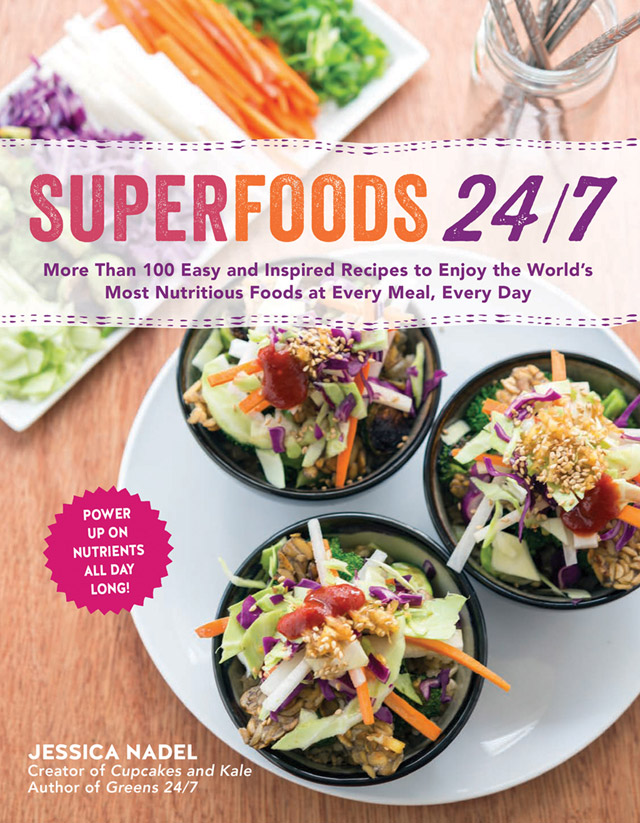 I would argue that with a successful cookbook entitled Greens 24/7, Jessica Nadel knows a thing or two about creative uses for unexpected ingredients in delicious dishes. Superfoods 24/7 is a natural follow up to Greens, and is just as creative and enlightening. I know what you're thinking: "But Katie, to make these recipes I'll have to get weird ingredients with long names and lots of vowels that are more expensive than saffron!" While I won't stop you from doing that, you don't need any special ingredients that will be used as often as saffron for the majority of this cookbook. Jessica starts the book with a great introduction about what superfoods means to her: whole plant based foods that you most likely have in your kitchen already. She begins with dedicated introductions to these unsung superhero categories: Seeds and Nuts, Grains and Legumes, Spices, Fruits, and Veggies. With each of these categories come some nutritional highlights and three recipes to try. The introduction rounds off with some approachable meal plans, which, although I did not follow, appear to be fairly straightforward with lots of variety. (I made the individual components, preferring to mix and match).
The recipes are split into Smoothies and Breakfasts, Salads and Soups, Sides and Small Bites, Entrees, and Cakes and Desserts. Each recipe features at least one common superfood, and comes with nutritional information for each serving. Looking to explore a bit in my new home, I sought out a variety of superfoods: things I wouldn't normally gravitate to.
The first standout was the Sundried Tomato and Coconut Quinoa Burgers. I was shocked I liked these. Sundried tomatoes, coconut flakes, quinoa, and herbs just sound like a recipe for disaster. Yes, the texture was a bit funny for a burger (mine came out somewhat crumbly), but making that an asset and crumbling them on top of a Burger Salad made these fantastic. I can't really describe the flavours – you'll just have to try them! The Quinoa Sushi Hand Rolls were an instant classic. A very simple roll stuffed with quinoa, carrots, cucumber, bell pepper, and hemp seeds, these are fresh, crunchy, and vibrant. More important – the ratio of quinoa to veg was perfect for these rolls, and I actually managed to execute them! I served them with plenty of Sriracha and was a very happy diner. Moving on from hand-held items, I then tried the Spicy Spinach Coconut Noodles. The impetus for this was the success of the burgers: I still am not a fan of coconut. For these noodles, a ton of spinach is tossed with a Thai-inspired lime-peanut dressing, made extra creamy with some coconut milk. I also added some zucchini and snap peas to mine, for some texture. These were awesome. So simple to make, the sauce ratio was perfect: a light coating over everything, making the dish more refreshing and delectable. Super easy to toss together on a weeknight, this dish was made when I got home at 10pm one night and definitely was faster and more delicious than the take out I was contemplating.
I tried close to 20 recipes, and, while I had many favourites, there were some that were a bit odd to me. The hazards of expanding your horizons. When I did have a near miss however, I washed it down with some Superfood Hot Chocolate: raw cocoa powder spiked with some cayenne. The cayenne cuts through the richness of the drink, something that I had always hated. Deep, rich, and a touch spicy: this is how hot chocolate should be!
The publishers have let me share with you one recipe, and I have chosen the Sundried Tomato and Coconut Quinoa Burgers. This recipe is the perfect representation of the book: creative and new flavour combinations for superfoods that you most likely have in your pantry. It made me look at my kitchen stocks a bit differently, and opened up some new doors for culinary exploration. I hope you liked these as much as I did, and welcome the chance to challenge your food paradigms!
If you're interested in learning more about Superfoods 24/7 and Jessica, please visit her website.
Reviewed by Katie Hay
When Katie isn't exploring new cuisines and challenging food conceptions in the kitchen, she can be found at farmer's markets, building and designing bicycles, and planning her next life adventure.
Sundried Tomato and Coconut Quinoa Burgers
Coconut and sundried tomatoes are amazing together, and combined with super-seed quinoa, these burgers are top-notch. For a gluten-free option, use gluten-free buns.
Serves 4, gluten-free
Prep: 25 mins | Cook: 30 mins
1/2 cup (85 g) quinoa (or 1 cup/185 g leftover cooked quinoa)
1 1/2 cups (375 ml) water
8-10 sundried tomatoes (dry-packed, not in oil)
1/4 cup (20 g) unsweetened shredded coconut
1 clove garlic, minced
2 tablespoons pumpkin puree
1 tablespoon melted coconut oil, plus extra for cooking
2 teaspoons fennel seeds
4 burger buns
sea salt and freshly ground black pepper, to taste
salad greens, sprouts, avocado, to serve
Rinse the quinoa in a fine mesh sieve. In a small pan, bring the quinoa and water to a boil over medium heat. Reduce the heat to low, cover, and simmer for 15 minutes, or until all the liquid has been absorbed. Remove from the heat and let sit, covered, for an additional 5 minutes. Fluff with a fork and set aside.
Rehydrate the tomatoes in a bowl of hot water for 10 minutes. Drain, reserving the soaking liquid.
Combine the quinoa, tomatoes, coconut, garlic, pumpkin, 1 tablespoon coconut oil, and fennel seeds in a food processor and pulse until the mixture comes together enough to be able to form patties and have them hold together. Add a splash or two of the tomato soaking water if necessary to help bind the ingredients. Season to taste.
Form the mixture into four patties. Heat a little coconut oil in a cast-iron pan or skillet over medium-high heat and cook each patty for 5 minutes per side, until crispy on the outside and warmed through. They are a little on the delicate side, so take care when flipping them that they don't break apart. Serve on burger buns with tender salad greens or sprouts and a wedge of avocado.
Variation: For an oil-free option, the burgers can be baked in the oven at 350°F (180°C) for 20 minutes.
Calories (per serving): 293
Protein: 8.6 g
Total fat: 10.0 g
Saturated fat: 6.0 g
Carbohydrates: 44.7 g
Dietary fiber: 4.6 g
Sugars: 8.7 g
Vitamins: A
Recipe from Superfoods 24/7: More than 100 Easy and Inspired Recipes to Enjoy the World's Most Nutritious Foods at Every Meal, Every Day © Quantum Publishing, 2015. Reprinted by permission of the publisher, The Experiment. Available wherever books are sold. theexperimentpublishing.com
Photo: Jackie Sobon (Vegan Yack Attack)
Apr. 26, 2016
Comments Off on Review | Superfoods 24/7 by Jessica Nadel
Related Posts