Review | Vegan Bowl Attack! by Jackie Sobon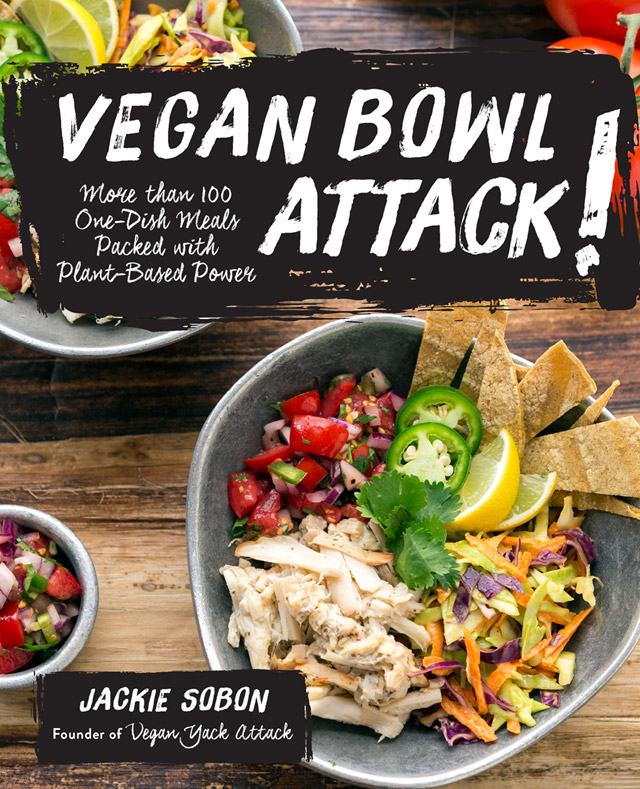 Jackie Sobon of Vegan Yack Attack was one of the very first blogs I ever came across. Just perusing through her ample recipe archives, you can immediately tell that her approach to the kitchen is full of humour and tongue-in-cheek whimsy. She has lent her photography talents to other cookbooks, her knowledge to conferences and demos, and her video skills to YouTube. Penning a cookbook was the only thing missing, and although I am not privy to the decision making process to scale that mountain, I am so glad she did. And thus, Vegan Bowl Attack has entered the world.
The introduction is very short: Jackie uses it for a bowl basic primer and a brief history of her own approach of activism through delicious food. The cookbook section headings have a bit of pizazz to them: "Bountiful Breakfast Bowls, Lil' Snack Bowls, Satisfying Soup and Salad Bowls, Enticing Entrée Bowls, and Damn Good Dessert Bowls". The last section is a chapter on bowl essentials, containing the staple dressings, creamy toppings, and the slightly more adventurous basic seitan and tempeh bacon.
I started out with the Jackfruit Chili Verde, as I had not used tomatillos since Terry Hope Romero introduced Posole to me in Viva Vegan! This Chili was on point: green, vibrant, and spicy. The tomatillos here are almost like apples, but with a tangy, tomato-y twist. The chili peppers (three kinds!), jackfruit, and zucchini add to the green vibe, and when served with cilantro and a dash of lime it is a zesty bright bowlful that you cannot help but slurp up. As soon as I laid my eyes on the Kimchi Bowl with Red Curry Almond Sauce, I knew what was for dinner. If you gave me a quiz to name all of my favourite things and then put it all in a bowl, this would be the result. The combination of kimchi plus an almond (or tahini, as I discovered in round two) red curry sauce heaped on top of a pile of veggies with some adzuki beans thrown in there for good measure is quite possibly my idea of heaven. Tangy, creamy, spicy, and crunchy, this had all of my favourite mouthfeels. I have made this over and over, adapting to my kitchen and listening to what my bowl was telling me: noodles, changing the veg mix, and switching the beans for tofu have all happened. All have been winners. When you have all your favourites in a single bowl, there is nothing that makes you happier.
A tough act to follow, but the Grilled Romaine Chop Salad was up for it. I will admit that without a grill in my case it was Broiled Romaine Chop Salad, but it was still divine. (I imagine that those of you with a gas stove and some courage could use the gas burner as a BBQ?). Eggplant, romaine, mushrooms, and corn are grilled to char-mark perfection with a simple marinade of Braggs and liquid smoke. Rounding out the party are cherry tomatoes and cucumber, all of which is tossed in a simple lemon-mustard-nutritional yeast dressing. The combination of the smoky grilled veggies with the crisp tomatoes and cucumber was astounding. The light, tangy, and cheesy dressing matched perfectly with the flavour of the grilled veggies. To me, this is the new Nicoise-esque Salad. Rounding out the testing was the Raw Apple Crisp. The recipe couldn't be simpler: Apples tossed in some cinnamon and salt and topped with a raw crisp of buckwheat groats, almonds, and dates. The salt + cinnamon + apple combo is now my favourite sweet/savoury addiction. The buckwheat topping has the perfect amount of contrasting crunch, and the forkful together tastes just like the apple crisp of my childhood. I made this more than once, and enjoyed it more every time.
Of the ample recipes I tried (over 1/3 of the book) all received a 5-gold star ranking with some extra plusses. It is one of those rare cookbooks where you cannot go wrong. Each chapter has its own Table of Contents, which although in other cookbooks can frustrate me, for a bowl book of this caliber, I endorse this approach whole heartedly. Knowing that each recipe is well thought out and executed to perfection, by starting my recipe hunt with a mood I can happily navigate to the chapter and peruse from there. Recipes are also marked "Free": Gluten, Nut, Soy, etc. If you are imagining a book full of "hippie" bowls of green + grain + protein + sauce, you would be sadly mistaken (although there are those recipes in here, and they are fabulous!) Bowl as Jackie interprets it includes things that are stacked, like Chai Waffle Stick Dippers, and smoothies such as the irresistible Apple Pie Smoothie. Bowls are by nature more approachable, less fussy, and an easy meal for the Kitchen Challenged to the Executive Chef in all of us. Bowls give us creativity and fewer dishes. Bowls have no bounds, and neither does Jackie's imagination!
The publishers have let me share a recipe with you, and I have chosen the Kimchi Bowl with Red Curry Almond Sauce. Representing pretty much all my favourite things in one bowl, I will let the recipe do the talking for me. Enjoy!
Tips: To make it nut free, use sunbutter or tahini for the almond butter.
Note: The recipe calls for store-bought kimchi, which for vegans can be like trying to search for a sparkly rainbow unicorn, as most kimchi has fish sauce in it. After living in four cities in two countries I still have yet to locate some, but I'm sure it exists! Kimchi addict that I am, I make my own, following the Quick Kimchi recipe from Vegan Eats World. If you are super desperate though, throw some napa cabbage, green onion, garlic, heaps of gochugaru (Korean Red Chili Pepper Flakes – totally worth the hunt!), douse in vinegar and call it a day.
For more information on Jackie and her book, please visit her website.
Reviewed by Katie Hay
When Katie isn't exploring new cuisines and challenging food conceptions in the kitchen, she can be found at farmer's markets, building and designing bicycles, and planning her next life adventure.
Kimchi Bowl with Red Curry Almond Sauce
Gluten-free | Soy-free option
Kimchi is not only extremely tasty, but its probiotic qualities also 
help your gut health. In this bowl, the kimchi is nestled among brown rice, broccoli, adzuki beans, and a spicy red curry almond sauce; it's 
a flavor explosion!
For the bowl
1 cup (184 g) long-grain brown rice
2 cups (245 ml) water
1/2 pound (225 g) broccoli florets
1 can (15 ounces, or 425 g) adzuki beans, rinsed and drained
1 tablespoon (15 ml) liquid aminos
For the red curry almond sauce
2 1/2 tablespoons (38 ml) water
2 tablespoons (32 g) almond butter
2 teaspoons red curry paste
1 to 2 tablespoons (15 to 20 ml) lime juice
For the assembly
1 cup (170 g) store-bought vegan kimchi
2 tablespoons (16 g) black sesame seeds
To make the bowl: Place the rice and water in a rice cooker (that has a steamer basket) and cook for 20 minutes or until the rice is soft. For the last 5 minutes of the rice cooking, place the broccoli florets in the steamer basket and cook until bright green and slightly crunchy.
In a small pot over medium heat, mix the adzuki beans with the liquid aminos and cook for 2 to 3 minutes.
To make the red curry almond sauce: Whisk all of the ingredients together until smooth.
To assemble: Divide the rice and broccoli among 4 bowls. Divide the adzuki beans among the bowls. Place one-quarter of the kimchi in each bowl and drizzle the red curry almond sauce over the top. Garnish with the black sesame seeds and serve.
Yield: 4 servings
Related Posts