Review | Oh She Glows Every Day By Angela Liddon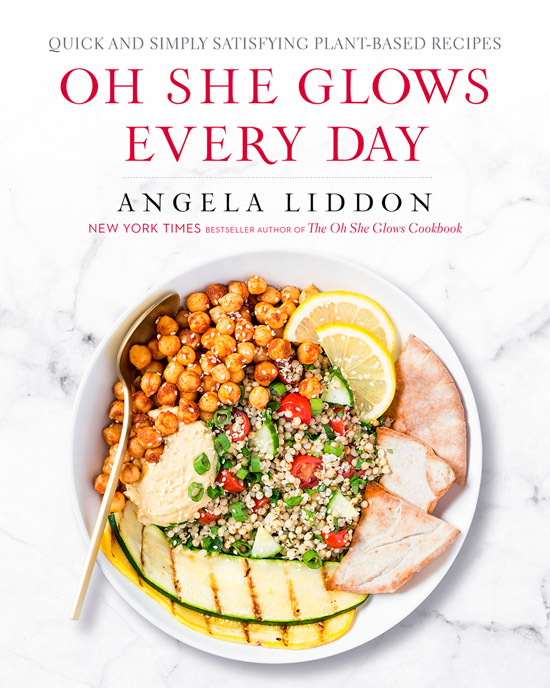 After the success of her first cookbook Oh She Glows, I know I wasn't the only one eagerly awaiting a follow up from Angela. That day has arrived, and Oh She Glows Every Day is here! Dedicated to her daughter born just after her first cookbook released, from the pictures to the recipes this book is clearly a family affair.
Chapters are broken down much like a typical day: Smoothies and Smoothie Bowls, Breakfasts, Snacks, Salads, Sides and Soups, Entrees, Cookies and Bars, Desserts, and Homemade Staples. With the delineation of Smoothies and Breakfasts, it allows for the Hobbit in all of us to have more than one morning meal a day. Also, both chapters run on the sweeter side, making them double for desserts. Snacks include homemade nut and seed butters along with dips, salsas, and crackers. With so many options, I thought like a Hobbit and got to work.
First up, the Green Tea Lime Pie Smoothie Bowl. Packed with spinach, banana, avocado, matcha, and lime, this was a fantastic and refreshing bowl of goodness. More like banana nice cream; this was consumed on more than one occasion for a delightful dessert. The Queen of Overnight Vegan Oats added some more to her repertoire; the Apple Pie Overnight Oats changed my outlook one bleak Tuesday at work. With your overnight base you add an apple, some cinnamon, allspice, and ginger. These simple tweaks make a bowl of oatmeal actually taste like Apple Pie, and made my Tuesday that much better.
Followers of her blog know that Angela makes a mean Kale Salad, so for the Salads I decided to try something different: the Spiralized Zucchini Summer Salad. This salad I could happily eat all day, every day. Zucchini noodles are topped with Marinated Italian Tofu (from the Sides and Soups section), cherry and sundried tomatoes, fresh basil, and finished off with some vegan parmesan. The flavours scream Mediterranean, and even if it wasn't patio weather I felt like I was someplace warm. The marinated pieces of tofu add some protein oomph to this delectable salad, and are great in a messy mouthful or by themselves. Moving into fall, the 6 Vegetable and "Cheese" Soup is a warm hug in a bowl. Veggies of carrot, celery, broccoli, and sweet potato are in a creamy cheesy vegetable broth amped up with nutritional yeast, cayenne, and white wine vinegar. Not a fan of pureed soups, I left mine chunky and loved how the soup coated all the vegetables. It was like eating your broccoli swimming in cheese sauce, which let's be honest, is the best way to eat steamed broccoli.
Most entrees have some sort of pasta incorporated, and thus I tried two: the Mac and Peas and the Fusilli Lentil-Mushroom Bolognese. Both satisfied my inner child, and are now staples in the kitchen. I made my Mac and Peas with broccoli (Mac and Trees, if you will) due to my aversion to peas. Vegans are notorious for being Mac-snobs, myself no exception. This rendition passed my high bar. An All-Purpose Cheese Sauce with potato, carrot, nutritional yeast, lemon, and other magic is good enough to bathe in. Add to this peas (or trees), pasta, and flavour boosters (in my case Sriracha, white wine vinegar, and pepper) and this dish is my new favourite Mac. No small feat! The Fusilli Lentil-Mushroom Bolognese had a high bar too. Growing up, I would request a Bolognese Bake for all special occasion dinners. To mess with this dish takes some chutzpah. Luckily, this one delivers. The secret is in the sauce: tahini and roasted peppers join the marinara party to elevate this simple pasta offering to something that my 7 year old self would eat every day. Mushrooms and lentils add some extra staying power for a well-rounded pasta dish that was unique, simple, and flavourful.
So distracted was I by the smoothies for dessert I've yet to really dive into the dessert sections. Earmarked are the Flourless Peanut Butter Cookies, Mango-Coconut-Lime and Raspberry-Banana Sorbet, and Meyer Lemon Cheesecake with Strawberry-Vanilla Compote. Not to mention all the Homemade Staples I've yet to try!
What I really like about the layout is that the Table of Contents has each recipe listed, but so does each Chapter section. For those cross-reference nerds out there, you can look up the recipes by chapter in the index too! Each recipe is marked with allergen information, and nutritional information is available online. The introduction is a very thoughtful toolkit: Angela gives guidance on how to experiment in the kitchen (try a recipe out first then go to town), salting food, tips on using a convection oven (I don't), and how to measure flour. These seem mundane, but they're great tidbits that you can sometimes only pick up from off-hand conversations with pros. At the back of the book there is a 29 (!) page description of her pantry. From Flour to Acids, Angela explains what it is, where it's used, and how to store it for an approachable pantry that would put Michael Smith to shame.
Recipes are approachable, straightforward, and the type that are very familiar to Canadians who grew up in the prairie (I'm sure to others as well, but I can speak only for myself ☺). Angela offers up new flavour combinations to old favourites, making me willing to accept the mission of making every recipe in the book. Appropriate for the Master Chef to the person daunted by cooking pasta, these recipes are for every kitchen skill set and all palates from simple ones to snobby foodies. To demonstrate this, the publishers have generously let me share one recipe, and I have chosen the one that my inner child squealed over: Fusilli Lentil-Mushroom Bolognese. Enjoy!
For more information on Angela and her book, please visit her website.
Reviewed by Katie Hay
When Katie isn't exploring new cuisines and challenging food conceptions in the kitchen, she can be found at farmer's markets, building and designing bicycles, and planning her next life adventure.
Fusilli Lentil-Mushroom Bolognese
Vegan, Gluten-Free Option, Nut-Free, Soy-Free, Kid-Friendly Option, Freezer-Friendly
Serves 6 TO 8
Prep Time: 15 Minutes | Cook Time: 15 to 20 Minutes
I came up with this recipe one rainy fall evening. We were looking for comfort food, something that came together quickly and would "stick to our bones." Well, comfort food this certainly is, and it turned out to be one of the biggest hits of all the recipes I've created, adored by adults, kids, toddlers, and teenagers alike! This pasta dish makes a huge pot and we always enjoy the leftovers—straight from the fridge or warmed up—the next day. Traditional Bolognese is a meat-based sauce, but my version uses lentils for a high-fiber, plant-based twist. The "secret" ingredient—tahini—gives it an unexpected, but delicious, creaminess. Try serving it with a simple side salad of marinated greens (try my Shake-and-Go Balsamic Vinaigrette, page 273) and some crusty bread to complete the meal. It's just divine and so simple, but it'll impress the heck out of your guests, too. This pasta is also great served with a scoop of some warmed up All-Purpose Cheese Sauce (page 251) for a luxurious, cheesy twist. Get ready to make this recipe time and time again!
Ingredients:
2 tablespoons (30 mL) extra-virgin olive oil
1 medium sweet onion, diced (about 2 cups/500 mL)
3 large cloves garlic, minced
1/4 to 3/4 teaspoon (1 to 4 mL) fine sea salt, to taste, plus a pinch
16 ounces (450 g) sliced cremini mushrooms
1 teaspoon (5 mL) dried oregano, or to taste
1 teaspoon (5 mL) dried basil, or to taste
1 teaspoon (5 mL) dried thyme
14 ounces (400 g) fusilli pasta (about 6 1/2 cups/1.625 L uncooked pasta)
3 cups (750 mL) Fail-Proof Marinara Sauce (recipe below) or store-bought chunky marinara sauce
1 (14-ounce/398 mL) can lentils, drained and rinsed, or 1 1/2 cups (375 mL) cooked lentils
3/4 cup (175 mL) jarred roasted red pepper, drained and chopped
2 tablespoons (30 mL) "runny" tahini (see Tip)
1/2 teaspoon (2 mL) freshly ground black pepper
1/2 teaspoon (2 mL) red pepper flakes (optional, but recommended)
Directions:
Bring a large pot of water to a boil for the pasta.
In a large Dutch oven or saucepan, heat the oil over medium heat. Add the onion, garlic, and a pinch of salt and stir. Sauté for 4 to 5 minutes, until the onion is softened.
Stir in the mushrooms, oregano, basil, and thyme and cook for 7 to 8 minutes over medium-high heat, until most of the water cooks off.
When the water for the pasta boils, add the pasta and cook until al dente, following package directions.
Into the pot with the mushrooms, stir in the marinara sauce, lentils, roasted red pepper, and tahini until combined. Make sure you stir well to fully incorporate the tahini. Simmer over medium heat, uncovered, for a few more minutes.
Drain the pasta and rinse it with cold water to halt the cooking process. Stir the pasta into the lentil-veggie mixture until thoroughly combined. Taste and season with salt, black pepper, and red pepper flakes (if using). Heat for a couple of minutes, or until heated throughout. Serve and enjoy. Leftovers can be stored in an airtight container in the fridge for up to 5 days. The leftovers are even delicious chilled, straight from the fridge! You can also freeze the cooled pasta in an airtight container or a freezer-safe zip-top bag with the air pressed out for 2 to 3 weeks. After thawing, add a splash of marinara and seasonings to the pasta while reheating to freshen it up.
Tips:
I recommend using a "runny" tahini so it easily mixes into the pasta. Avoid using the firm and dry tahini you often find at the bottom of a jar.
To save on prep time, you can buy presliced mushrooms.
Make it gluten-free: Use gluten-free pasta.
Make it kid-friendly: Reduce the mushrooms by half and chop them very small (think smaller than pea size) so they disappear into the pasta. The mushrooms will be undetectable, but your meal will still retain its immune-boosting benefits!
Fail-Proof Marinara Sauce
Vegan, Gluten-Free, Nut-Free, Soy-Free, Grain-free, Freezer-Friendly
Makes 5 Cups (1.25 L)
Prep Time: 10 Minutes | Cook Time: 35 Minutes
Ingredients:
1/4 cup (60 mL) extra-virgin olive oil
1 medium/large sweet onion, diced (2 to 3 cups/500 to 750 mL)
5 or 6 medium cloves garlic, minced (about 2 tablespoons/30 mL), to taste
1 teaspoon (5 mL) fine sea salt, or to taste, plus a pinch
2 (28-ounce/796 mL) cans or jars no-salt-added crushed, puréed, or diced tomatoes, with juices
2 bay leaves
1 teaspoon (5 mL) dried oregano
Freshly ground black pepper
1/2 cup (125 mL) fresh basil leaves, finely chopped
Directions:
In a large pot, heat the oil over medium heat. Add the onion, garlic, and a pinch of salt and stir to combine. Sauté over medium heat for 4 to 5 minutes, or until the onion is softened.
Stir in the tomatoes with their juices, bay leaves, oregano, salt, and pepper to taste. Simmer for at least 30 minutes, until the sauce thickens. It should reduce in volume by one-third to one-half. Discard the bay leaves.
At this point, if you prefer a smooth sauce, you can purée it in a blender or directly in the pot using an immersion blender. Otherwise, simply leave the sauce chunky. (I usually leave it chunky because I like the texture.)
Remove from the heat and stir in the basil. Taste and adjust the salt and pepper, if desired. Store the cooled sauce in an airtight container in the fridge for up to 1 week, or in the freezer in a freezer-safe zip-top bag or container for 1 to 2 months.
Reprinted from Oh She Glows Every Day by arrangement with Avery, a member of Penguin Group (USA) LLC, A Penguin Random House Company. Copyright © 2016, Glo Bakery Corporation
Related Posts