Review | But My Family Would Never Eat Vegan!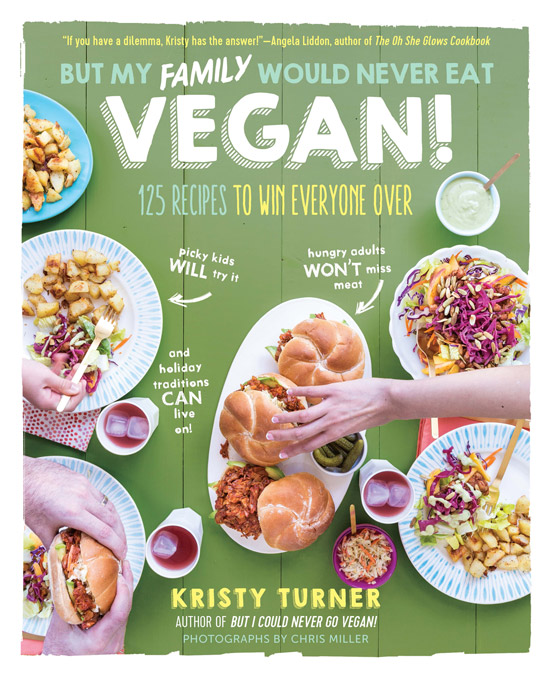 I was first introduced to Kristy Turner of Keepin It Kind when she memorably won the Chopped challenge of mango, beets, unsweetened coconut, and rice cereal way back in 2012 with her Sweet & Salty Ice Cream Layer Cake, also known as Balsamic Beet Sorbet, Mango Lassi Ice Cream, Salted Maple Caramel Crunch, and Coconut Pound Cake. Regardless of what it was called, it screamed creativity. Fast forward a couple of years, and her first cookbook But I Could Never Go VEGAN! 125 Recipes That Prove You Can Live Without Cheese, It's NOT All Rabbit Food, and Your Friends Will Still Come Over for Dinner is one that is cherished and stained in my kitchen. We didn't have to wait long this time around, because Kristy just released the sequel cookbook: But My Family Would Never Eat Vegan! 125 Recipes to Win Everyone Over: Picky Kids Will Try It, Hungry Adults Won't Miss Meat, and Holiday Traditions CAN Live On!
The theme of the book is family. New vegans and old can find the family dining table a challenge. Kristy starts the book in the introduction with a 'role play' that so many of us can relate to. Fittingly, every one of the 20 chapters is dedicated to a family member or some get-together. Each chapter has 6 or more recipes, making it easy to be prepared for every occasion. Such as: My kids think vegan food is weird; If forced to choose between chicken wings and me, my spouse would choose the wings; There's no way vegan food can make everyone happy at once; and The in-laws will just add this to their list of my faults to name a few. In the interest of science, I tried at least two recipes per chapter, often more. These recipes are just like Pringles: once I started I couldn't stop! Below are some highlights from the book with an overall ranking of 10-stars – making these recipes an 11.
The first is Chinese Chickpea Salad. Growing up, my favourite thing ever to bring to summer potlucks was Mr. Noodle Salad. This recipe is that, but so much better. Mr. Noodles are replaced by crumbled rice crackers (or "Grandma Crackers" as I call them), and are the topping for a crunchy colourful bowl of cabbage (two types!), green onion, water chestnuts, and chickpeas. A simple dressing of tamari and sesame oil lends to the taste, and sliced almonds give it a subtle nutty flavour. Crunchy, fresh, and delicious, this is my new Mr. Noodles Salad.
The Portobello Philly Reuben is, in one word, sublime. A DIY Russian dressing, marinated smoky mushrooms, loads of sauerkraut, and Smoked Gouda Cheese Sauce make for a deliciously tangy sloppy sandwich. The dressing adds dill, a slight tomato taste, and some kick from paprika. The mushrooms are marinated in liquid aminos and vegan Worcestershire for a lovely 'grilled steak' feel. The melty cheese sauce, a cashew cheese base kicked up a notch with paprika, dill, and garlic powder, has all the smoked Gouda flavour I remember. Sauerkraut is added to the pile to cut through the richness and leave you with a sloppy mess of a sandwich.
A very simple dish that just blew me away was the Pecan Pesto Spaghetti Squash with Peas and Kale. Spaghetti squash is baked and turned into spaghetti, then sautéed with peas and kale. Once warmed, the mixture is liberally dressed in a bright pesto with greens, basil, lemon juice, and pecans. I was in an "Italian" rut with my spaghetti squash, and was blown away at the flavour combination of squash and pesto. I also love green food, and this is for all the Kermit's out there. Warming up the dish all together also made a huge difference: it allowed the flavours to co-mingle, things to get nice and cozy, and the dish to come together. Light and tasty, it's perfect for warmer weather, but as it's heated I found it a great dish to remind you of summer in the colder months.
Although it's for the in-laws, I think that the Kung Pao Cauliflower is suited for any day where the Chinese take-out is too tempting to resist. Cauliflower soaks up the Kung Pao sauce made of tamari, tomato paste, sriracha, ginger, and rice vinegar wonderfully. Added to the mixture in a dry stir-fry fashion are noodles, green onions, and bell pepper, lightly sautéed in sesame oil for some extra pizazz. It reminded me remarkably of my favourite eggplant dish at a Chinese restaurant in Winnipeg many years ago – something that I've been on the hunt for since and haven't found. As an extra bonus, the whole dish comes together in weeknight friendly timelines. I also found great success with adding some bok choy to the stir-fry to give some extra greenery to the better than take-out bowl.
On the sweeter side of things, the Chocolate Peanut Butter Truffles were amazing. Carousels were my favourite Christmas treat growing up, and these are even better. Kristy cut the sweetness down a lot in the filling, making the truffles that much more peanut butter-y. Simple to make, I made these one afternoon and gave them to all my friends hanging out in the park. Many double fisted, all ate without shame. This was high praise indeed, as my chocolate coating skills are lacking and as one person said the truffles looked like moose poop. At another potluck, I brought the Marbled Pumpkin Cheesecake. My marbling skills are only slightly better than my chocolate coating skills, but that did not detract from the flavour. This no-bake cheesecake has a base of pecans, dates, and spices, and a cashew-based filling with pumpkin, spices, coconut cream, and lemon for the cheese tang. I made it a day ahead of the potluck, and it traveled well, firmed up nicely, and was devoured by all. I loved the continuity of the spices from the filling to the crust, and how matched the two were. The base texture was perfect, and held up to the cheesecake topping nicely. Pronounced a winner at the potluck, I was very popular indeed!
Also included in the book is a treasure trove of information for those new to cooking and a hilarious reminder for those who know already. How to cook a grain, bean, set up your pantry, and get the right tools for the job are all included. Unlike all other cookbooks that have this information, Kristy brings some humour to the table – reading how to cook beans has never been so amusing. Recipes are marked Gluten/Nut/Soy free, as well as Gluten/Nut/Soy Free Options for those that may need a sub. Each comes with a humorous anecdote or backstory, making this cookbook a joy to read as well. The photography is by Chris Miller, and, with a picture for almost every recipe, it makes the book warm and inviting. "Apple" food photography has been en vogue for a while, and that's not what's in here. Chris' photos are unpretentious, colourful, and inviting, just like eating with friends and family should be. There are also helpful how-to photos from everything for how to ice a cake to how to stuff the perfect Cheese-Stuffed Meatball.
As Kristy says in the introduction, you don't have to force family to be vegan. A bit of compassion and understanding go a long way as far as their own journey. This is food activism with a dash of humour, a dollop of creativity, and handfuls of pizazz. This book is full of dishes to wow even the most vocal critic, and may make you the most popular person at the gathering (in a good way)! As such, when the publisher let me share a recipe with you, I chose the Marbled Pumpkin Cheesecake. Delicious for vegans and non-vegans alike, it was a big hit at my holiday potluck, and I hope those that you make it for find it as delicious.
For more information on Kristy and her cookbooks, please visit her website.
Reviewed by Katie Hay
When Katie isn't exploring new cuisines and challenging food conceptions in the kitchen, she can be found at farmers' markets, building and designing bicycles, and planning her next life adventure.
Full disclosure: Katie was a tester during the production of this book, and she loved every second of it. However, even if she didn't play a part in shaping the final recipes, she would still be recommending every single one of them.
Marbled Pumpkin Cheesecake
Serves 8 to 10 // Prep Time: 15 Minutes (not including time to chill coconut cream) // Active Time: 15 Minutes // Inactive Time: 6 Hours
My aunt always makes the best pumpkin pie. The whole family loves it and looks forward to it every Thanksgiving. If I were to bring a vegan pumpkin pie to share with my family, everyone would compare it to my aunt's and since that's already the frontrunner and a beloved family recipe, not only would my vegan pie be the loser, it would be a loss for vegan food in general. That's why I bring a dish that's a little different. This cheesecake is as delicious as it is beautiful. It doesn't have to compete with pumpkin pie—it can stand on its own, and if the family wants to try the cheesecake without giving up their beloved pie, they don't have to.
Crust
1 cup (165 g) Medjool dates, pitted
1 1/2 cups (190 g) pecan pieces
1/2 cup (50 g) almond flour
1/2 teaspoon ground cinnamon
1/2 teaspoon ground ginger
1/2 teaspoon salt
2 tablespoons maple syrup
1 tablespoon coconut oil, melted
Vegan cooking spray (soy-free if necessary)
Filling
1 1/2 cups (225 g) raw cashews, soaked in warm water for at least 4 hours and drained, water discarded (if you're using a high-speed blender, you can skip the soaking)
6 tablespoons (85 g) chilled, hardened canned coconut cream (see Tip)
1/2 cup (120 ml) maple syrup
3 tablespoons lemon juice
1 1/3 cups (320 g) pureed pumpkin (not pumpkin pie filling)
1 teaspoon vanilla extract
1 teaspoon ground cinnamon
1 teaspoon ground ginger
1/2 teaspoon ground nutmeg
1/4 teaspoon ground cloves
1/4 teaspoon salt
To make the crust: Place the dates in a food processor and process until they're in small pieces. Add the pecans and process until crumbly. Add the almond flour, cinnamon, ginger, salt, maple syrup, and coconut oil and process until incorporated and the mixture holds together when squeezed.
Line the bottom of a 9-inch (23 cm) springform pan with parchment paper and lightly spray the inside of the pan with cooking spray. Transfer the crust mixture to the pan and spread it evenly along the bottom and about 1 inch (2.5 cm) up the sides. Place the pan in the freezer.
To make the filling: In a blender, combine the cashews, coconut cream, maple syrup, and lemon juice. Blend until smooth, then transfer 1/4 cup (60 ml) of the mixture to a small bowl and set aside. Add the pumpkin, vanilla, cinnamon, ginger, nutmeg, cloves, and salt to the processor. Blend until smooth. Pour on top of the crust and spread it evenly.
Drizzle the reserved cashew cream over the top. Carefully drag a toothpick or skewer through the coconut cream and pumpkin mixtures, making a marbleized pattern. Cover the pan, return to the freezer, and freeze for 2 hours. Transfer to the refrigerator until ready to serve. Remove the sides of the springform pan, slice, and serve. Leftovers will keep in the fridge for 3 to 4 days.
Tip
Refrigerate a can of coconut cream or full-fat coconut milk overnight. The cream will harden and separate from the water. Use a can opener to open the can and lift off the lid. Carefully spoon out the solid coconut cream. Discard the water (or save it for later use). If you can find a 5.4-ounce (150 g) can coconut cream, it will provide you with all the cream you need for this recipe.
Recipe from But My Family Would Never Eat Vegan!: 125 Recipes to Win Everyone Over © Kristy Turner, 2016. Reprinted by permission of the publisher, The Experiment. Available wherever books are sold. theexperimentpublishing.com
Recipe Photo: Chris Miller
Related Posts