Review | Unconventional Treats by Audrey Snowe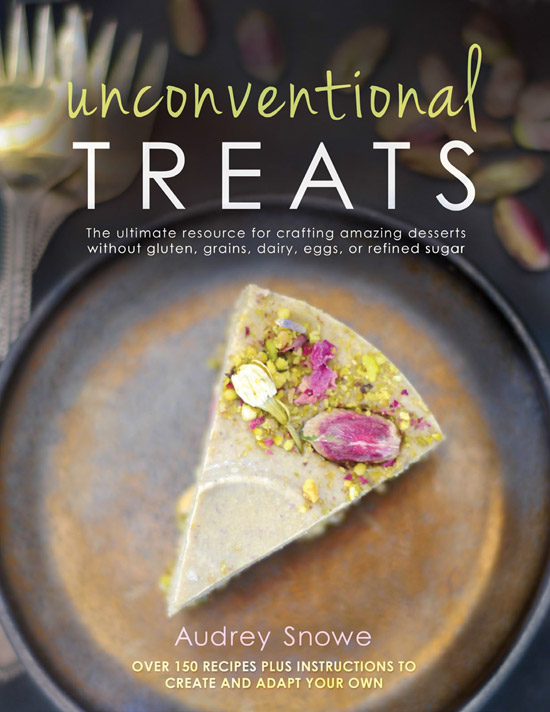 I will be the first to admit that I do not have a sweet tooth. Growing up I had to throw out last year's Halloween candy before I was allowed to go out again. This means that desserts take an extraordinarily long time to be consumed and undergo a rigorous vetting and pro/con list prior to consumption. I'm picky. I have to feel like it's worth it before I go and squander my six month sweet threshold. This doesn't mean that I'm not interested in the science of baking and desserts: I follow blogs with rapt attention, picking up and learning about the ratios, flavour profiles, and balance required for successful sweets. When I learned that Audrey Snowe of Unconventional Baker had an e-cookbook, I knew that this would be worth all my sweet allocation. This long preamble is an apology: it's taken me just shy of one year due to moving and circumstances to write this long-overdue review.
Audrey has a knack in the dessert realm for flavour, combinations, and whimsy. Part of my delay of reviewing this cookbook was indeed Audrey herself: I just couldn't resist making some of her newer blog creations. The Raw Berry Lime Cheesecake is just one example. Tart, fresh, creamy, and just sweet enough, this recipe was the closest I have ever gotten to the much beloved Avocado Lime Cheesecake of the now-closed Gorilla Foods in Vancouver. But I digress.
Her cookbook is full (150 recipes full) of creative unique desserts that read to be as scrumptious as that cheesecake. A proponent of DIY staples, she dedicates a whole 59 pages of the book to preparing your kitchen. From nut butters to coconut oil to the differences between cocoa and cacao powder, she gives the reader a treasure trove of information for easy reference. The cookbook then goes into the delicious part: the recipes. Cheesecakes, Cakes, Pies & Tarts, Candy & Fudge, Cookies & Bars, Cookies, Puddings, Ice Creams, Spreads, Frostings & Sauces, Drinks … she has it all. About 75% of the book is cooked, the rest raw. 50% of the book is chocolate based, the rest tart. All look amazing. Still working through the Lime Cheesecake leftovers and other creations along the way (all things pumpkin right now), I made two recipes from this collection, with intent to make many more.
The first was Decadent & Spicy Carob Hemp Bites. I firmly believe that nothing bad comes out of a food processor – it just may not be what you intended. These fudgy bites use hemp hearts as their nut base, a change from the normal almond or cashew base. With carob's natural sweetness, a dash of salt, cayenne, and cinnamon make these bites distinctly Mexican in profile. Not too sweet and in a small bite size, these fudgy morsels are a decadent treat for when I crave something chocolatey. They freeze wonderfully, and I actually like them better from the freezer.
The second home run was the Lemon Poppy Seed Slice. Growing up, my Dad's Christmas treat was lemon bars. I would lick the super tart filling off and leave the base alone, making me somewhat unpopular. I have been searching for a similar dessert for years, but one that I would eat the whole thing. Enter Audrey's creative genius. These bars have a simple crust of almonds, dates, and poppy seeds, which is delicious on its own. Packed into Tupperware containers (as I am lacking in pans), the cashew-based creamy filling of lemon, more lemon, turmeric, poppy seeds, and a smidge of maple syrup is poured on top to set. Also a fantastic stand-alone pudding, this dish is more than the sum of its parts. Not too sweet, these cheesecake like tart bars are phenomenal. With a difficulty rating of 1 out of 5, they were super easy to prepare with items from the pantry. I loved these, and, with my Tupperware preparation, could eat as much as I wanted from the freezer without having the pressure of eating the whole thing. This turned out to be moot, as one container did disappear pretty quickly.
One thing I love about Audrey's desserts is that they are easy to scale. She has a conversion calculator on her website, so whether you want a serving of 1 or 100 it's a snap to preserve the science of baking without sacrificing the quality of the result. (Any out there who have tried to scale pie crust know what I am talking about!) She has an eye and a knack for flavour combinations, and a tenacious curiosity that will not rest until the result is perfectly balanced. Some recipes do call for strange and exotic ingredients just for the sake of experimentation, but many others call for ingredients that are readily available in your (North American) local corner grocery. An additional benefit of this curiosity is the willingness to tweak perfected recipes to meet dietary restrictions such as soy or nut free. Finding a great cheesecake recipe that is cashew or tofu free is typically fruitless. Until you find the treasure-trove at Unconventional Baker that has cheesecakes made from tigernuts (which aren't a nut!), cauliflower, sunbutter, and even parsnip! What's more important: they're all delicious! Sweet tooth currently satisfied, I know that in the coming holiday season I will be turning to Audrey's book and website for potluck contributions and my own celebrations.
Audrey has been generous enough to share a recipe from her book, and I have chosen the Lemon Poppy Seed Slice. Enjoy these minimum-fuss scrumptious tangy treats!
For more information on Audrey and her book, please visit her website.
Reviewed by Katie Hay
When Katie isn't exploring new cuisines and challenging food conceptions in the kitchen, she can be found at farmers' markets, building and designing bicycles, and planning her next life adventure.
Lemon Poppy Seed Slice
These lemon poppy seed squares are a refreshing dessert to whip up when you're in the mood for a small, cheesecake-like treat. The paring of creamy lemon filling and crunchy poppy seeds creates lovely yellow slices which are irresistible.
Prep Time: 20 mins Chilling Time: 5 hours or overnight Makes: 6 slices
Crust Ingredients
1/2 cup almonds
2 soft medjool dates, pitted
1/2 tbsp maple syrup
1/2 tbsp coconut oil, liquefied
1 tsp poppy seeds
Filling Ingredients
1/2 cups raw cashews, pre-soaked and strained
3 tbsp maple syrup
3 tbsp lemon juice
2 tbsp coconut oil, liquefied
1/2 tsp pure vanilla extract
1/2 tsp pure lemon extract dash of salt
dash of turmeric (for color)
1/2 tbsp poppy seeds
Directions
Process all crust ingredients into a sticky crumble. Transfer into a small container lined with parchment paper (I use a 5"x3" pan) and press down into an even crust. Place in the freezer. Blend all filling ingredients, except poppy seeds, until completely smooth in a high-power blender. Add poppy seeds and briefly mix to stir them in. Transfer this mixture into the prepared crust pan and smooth out the top with a spatula. Place in the freezer for 6 hours or overnight to set. Slice and serve! Store leftovers in the freezer. Thaw out on the counter a little for a creamier consistency before serving, if you prefer.
Nov. 01, 2016
Comments Off on Review | Unconventional Treats by Audrey Snowe
Related Posts