Review | Easy. Whole. Vegan.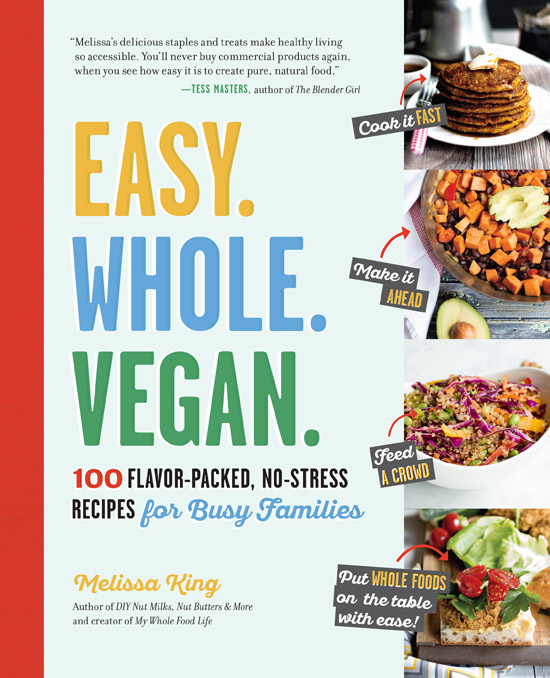 This past month has been ridiculous at work. I've been getting home in time to put on pj's with 45min for dinner (cooking and eating) before putting in some more hours before bed. The mere thought of the effort it would take to get take out seemed like too much. So when Easy. Whole. Vegan. by Melissa King landed on my doorstep it was like a gift. Melissa gets that time is a luxury we sometimes don't have, and gives us 100 recipes largely sorted by time to prepare as an offering to feed us. The introduction I thought was also tailored to the speed reader: the prepare your pantry section was sorted in alphabetical order and not foodstuff, which meant that Dried Fruit was just before Egg Substitutes. I am a list person, and this made it very easy for me to index, and find the handy summary tables, like all the egg substitutes out there, in a flash. The kitchen tools were similarly organized, and useful for when I want to go to the kitchen outlet again. And that was it. She then jumped straight into the recipes.
First I tried The Best Lemon Roasted Broccoli. Whenever something is labelled with an adjective such as 'best', I'm immediately skeptical. Far be it for me to tell you that this is indeed the best, but here broccoli is roasted to perfection in a simple marinade of lemon juice, garlic powder, and salt. My favourite bits were the slightly charred flowerets – tangy, crunchy, and just a bit smoky. Feeling a bit like that no-mans-land between fall and winter, I then tried the Kale and Wild Rice Salad with Tempeh. The seasoning for the titular ingredients is an Asian-inspired broth of mirin, sesame oil, ginger, garlic, vinegar, and liquid aminos. Cooking this is a one pot dream: cook the rice, then dump everything else into the pot except the kale, wait a bit, then add the kale. Done! This was a quick and dirty dinner that was fresh and simple with clean flavours, and even better for lunch. Liking the hybrid seasons, I then tried the Sweet Potato Pasta with Spinach and Tomatoes. This could not get any easier. First, sweet potatoes are turned into pasta with a spiralizer, julienne peeler, or knife work, and then are added to a pan of sautéed onion, garlic, spinach, and tomatoes. Hemp hearts and pepitas are sprinkled on top for crunch, and within 15min you're feasting. I was surprised at how delicious this simple meal was. The second time around I threw in some fresh basil (as she suggested in the notes) that needed to be used up and it was delicious. I am a vegetable noodle addict, but for whatever reasons had never tried sweet potatoes. I loved their colour and their slight crispness even after the sauté. This was a festive looking dish that was quick to whip up, flavourful, and easy to clean up after. A blank canvas as well, I want to try adding different herbs and vinegars to tweak it and make it my pantry friendly every time.
Chapters are creatively split up by level of difficulty, time to cook, and taste: Quick (under 30min), Easy, Make Ahead, Entertain, Yummy (sauces and such), and Pick-me-ups (juices and smoothies). The first five chapters span all meals of the day. All recipes are simple, easy, and approachable. There is no overwhelming long list of ingredients – just simple whole food. Melissa picked up on the lesson Robin taught me with Cook the Pantry, and made creative use of canned items, reminding me that canned items can taste fresh(ish), if prepared properly. I did find on whole the recipes to be lightly spiced, so I would only recommend to season to taste. Overall however, this is a fantastic book for the rushed who want to put a delicious meal on the table in less time than it takes to change out of your work clothes. The index is sorted by ingredient, so if you have a glut of one thing waiting to be used in the fridge (or only one thing in the fridge), it's a snap to find an accompanying quick meal. The publishers have generously let me share a recipe with you, and I've chosen the Kale and Wild Rice Salad with Tempeh. Creative and delicious – it was a popular choice during my busy month, and I hope it comes to your aid as it did mine!
For more on Melissa, and her book, please visit her website.
Reviewed by Katie Hay
When Katie isn't exploring new cuisines and challenging food conceptions in the kitchen, she can be found at farmers' markets, building and designing bicycles, and planning her next life adventure.
Kale and Wild Rice Salad with Tempeh
Tempeh is one of my favorite plant-based proteins. Like tofu, it's made from soybeans, but it differs in that it's made by fermenting cooked soybeans. It also has an earthier flavor than tofu, so it happens to pair nicely with the wild rice in this recipe. The baby kale provides an unexpected sweetness, and the ginger adds a little spice to make this dish truly memorable. I suggest cutting the tempeh into smaller pieces to allow it to be better coated with the sauce.
Makes 4 to 5 servings
Prep and cook time: 50 minutes
Ingredients
2 cups (480 ml) water
1 cup (160 g) uncooked wild rice blend
One 8-ounce (227 g) package tempeh
1/4 cup (60 ml) apple cider vinegar
1/4 cup (60 ml) mirin (see Notes)
2 tablespoons toasted sesame oil (see Notes)
1 tablespoon Bragg Liquid Aminos (see Notes)
2 teaspoons freshly minced ginger
1 teaspoon garlic powder (or 1 garlic clove, minced)
3 cups (50 g) baby kale or spinach, loosely packed
Steps
In a large saucepan, add the water and wild rice blend and bring to a boil. Reduce to a simmer, then cover and cook for about 40 minutes, until all the liquid is absorbed.
Add everything else except the kale and cook for 5 to 7 minutes.
Add the kale and mix until it's slightly wilted.
Serve immediately or refrigerate for later. This will last at least a week in the fridge.
Notes
If you can't find mirin, check the Pantry section on page 12 for a good substitute.
If you don't use oil, you can probably omit the toasted sesame oil, but I think it adds great flavor.
If you avoid soy, you can use coconut aminos in place of the Bragg Liquid Aminos.
Recipe from Easy. Whole. Vegan.: 100 Flavor-Packed, No-Stress Recipes for Busy Families © Melissa King, 2016. Reprinted by permission of the publisher, The Experiment. Available wherever books are sold. theexperimentpublishing.com
Recipe photo: Heather Poire
Dec. 13, 2016
Comments Off on Review | Easy. Whole. Vegan.
Related Posts