#TBT | A Vegan Holiday Cookbook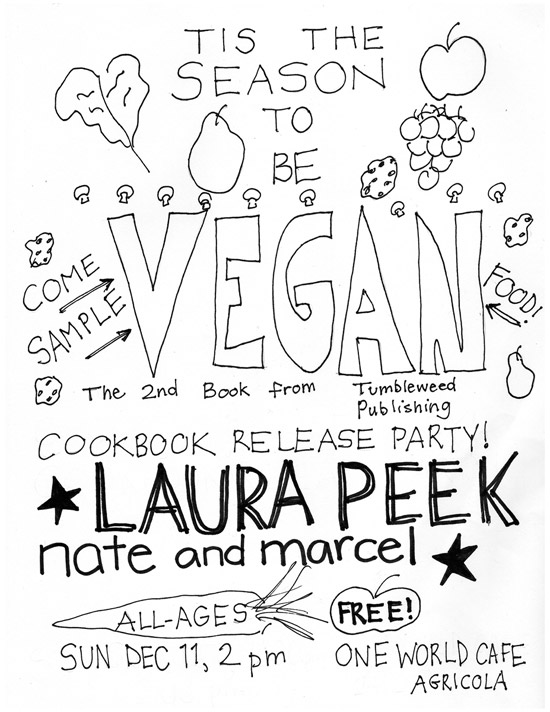 It's hard to believe that it's been over ten years since I was involved in the release of a holiday-themed vegan cookbook, but it's not so hard to believe just how much has changed since the little collection of recipes to survive the holidays with relatives was published!
Back then (cue the old man voice), Tofurky roasts were a mere rumour in the area where I was living, and vegan cheese was still a soy-based product that didn't melt… or really taste like anything worth eating. Basically, vegan food was a little hit and miss, and spending time around a holiday table could very easily lead to you being the butt of many jokes over your tofu loaf.
Okay, maybe it wasn't that bad, but we did have to carry that tofu loaf up a hill, in the snow, with a 30 kg bag of nooch on our back. I'm telling you, kids these days have it easy with their vegan pizza pockets and their impossible burgers!
*cough*
Where was I?
Oh yeah, the release of a holiday cookbook.
To make things easy, especially since I'm currently battling a cold or flu, I'm just going to include a quote from myself that I wrote for the press release way back when:
"We wanted this one to address the issue of surviving the holidays as a vegan. All the traditional meals of turkey and eggnog, and the questions from family and friends, can be daunting to someone who has chosen a vegan lifestyle," says Ryan Patey, project coordinator.
Don't worry, I'm not just writing about this so I can quote myself from a press release I wrote back when social media still wasn't sure what it was doing. I'm mentioning this on the blog today because the cookbook itself is currently available through the online store. Sadly, it's long since out of print, but the digital version is easily picked-up for whatever price you want to pay, including free.
So, if you're stuck for recipe ideas, or you just want to see what kinds of things people were putting on their festive tables a decade ago, please check it out!
You can find it here.
Dec. 22, 2016
Comments Off on #TBT | A Vegan Holiday Cookbook
Related Posts