Aegina Island for Vegans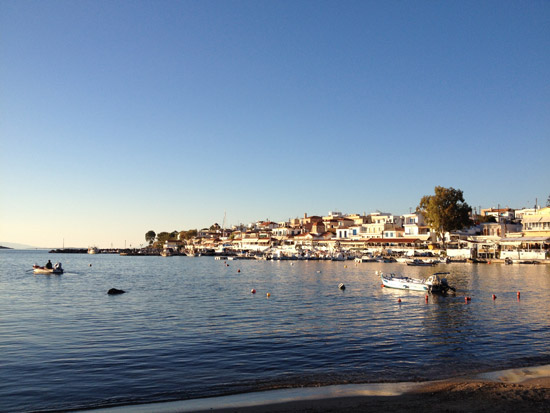 Although I touched on the trip a little with my last travel post about my time in Athens, Greece, I thought I should make a separate post for Aegina Island and the trip my sister and I took there for a couple of nights. As one of many Greek islands, we picked Aegina because it was relatively close to Athens and the ferry schedule was frequent, despite the fact that we were in Greece during the off-season. Originally, we had our sights on more popular islands, but it turned out that our choice of Aegina Island would be far from disappointing.
Thanks to the post on Will Travel For Vegan Food, I knew I had at least one option on the island. However, due to my sister's digging around for some adventure ideas, I ended up having a great meal near the water in another town as well.
The Town of Aegina
After a short ferry ride from Piraeus, we landed in the town of Aegina, and quickly sought out our room for the two nights we would be there. We stayed at Hotel Aegina, which wasn't too far from most of the things we wanted to see in the town. Of course, given the size of Aegina, it would have been hard to stay somewhere that was rather far away from the coastline.
Once we had checked-in and dumped our bags, we made our way down to the water and followed it to the edge of the town where we found Dromaki restaurant. I'm not sure if we were served by the owner or not, but she seemed really familiar with the food and was able to accommodate me with few questions.
Not only that, but the meal she prepared was great. Have I mentioned yet how much I love the tomatoes, and produce in general, in Greece? Seriously, I could eat the tomatoes like apples in that country!
Along with the popular pistachio stands (don't leave without buying some!), there are plenty of other restaurants in Aegina, but the menus typically either cater heavily to tourists (think hamburgers, English breakfast, etc.) or they are filled with seafood. So, I didn't see many side dishes that I recognized from other Greek food outings, which is why Dromaki was a great option. On a sad note, I did get a falafel wrap from one spot and stressed that I wanted tahini only to find out later from the home owner of the sit I was doing in Athens that falafel are typically served in Greece with tahini sauce, which includes yogurt and paprika. So, be careful!
Perdika
Thanks to having my sister along for the trip, we ended up on an adventure down the coast the day after we had arrived. Luckily, there was a bike shop still renting in the off season, so we made our way to the town of Perdika without needing a cab.
Thanks to being tourists, the trip took us a little longer than expected as there were seaside views, abandoned hotels, and plenty of goats to take pictures of along the way. Plus, thanks to a loose bike chain, some minor repairs were needed as well. That being said, the ride was a relatively easy one (minus a hill or two) and there was little traffic, which was a nice change from the hustle of Athens.
Eventually, we found ourselves biking along a boardwalk filled with restaurants just a few steps away from a dock with people fishing. Needless to say, the menus once again were filled with creatures of the deep, but thanks to my sister's detective work, the restaurant we were headed to had a number of traditional Greek side dishes that I could order to wind up with a good meal.
As the reviews suggested, Remetzo restaurant did not disappoint. From great service to plenty of friendly, stray cats, we spent a few hours there and may not have left if it wasn't for the sun disappearing and our pending bike ride back in the dark.
Outside of the two towns, we didn't get a chance to explore the interior of the island, but it was still nice to be able to get away from the busy city of Athens for a little bit. Although I hope to get back to Greece to explore more of the islands, I might very well keep Aegina on my list based on the simplicity of getting to it from Athens alone. Obviously, there are plenty of other reasons, but who can resist a weekend getaway to an island with good food, beautiful views, and piles and piles of pistachios?
If that's not enough, then perhaps this video will convince you to take the boat to a little getaway?
Dec. 12, 2016
Comments Off on Aegina Island for Vegans
Related Posts