A Vegan Month in Turkey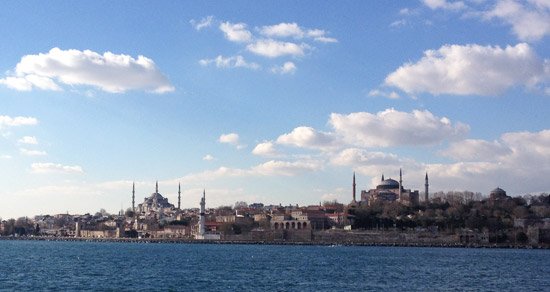 Admittedly, out of all the places I've been now thanks to house sitting, Turkey is probably the biggest surprise on my list so far. One of the reasons why is the general issue of safety, which turned out to be rather relevant soon after I left the country due to two bombings, and then continued to be an issue with an assassination (tw: descriptions and scenes of violence and death) and, more recently, a mass shooting on New Year's Eve. Outside of the news covering events like this, Turkey was just never generally on my radar.
However, with no sits set after my time in Greece, I soon found myself headed across the Aegean Sea to Istanbul from Athens after confirming one with a lovely couple from the UK who were in need of a sitter for their two little dogs.
With few expectations in terms of food, people, and everything else, I was set to spend a month in a country that straddled Europe and Asia, both physically and culturally. Needless to say, I was excited, and also looking forward to finally doing a house sit with a pool.
Sadly, by the time I left Istanbul and headed to Bangkok, I had not taken a swim in the pool. However, I had fallen in love with Turkey for so many reasons.
Animals
As usual, the reason I ended up in Turkey in the first place was because of a house sit, and that meant I spent a large part of my time there with some adorable critters. In this case, I was lucky enough to meet Jess and Finn while taking care of a villa in Kızılağaç, which sits just outside the seaside resort town of Bodrum. Along with getting to play fetch with Jess numerous times around the property, I also took them for daily walks through the hills of the neighbourhood. Quite often, we were joined by a number of local strays, and I would end up as part of a train going along the path as the sun set and the day ended.
Although I spent the majority of my time with Jess and Finn during the sit, I also got to meet a horse, numerous chickens, cows, and even some goats on my regular walks to the grocery store or the weekly market. Of course, a big part of why I had such an assortment of animals around me for weeks was due to being in a small town, so it was understandable that my time in Istanbul just before I left only involved the odd cat or dog while exploring the city.
The Sights
Speaking of exploring, my time in Turkey was filled with a number of adventures, and each one of them led to things worth writing about. Obviously, I can't blog about each little moment, but I can certainly mention some highlights, which included:
Catching the sunset in Kızılağaç as I walked with Finn, Jess, and any other dog that joined us
Seeing the sunrise in Istanbul as I headed to the airport to leave the country
Enjoying a hot Turkish tea as the sun dipped below the horizon on the Asian side of Istanbul, and then exploring the many alleys of the neighbourhood before taking the ferry back in the night
Seeing the ebb and flow of the crowds on the streets from morning to evening each day
Stumbling into the Grand Bazaar while walking around near my hotel
Hearing the call to prayer echo through the valley several times a day in Kızılağaç
Dipping my feet into the salt waters of the Aegean Sea
Taking the ferry from one side of the Bosphorus to the other
Along with these memories, I was also lucky enough to visit the Blue Mosque while in Istanbul, and it easily stands out as one of the best parts of my time there. Well, minus buying a scarf from a carpet seller because I felt bad for the family due to how terrible tourism has been in the last year or two. I probably could have skipped that, but I guess it's just part of the experience of visiting a popular tourist destination. Plus, if that's the price I have to pay to see such an amazing structure, I'm okay with that.
The Food
Another thing in Turkey that was worth the cost almost every time was the food. Along with great prices, there was also an impressive assortment of things to eat, both in the small town of Kızılağaç and the major metropolis of Istanbul. Obviously, in the smaller town I was more dependent on cooking at home, but I was also spoiled by the variety of things available at the weekly market, the corner grocery store, and even the property I was taking care of.
On a daily basis, I ate oranges and olives that came from the orchard below the villa, and I also regularly ate such things as halva, borek, bread, and a variety of greens that I bought within the neighbourhood. There was even an olive oil pressing plant within five minutes that traded fresh oil for the olives that the locals brought during the season, which just happened to be around the time I was there. At one point, I even ate a carob pod or two from one of the two carob trees on the property.
Of course, I've never been one to cook all my meals when there are great restaurants just outside my door, so my time in Istanbul was spent exploring the vegan options there. Along with my interest in seeing what the city had to offer, the fact that I was staying in hostels and small hotel rooms that lacked kitchen facilities only helped to give me another reason to have someone else cook for me.
Luckily, Istanbul did not disappoint on the vegan food department. In fact, it exceeded my expectations in many ways, and I still find myself missing some of the things I had even though I've also been spoiled here in Ho Chi Minh City, Vietnam. From incredibly cheap, but tasty falafel at Falafel Zone to ciÄŸ köfte, which translates to "raw meatball" although it's now typically vegan, Istanbul was full of both purposely vegan restaurants and dishes that just happened to be okay for a traveller such as myself to order.
Along with restaurants, Istanbul also has at least one vegan grocery store (Vegan Dükkan) and vegan options for things like cheese and meat at other shops. Sadly, I didn't get to try the vegan meat options due to having no way to cook them, but I did get to eat the cheese on a nice loaf of bread with some hummus and the aforementioned vegan meatballs.
Although I couldn't cook the vegan meat myself, I did manage to try a traditional dish called "iskender" thanks to the lovely Community Kitchen. Along with serving veganized versions of Turkish dishes, the restaurant has a very cozy feel complete with resident felines, and I highly recommend it.
If I haven't impressed you yet, then maybe the fact that I ended up in the wrong vegan restaurant (Mahatma Cafe) simply because I assumed the place I saw with "vegan" in the window would be the spot I was looking for (Tight Aggressive, which happened to be across the street) will give you an idea of just how many options there are. Basically, with a little over a week there (and a limited budget), I barely scratched the surface of the vegan options in Istanbul, and I hope to some day go back and try more.
Proceed With Caution
Although I do hope I've shown you just how beautiful Turkey is, and how great it is for a vegan there, I feel that I should stress once again the fact that the country itself has a very recent history of deadly attacks, and planning a trip there should not be done lightly. Personally, I had no issues and felt safe throughout my time there, but the fact is that many of the events that have happened there lately have taken place in public spaces and involved innocent bystanders. So, it may not be as terrible as CNN or some travel advisory websites suggest, but it's also not the same as planning a vacation to Newfoundland and Labrador.
With that in mind, whether or not you choose to visit the country, please do try to spread the word about events happening there, and push for positive change in whatever way you can. From the threat of violence each day to the terrible consequences the attacks have had on tourism, the people of Turkey deserve better for so many reasons, and creating awareness is just one way you can try to help from outside of the country.
Other Resources
Some of the things I found helpful during my time in Turkey were blogs from previous visitors to the country. In case you might find them of use, I recommend the following:
Related Posts