#TBT | A New Direction for T.O.F.U.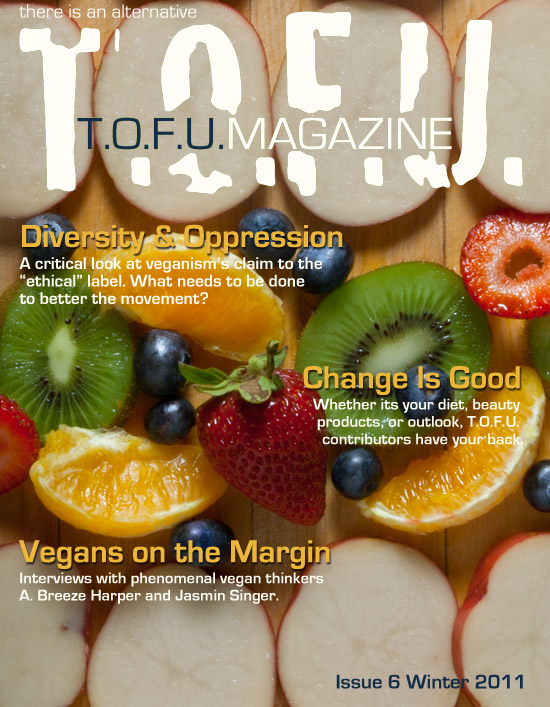 Five years ago, T.O.F.U. Magazine took a bit of a turn from the usual vegan content that can still be found on grocery store shelves in many parts of Canada and the United States. Thanks to the influence of the Creative Director at the time, the magazine decided to start critically analyzing the vegan community and the problems within it. For many of you, it's likely that you found out about the magazine after this change. Although the issues before that sold relatively well, the fact that they contained things like articles on vegan parenting, beauty tips, book reviews, and plenty of recipes really didn't set the publication apart.
Now, I like to think that T.O.F.U. has its own little corner of the vegan magazine market, and I'm quite happy hanging out in that spot. Since opening up to a more inclusive viewpoint, T.O.F.U. has published some incredible pieces and covered a broad range of topics.
To its credit, issue six contains a number of pieces that rank amongst my favourites, and they can now also be found in The Book of T.O.F.U., which (not surprisingly) contains pieces that come mainly from the issues published after the shift in content was made.
Along with being included in the Kickstarter-funded anthology, the two key interviews from the issue were also previously published on the blog in two Throwback Thursday posts. If you haven't already read them, I recommend checking out both the interview with Jasmin Singer of Our Hen House and the one with Dr. A. Breeze Harper of The Sistah Vegan Project.
Of course, if you're interested in reading those pieces, as well as plenty of other things, you can always download the issue itself for whatever price you want to pay, including free, through the online store.
Dec. 29, 2016
Comments Off on #TBT | A New Direction for T.O.F.U.
Related Posts