Review | Low-FODMAP and Vegan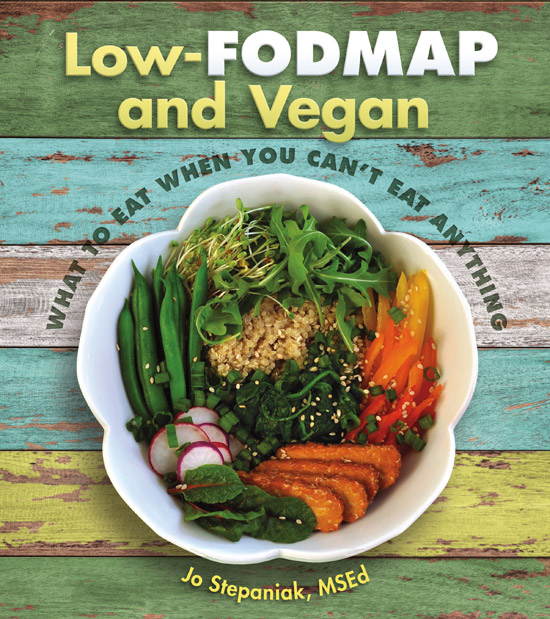 For a while now, I have been working to heal my digestion. So, when I heard about Jo Stepaniak's Low-FODMAP and Vegan, I was excited to get my hands on it. Low-FODMAP refers to FODMAPs, which are naturally occurring but poorly absorbed carbohydrates that can wreck havoc on sensitive or compromised digestive systems. This book is intended for those with IBS who observe a vegan diet, although it would benefit almost anyone.
Low-FODMAP is part education and part cookbook. The first 44 pages inform the reader about FODMAPs, IBS, charts outlining which foods are safe and which are not, as well as recommended lifestyle changes beyond food that can help treat IBS. The rest of the book is dedicated to more than 100 vegan, gluten-free recipes that follow the Low-FODMAP guidelines to be gentle on sensitive tummies.
The food portion of the book presents recipes in distinct sections: Low-FODMAP Staples are your spice mixes, condiments, almond milk, veggie stock and other staples you'll need to make many of the recipes in the book; Breakfast Bowls, Beverages, and Light Bites gets into the first meal of the day with oatmeal, porridge, puddings, granola bars and more; Dinner Buffet gets into hearty entrees including pastas, stews and stir-fries; Getting Sauced, my favorite section, has sauces for every conceivable occasion; and finally, Soup, Sandwich and Salad Bar is exactly as described, listing creamy, hearty soups, fresh salads and savory sandwiches.
I love sauces and I love simple, so I tried recipes that appealed to my quick and easy lifestyle. The Lemon-Tahini Dressing caught my eye, as tahini dressing is a versatile, favorite staple in my household. This version is interesting because Jo has you cut the tahini with peanut butter, to make it lower FODMAP overall so that you can eat more of it. The dressing was zingy from the lemon and rich from the nut and seed butters, a perfect condiment for salads, rice dishes, or over warm vegetables.
Speaking of warm vegetables, my next foray into the recipe section led me to the Roasted Veggies with Dilled Lemon-Caper Sauce. I adore roasted veggies, and I'm a huge fan of capers, so I was all about this dish. The roasted veggies are a breeze to make, as was the dilled lemon-caper sauce, and the two together were so, so good. The hot, roasted potatoes, carrots, zucchini and bell pepper pair perfectly with the cool, rich, salty dill sauce. I liked this recipe so much, I made it twice in one week and have added it to my repertoire of go-to's. An incredibly simple dish that can be made easily after work for a quick dinner, or as a lovely side dish to another entree.
I was intrigued by the Warm Thai Noodle Salad, which includes two of my favorite things on earth: salads and noodles. This salad combines soft, warm noodles with a flavorful peanut sauce and fresh, crunchy vegetables. It's filling and delicious, a versatile dish that could be made again and again when in a hurry. I wasn't sure how I would feel about the inclusion of balsamic vinegar in the peanut dressing, but it worked quite well.
Relatedly, I tried the Spicy Peanut Sauce (which you can make not-spicy, if you prefer) to put over a quick rice-based stir-fry that I had thrown together with tofu and random veggies I had in the fridge. It was perfect, exactly what you'd expect and want in a peanut sauce. Very easy to throw together and good on a wide-range of dishes, or as a dipping sauce for fresh spring rolls.
The recipe that intrigued me the most, and therefore was one I knew I had to try, was the Greek Tofu Feta. I used to love feta cheese and have not found a vegan version that I can buy in-stores to fill that craving. The idea of having a vegan feta that's also full of protein to put on salads was too enticing to pass up. The feta did not disappoint – while I wouldn't say it tastes exactly like non-vegan feta, it hit the right notes. I had it on a lovely Greek-style salad, and then the next day on warm pasta with kalamata olives and pine nuts. Both dishes were wonderful and filling. This one needs to marinate for 24-48 hours, so be aware that you have to plan ahead!
The book has several recipes for making condiments from scratch, like ketchup, chili paste and barbeque sauce. If you are not up to the task of making your own condiments, you can opt out of for most recipes. For instance, those that call for the chili paste list the chili paste as optional and provide the alternative of store-bought Tabasco, if wanted. The homemade condiments seem easy enough to put together, but may be a step too far for some. If choosing store-bought condiments instead, use the handy charts to figure out which brand and style would be most suitable for a low-FODMAP diet.
Overall, Low-FODMAP and Vegan is a great book for anyone seeking guidance on how to eat in a way that is beneficial to those with IBS or sensitive digestive systems. It provides helpful charts and guidelines to help you navigate this new way of eating, and several recipes to get you started on the right path.
The publishers have generously agreed to let us print my favorite recipe, the Roasted Veggies with Dilled Lemon-Caper Sauce, so you can try it for yourself! Enjoy this quick, satisfying dish as your entry into low-FODMAP eating and a happier gut!
For more information on Jo and her book, please visit her website.
Reviewed by Nichole Dinato
Nichole Dinato, with her dear friend Callie Coker, runs and hosts Vegan Warrior Princesses Attack!, a philosophical podcast that digs into tough vegan topics with grit and loads of humour.
Roasted Veggies with Dilled Lemon-Caper Sauce
This recipe is a turn-to staple not only because it's irresistibly delicious and wholesome, but also because it practically makes itself. Once the veggies are prepped and in the oven, set a timer and go read a book for a while. The sauce takes just a minute to put together, and the whole dish is so spectacularly impressive, no one would guess how easy it is.
Vegetables
1 pound baby potatoes (a mix of red, gold, and purple or a single color), scrubbed
1 bag (1 pound) baby carrots, or 1 pound parsnips, peeled and cut into 2-inch pieces, or 1 pound mixed baby carrots and parsnips
1 tablespoon basil-infused, herb-infused, or plain extra-virgin olive oil
1 tablespoon garlic-infused olive oil Sea salt
Freshly ground black pepper
2 zucchini, sliced into 1-inch-thick pieces, 1 eggplant cut into 1-inch cubes, 8 ounces green beans or haricot verts, trimmed (1 1⁄2 to 2 cups), or 3 heads baby bok choy, trimmed and sliced in half crosswise
1 red bell pepper, cut into large squares
Dilled Lemon-Caper Sauce
3 tablespoons vegan mayonnaise
1 tablespoon freshly squeezed lemon juice
1 tablespoon dried dill weed
1 1⁄2 teaspoons dried tarragon, crushed between your fingers
1 teaspoon small capers, well drained
Directions
Preheat the oven to 425 degrees F.
If the potatoes are large, cut them in half. Put the potatoes and carrots in a large roasting pan. Add the basil-infused oil and garlic-infused oil. Sprinkle generously with salt and pepper as desired. Stir until the vegetables are evenly coated with the oil and seasonings and spread into a single layer. Bake for 20 minutes. Remove from the oven and stir. Add the zucchini and bell pepper, stir well to coat with the oil, and spread into a single layer. Bake for 15 minutes. Remove from the oven, stir, spread into a single layer, and bake for 10 minutes longer, or until the vegetables are dark brown in spots and the potatoes are fork-tender.
When the vegetables are almost done roasting, prepare the sauce. Put all the sauce ingredients in a small bowl and stir until evenly combined. Top each serving of the roasted vegetables with a dollop of the sauce or pass the sauce at the table.
Feb. 01, 2017
Comments Off on Review | Low-FODMAP and Vegan
Related Posts