Review | Vegans Go Nuts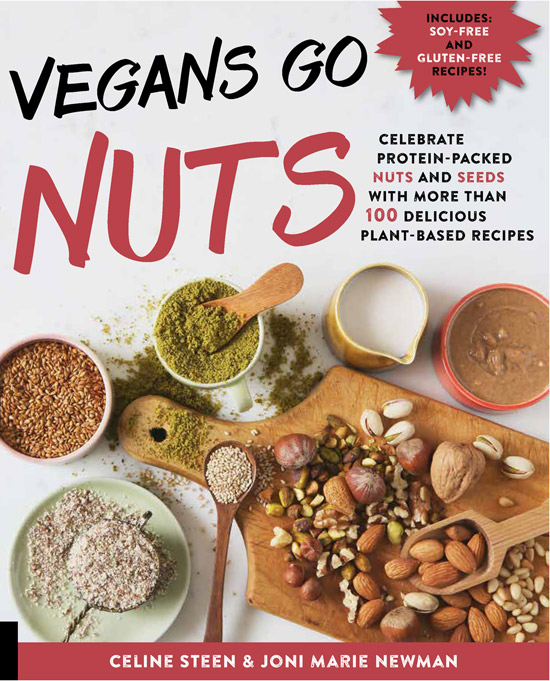 The power duo is back at it again! The creative geniuses Celine Steen and Joni Marie Newman have published yet another book honouring one of my favourite things: Nuts. In Vegans Go Nuts, Celine and Joni challenge you to expand your use of the humble nut, to go beyond eating peanut butter straight out of a jar. (No judgement here – we've all done it!) They start off the book with a short and sweet preamble: What are all the different nuts and seeds, why do we eat them, and how do we treat them with respect? For all those who have stopped reading due to allergies, stick with me! They highlight in a special section that all recipes can be interchangeable for the nut/seed. In the name of science, I thus tested many recipes first as written and second with a seed-friendly sub. I've got your back.
The Vietnamese Peanut Tacos with Almond Lime Sauce was first. If I could, I would bathe in that sauce. So simple: almond butter, lime juice, a touch of agave, and garlic. This also works well with tahini – I may even like it better. The tacos are stuffed to the brim with Banh Mi type vegetables: carrots, cabbage, cucumber, scallion, and cilantro. These tacos are fresh, vibrant, colourful, and crunchy. Liberal use of Sriracha makes them spicy, and a marinated tempeh adds protein and oomph to the dish. A winner. The Sweet Potato Berbere Cashew Stew was as simple as it was flavourful. The titular ingredients were joined with carrots, onion, garlic, tomato paste, and spices for a warming, stick-to-your-ribs stew. I loved the depth of flavour in this stew, and its spice level was perfect for a rainy weekend. I did add some lime juice at the end to serve: I found the stew to be quite rich, and that little splash of brightness was all it needed. Another great choice that wins also in the leftover race is the Zhoug Cashew Thin Omelets. These are Vietnamese pudla's essentially: chickpea flour pancakes are made like crepes with mixed in fresh herbs, garlic, scallions, cumin, rice vinegar, lime juice, and miso. The flavour profile is phenomenal, and I loved them as much the next day for lunch as I did fresh. I stuffed mine with garlic sautéed spinach, but you could go so many places with these – including eating them naked. They are written to have almond flour in the base, but I tested them to be nut-free to see how they would work. I thought they were delicious that way, and look forward to trying them with the almond flour once my leftovers are gone.
I think my favourite however was the Buffalo Peanut Inside-Out Rolls. Although they give fantastic directions as to how to make a roll, mine fell apart and became a bowl pretty quickly. The concept however is culinary genius. Buffalo peanuts are made from scratch with a phenomenal concoction of hot sauce, garlic, and peanuts. Sushi rice is prepared (with proper instruction), and the roll fillings of celery, sesame seeds, scallions, and dill are prepped. In theory, these are all rolled up into sushi morsels and served with a Creamy Sunflower Buffalo Sauce made with sunbutter, hot sauce, garlic, and Dijon. In my messy bowl format, these blew my mind. The dill with the sunflower buffalo sauce made it taste almost like a hot ranch dressing, but with sushi rice, nori, and sesame seeds you also get the Asian experience. This fusion is harmonious, and addictive. I've made this recipe over and over (always in bowl form), swapping out nuts, butters, and veggies. All combinations work: you can't go wrong with this amazing taste combination. I am now a peanut hot ranch dressing addict.
I haven't finished cooking this book yet, and look forward to trying Hawaiian Macadamia Tacos, Pistachio Dukkah, and Sesame Walnut Bean Ball Banh Mi when I have the first opportunity. Recipes are marked oil free, gluten free, and soy free. Additionally, any recipes with simple swaps are marked as "potential". Handier, you can find all of these recipes by these markings in the index. While making all of these recipes, I never had to go out for crazy ingredients, and most were thrown together in less than 45min. Creative, delicious, and eye-opening, I loved entering the amazing kitchen of Celine and Joni. To welcome you to their creativity, I give you Buffalo Inside-Out Rolls (or bowl, if you're impatient like me). If you are allergic to peanuts, I tried this once without peanuts and subbed in sunflower seeds and still loved it. Next go-around I may try tiger nuts. Regardless of what nut you choose, I hope you enjoy these surprising combinations as much as I did!
For more information, please visit the publisher's website.
Reviewed by Katie Hay
When Katie isn't exploring new cuisines and challenging food conceptions in the kitchen, she can be found at farmers' markets, building and designing bicycles, and planning her next life adventure.
Buffalo Inside-Out Rolls
Nut: Peanut | Soy-free Potential
Throw tradition completely out the window with this fun take on buffalo wings made into sushi rolls.
For the rice:
1 cup (180 g) arborio rice (sushi rice)
2 cups (470 ml) water
1 tablespoon (21 g) agave nectar
1 tablespoon (15 ml) rice vinegar
1/2 teaspoon salt
For the Buffalo Peanuts:
1 tablespoon (15 ml) refined coconut oil, melted
1/4 cup (120 ml) your favorite hot sauce (Frank's works well here, as does Sriracha)
1 tablespoon (10 g) minced garlic
1 cup (112 g) dry-roasted peanuts
1/4 teaspoon black pepper
To make the rice: Place all the ingredients in a rice cooker and follow the instructions on your machine. If you do not have a rice cooker, bring the water and salt to a boil in medium saucepan. Stir in the rice, agave, and vinegar. Return to a boil, reduce to a simmer, cover, and cook until the rice is tender and has absorbed all the liquid, 16 to 
18 minutes. Once the rice is cooked, remove from the 
heat and cool completely.
To make the Buffalo Peanuts: Add the coconut oil, hot sauce, and garlic to a small bowl, and mix together. Add in the peanuts and toss to coat. Heat a large skillet over medium-high heat. Add in the peanuts and sauté until most of the liquid has been absorbed. Remove from the heat and toss with the black pepper. Set aside to cool.
Recipe Note
Not into rolls? Try it as a bowl instead! Simply layer all components in a bowl, drizzle with sauce, and sprinkle with shredded nori sheets, scallion, and dill.
For the rolls:
3 sheets of nori, cut in half
5 tablespoons (40 g) sesame seeds
1/2 cup (120 ml) Creamy Sunflower Buffalo Sauce (page 29)
2 stalks celery, cut into thin julienne strips about 4-inches (10 cm)
1 cup (100 g) chopped scallion
2 tablespoons (7 g) fresh chopped dill
You will also need:
A bamboo sushi rolling mat
A gallon-size resealable plastic bag
Plastic wrap
To assemble the rolls: Place your bamboo mat inside a resealable bag. Place on a flat work surface with the bag opening facing away from you. Place one half-sheet of nori on the edge closest to you. Add ½ cup (3.5 ounces or 100 g) of cooled rice in a single layer about ¼ inch (6 mm) thick to completely cover the nori. Sprinkle liberally with 1 tablespoon (8 g) sesame seeds. Flip over so the rice is face down on the plastic and the nori side is up.
Spread 1 tablespoon (15 ml) of Creamy Sunflower Buffalo Sauce in a thin layer on the nori. Into the center of the nori, layer about 4 pieces of celery, ¼ cup (38 g) of the Buffalo Peanuts, and 2 tablespoons (12 g) scallion.
Carefully roll in the sushi mat to close and create an inside-out roll. Take care to roll as tightly as possible. Open the mat. Cover the entire roll with plastic wrap, then re-roll 
in the bamboo mat to form the roll. Leave the roll in the 
plastic wrap, in the refrigerator, until ready to serve.
To serve, carefully unroll from the plastic. Using a very sharp knife, cut off each end of the roll and discard (or eat!). Cut the roll in half, then cut each half into quarters, and finally each quarter into eighths. Carefully remove each piece and arrange on a plate. Drizzle with remaining Creamy Sunflower Buffalo Sauce, and garnish with remaining scallion and dill.
Yield: 6 rolls (48 pieces)
Mar. 14, 2017
Comments Off on Review | Vegans Go Nuts
Related Posts