Review | The First Mess by Laura Wright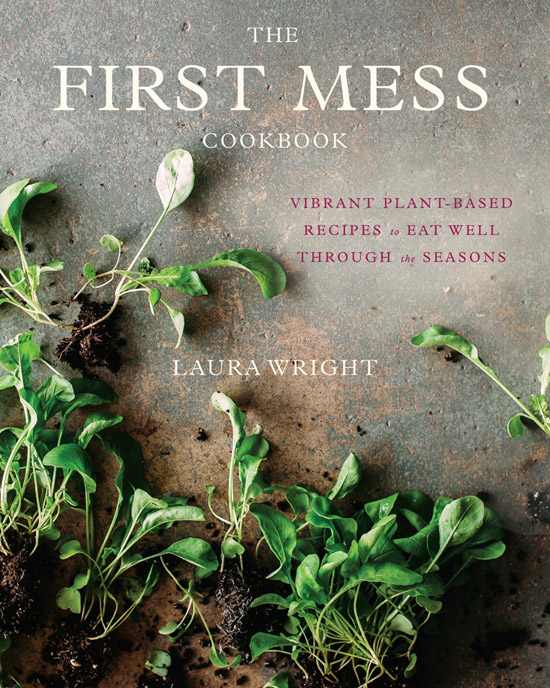 When searching out blogs, I've come to have my own criteria as to what ones I'll invest time into following. These criteria include, but are not limited to: recipe composition, photography, and quality of writing/motivation for blogging. Criteria are weighted in terms of importance and (informally) evaluated over five random visits. This may seem extreme, but with so many blogs out there waiting to be discovered, there is only so much time to read them all! One blog that I have enjoyed for many years after soaring past this vetting process is The First Mess. Throughout the years, I've been hoping Laura would author a cookbook. Happily, The First Mess Cookbook is now out and a compilation of everything I love about the blog!
I must first mention the gorgeous eye candy that is this book. The photographs are fantastic. Laura's photos on her blog are already gorgeous in composition, but there's something about seeing them in print that makes them really shine. The layout of the recipes is something I also really appreciated: ingredients to the side and instructions front and centre. Even the paper feels great, and the book is bound such that pages aren't flopping over when you're busy creating/making a mess. It is definitely a gorgeous book! But you may be asking: Is it all an artist's composition? Or do the recipes hold water?
Such questions I pondered as I flipped to the index. With a two page index, Laura's creativity knows no bounds in all food type situations. Encouraged, I quickly read through the introduction, eager to get to the recipes. She starts off with an intro to her kitchen process, followed by a very thorough explanation of basic to unusual (but worth it) foodstuffs for your pantry. Although this may seem somewhat intimidating, the recipes themselves are straightforward enough with ingredient lists that aren't cumbersome: every ingredient is there for a purpose, and no steps are frivolous while creating.
I started out challenging myself: fruit in stew. With Naturally Nourished smashing my thoughts on fruit in salad, I gave the Sweet and Sour Cabbage Stew with Rosemary a try. A simple soup with carrots, onion, and cabbage, the sweet comes from the addition of apple and the sour comes from apple cider vinegar. Rounding out the rosemary are cumin, caraway, paprika, nutmeg, and cloves to bring a warming heat to the stew. I was dubious, but this was absolutely fantastic. The spice mix was something I've never tasted and it matched the veggies perfectly. The acid level was on point, and all the tastes (sweet, sour, spicy) were satisfied. So successful was this, I made a salad out of the same ingredients for lunch the following week as I ran out of leftovers. Next, I tried the Weeknight Root Vegetable Dal. I made this on a Wednesday, to satisfy the 'Weeknight' trial. Made with your choice of root vegetable(s), it's a super quick dal that doesn't skimp on flavour. Turmeric, cumin, coriander, and mustard seeds spice the dal along with fresh ginger and extra garlic. The stew packs in the flavour and leaves you satisfied with the veggies and lentils. It tastes sunny, and I can think of no better accolade for 'hump day'. Continuing to challenge my taste buds, I finally made the Creamy Winter Vegetable Stew with Mustard and Lemon. Let me start with saying I hate Old Bay Seasoning. Or at least I thought I did. The stew is made up of parsnip, celery root, and cauliflower. Double onion action from white onions and the slightly garlicky (or at least I think so) leeks. Spiced with thyme, nutritional yeast, and Old Bay Seasoning, this stew is pretty much everything I thought I hated in one pot. And when you are cooking for one, this is a risky maneuver. Luckily, this was phenomenal. The vegetables once again are a perfect foil for the chosen spices. Spice amounts are also on point: nothing is overpowering in this mouthful. The addition of lemon juice at the end adds that level of acid that cuts through what could be a rich stew. I found this to be very cozy and warming, and after a commute that saw me soaked from head to toe, this was exactly what I was looking for. I take back everything I said about Old Bay Seasoning and parsnips.
These three recipes just highlight the 20+ ones I've devoured these past weeks in the name of thoroughness. As of this writing, I've still yet to make the Savoury Ginger Green Onion Crepes and one of the many rich, decadent drink recipes Laura has included. Of course, I know, based on what I have tried, that this breakfast will be one for the books! The publishers have let me share a recipe, and I've chosen the Sweet and Sour Cabbage Stew with Rosemary. This is the first stew with any sort of fruit in it that I've actually liked, and, given the speed in which it disappeared, it's definitely a winner! Enjoy.
For more information on Laura and her cookbook, please visit her website.
Reviewed by Katie Hay
When Katie isn't exploring new cuisines and challenging food conceptions in the kitchen, she can be found at farmers' markets, building and designing bicycles, and planning her next life adventure.
Sweet and Sour Cabbage Stew with Rosemary
Serves 4 to 6
Cabbage is the unsung hero of winter and this soup is my way of saying thanks for its existence. A cabbage can hang out in the back of your refrigerator for weeks and the rest of this soup is essentially pantry or cellar stock. It's important to make the shreds of cabbage short with this recipe. Slurping up long strands of cabbage can be awkward and especially messy when you're dealing with a deep purple broth.
a piece of cheesecloth or a loose-leaf tea infuser
1 tablespoon (15 mL) virgin olive oil
1 large yellow onion, small dice
1 medium carrot, small dice
1 medium sweet apple, peeled and chopped
1 1/2 teaspoons (7 mL) minced fresh rosemary (nearly 2 sprigs)
1 teaspoon (5 mL) cumin seeds
1 teaspoon (5 mL) caraway seeds
1 teaspoon (5 mL) smoked paprika
1/4 teaspoon (1 mL) ground nutmeg
1 small red cabbage, finely shredded (about 4 to 5 cups/1 to 1.25 L shredded cabbage)
3 tablespoons (45 mL) apple cider vinegar
2 tablespoons (30 mL) pure maple syrup
4 cups (1 L) vegetable stock
5 whole cloves
1 bay leaf
salt and pepper, to taste
chopped fresh flat-leaf parsley OR fresh dill, for serving
Heat the olive oil in a large pot over medium heat. Add the onions, carrots, and apples, and sauté until the onions are quite soft and translucent, about 4 minutes.
Add the rosemary, cumin seeds, caraway seeds, smoked paprika, and nutmeg, and stir. Keep stirring until the spices are quite fragrant, about 30 seconds. Add the cabbage and stir to combine.
Add the apple cider vinegar and maple syrup, and stir. Scrape any browned bits from the bottom of the pot. Pour in the vegetable stock and stir.
In a piece of cheesecloth or a loose-leaf tea infuser, secure the whole cloves and bay leaf. Drop the sachet into the pot, and submerge it with your spoon. Season the stew with salt and pepper.
Bring to a boil. Lower the heat to a simmer and cook the stew, covered, for 45 minutes or until the cabbage is very tender.
Serve the stew hot with chopped parsley or dill.
Reprinted from The First Mess Cookbook by arrangement with Avery Books, a member of Penguin Group (USA) LLC, A Penguin Random House Company. Copyright © 2017, Laura Wright
Apr. 11, 2017
Comments Off on Review | The First Mess by Laura Wright
Related Posts