Review | Blissful Basil by Ashley Melillo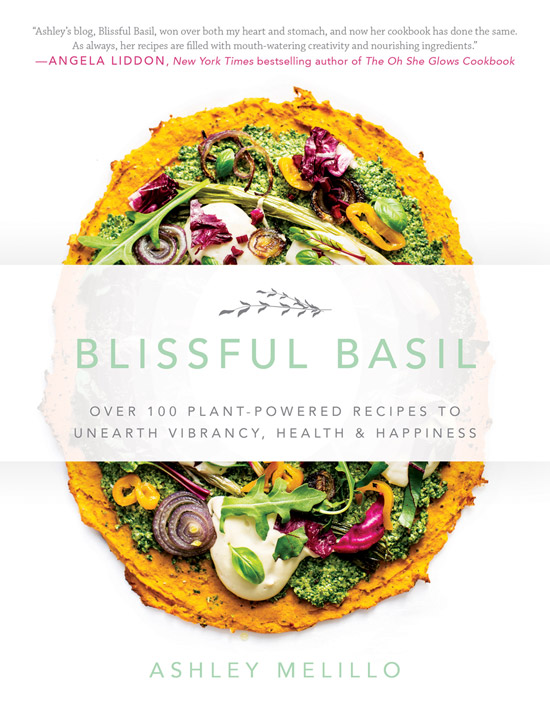 Growing up in a place that snowed all year round, I never really appreciated fresh herbs because there were none. It wasn't until I moved to a place where the growing season was over 3 weeks that I started to dabble in fresh herbs. Fast forward 10 years, and fresh basil remains to this day my favourite. When a book called Blissful Basil came across my path, I knew I had to review it. Blissful Basil is the debut cookbook by Ashley Melillo, with a blog of the same name.
I learned a lot about her approach to kitchen adventures in the introduction: a fan of small changes and flexibility, Ashley celebrates the small wins while acknowledging the larger journey. Her pantry section is thorough, comprehensive, and ties unique ingredients to recipes that highlight each of them. It's a great building block for your own experimentation in ingredients and flavour profiles. Her flexibility is illustrated through her comprehensive list of symbols: Recipes are listed as gluten free, grain free, soy free, nut free, oil free, refined-sugar free, and raw. Not only that, but they are also listed as all of the above with 'option', with suggestions from Ashely to make it so without compromising the integrity of the intent of the dish. Furthermore, recipes are sorted into chapters which reflect most of my own meal categories: from Breakfast and Brunch (where banana soft serve is a legit breakfast food) to Power Bowls, Pasta and Noodles; Sandwiches, Tacos + Pizza; and Sophisticated Sweets + Simple Treats, the book covers it all.
Full disclaimer: I eat 90% of my food out of a bowl. With an entire chapter dedicated to bowls and another to salads, I read them all with interest and bookmarked them all to try another day. I first tried the Sloppy Shiitakes with Tangy Rainbow Slaw, a fresh take on a sloppy joe with meaty shiitakes and white mushrooms cooked in a spicy-tangy BBQ sauce amped up with paprika, cumin, onion, and garlic. The shiitakes themselves reminded me of the soycurls found at Homegrown Smoker BBQ in Portland – meaty, smoky, sweet, and perfect all on their own. But when topped with the rainbow slaw that is a colourful crunchy mess with a hemp and lemon juice based dressing, the sandwich went to a whole other level. The two play off of each other perfectly from texture to taste, and I finished the dish in record time. (It also makes a fabulous bowl, as I have no bowl willpower).
On a particularly dreary night I made the Burst Heirloom Tomato + Superseed Pesto Pasta. Pasta is coated in a luscious and creamy pesto made with hemp seeds, basil, arugula, and lemon among others. Magic is added with a quick sauté of cherry tomatoes in herbs taken just to the point of bursting. When tossed together with the pasta of your choice, the tomatoes burst in your mouth like flavour bombs. Talk about mouthfeel! The whole dish itself is fresh and zingy, with amazing flavour coming from the pesto. A perfect dish for a dreary night, I was smiling the entire time I ate it. A second dreary night I caved and made the Swift Sweet Potato Curry. Quick to prep, fast to cook, and delicious to eat, it turned my mood around. A coconut based curry sauce adds richness and a touch of sweetness to compliment the sweet potatoes. The curry is spiced with perfect ratios of curry powder, coriander, ginger, and turmeric. Finished off with some bright notes of scallions, cilantro, and lime, this dish was as bright tasting as it was to look at. The curry was also extremely versatile: in one 'clean out the fridge night' zucchini, broccoli, cauliflower, and chard made their way into the pot with phenomenal results.
To really push my limits, I then tried the Shaved Carrot Reuben with Special Sauce + Swiss Cheese. This dish was a bit more of a project: I made the cashew-based Swiss cheese over the weekend and with the nut-free suggestion of hemp seeds. By itself it is tangy with a smooth texture that was delicious. Vegan cheese continues to be a mystical creature to me, no matter how many times I make it. I may just be too easy to impress, as all the ones I've tried throughout the years have been delicious in their own ways. This is no exception. The sandwich's star is the quick-picked shaved carrots: I used a spiralizer to make carrot noodles, then pickled them with apple cider vinegar and a spice mix of allspice, cloves, cardamom, cinnamon, and red pepper. Once they were ready, these carrots were fascinating to me. The carrots when shaved then pickled have almost a deli meat texture to them. They also don't taste like pickles with the pungent spice mix. Already we're at a winner, and then we add in the special sauce. Hemp seeds, sundried tomatoes, Sriracha, and dill blended together made for an amazing sauce that is special indeed. When all of these individual stars were put together and finished off with some sauerkraut, the result was a sloppy, tangy, crunchy, spicy, and altogether amazing sandwich. The carrots somehow tied everything together, demanding their time in the spotlight while letting all the sauces and toppings shine. The special sauce is indeed special, and smothers things with the perfect amount of tomato-dill creaminess. The sauerkraut puts everything over the top. Happily faced with leftovers, I reverted back to my roots and made this in bowl form for dinner the next day. The added crunch from the lettuce and cabbage I threw in there made this dish the biggest winner of my 20+ recipe testing thus far.
I know that next time I am at a potluck I will be bringing the Pile 'em High Epic Plant-Powered Nachos: yellow split pea nacho cheese, cashew sour cream, sunflower taco crumbles, pico de gallo, guacamole, beans, pickled jalapenos, and scallions all piled on top of chips that I think would make me the most popular person at the event. My next sandwich is going to be Beet Balls with Spicy Tahini-Ginger Sauce, unless I decide to serve them with the triple noodles from the sublime Triple Noodle Pad Thai. The Dessert section is also insanely creative, with Cardamom + Pecan-Pear Upside-Down Pudding Cake and Caramelized Banana Ice Cream Sundae on my list to make and share. Many of the recipes I tried I made more than once: once as written, and the second time with the suggested substitutions to make the recipe comply with the 'optional' label. This can be very challenging, as any cook knows. However, the Swiss Cheese made with cashews was just as tasty with hemp seeds. In fact, I liked it better. Ashley has a great intuition as to what will work, and gets very creative to satisfy her vision. So really, with all the substitutions, it's more like 3 cookbooks in one, and one that can cater to every allergy at the party.
I wanted to review this book to learn more about my favourite fresh herb, basil, but came out of the cookbook with new flavour profiles, a deeper understanding of how simple flavours can win the day, and a healthy respect for little steps. Choosing a recipe that encompassed all of this was difficult as every recipe seemed to be better than the last, but then I reviewed my notes and settled with the Swift Sweet Potato Coconut Curry. This recipe exemplified bold flavour with minimal prep and cook time and endless flexibility. Enjoy!
For more information on Ashley and her cookbook, please visit her website.
Reviewed by Katie Hay
When Katie isn't exploring new cuisines and challenging food conceptions in the kitchen, she can be found at farmers' markets, building and designing bicycles, and planning her next life adventure.
Swift Sweet Potato Coconut Curry
Serves 4 | 30 minutes or less
Late fall and winter draw out some of my fiercest sweet potato cravings, and Dan's cravings seem to have a similar rhythm. Thus, our fall and winter dinners tend to bounce back and forth between this dish and The Classic power bowl (page 153). This sweet potato coconut curry is truly swift, requiring just 30 minutes from start to finish. Sweet potatoes are simmered in a rich, spice-laced coconut broth until they begin to break down, forming a thick and creamy curry. It's finished with a sprinkling of scallions, fresh cilantro, and raisins before being served with a side of warm brown rice or quinoa.
1 tablespoon curry powder
1 teaspoon sea salt
1/2 teaspoon ground coriander
1/4 teaspoon ground ginger
1/8 teaspoon ground turmeric
1 medium yellow onion, finely diced (about 1 cup)
1 cup filtered water, divided
1 (14-ounce) can full-fat coconut milk
2 large sweet potatoes, peeled and cut into 1/2-inch cubes (about 4 cups)
3 scallions, trimmed and thinly sliced
1/3 cup raisins (optional)
1/4 cup fresh cilantro, stemmed and chopped
4 cups cooked brown rice or quinoa, for serving (optional)*
1 lime, cut into wedges, for spritzing (optional)
Toast the curry powder, sea salt, coriander, ginger, and turmeric in a medium stockpot over medium heat for 30 seconds, stirring constantly.
Add the yellow onion and 1/3 cup of the water, and cook for 5 minutes, or until the onion is soft and translucent, stirring frequently.
Whisk in the coconut milk and the remaining 2/3 cup water, and bring to a boil.
Add the sweet potatoes, decrease the heat to medium-low, cover, and rapidly simmer for 10–15 minutes, or until the sweet potatoes are fork-tender, stirring occasionally.
Stir in the scallions, raisins (if using), and cilantro, and continue to simmer, uncovered, for 5 minutes, or until the sweet potatoes begin to break down into the sauce, stirring frequently. Remove from the heat.
Spoon the curry into bowls and serve with warm brown rice and lime wedges, if desired.
No Grains? No Problem | To keep this grain-free, opt for quinoa, a grain-like seed, instead of brown rice.
May. 26, 2017
Comments Off on Review | Blissful Basil by Ashley Melillo
Related Posts