WAIW | Saigon Central Post Office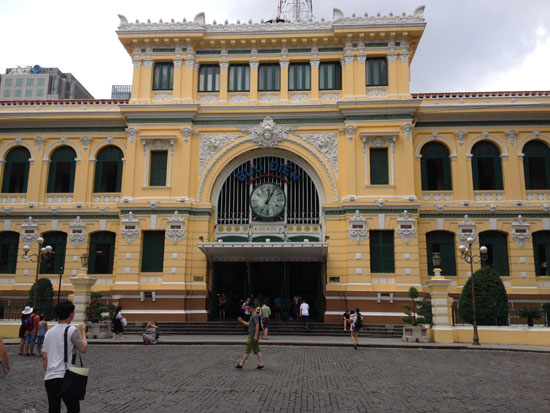 Months ago, just before I left Istanbul, Turkey to come to SE Asia, I ended up buying my mother a present. I'd like to say that I set out to do just that, but it was more like I was conned into doing so by a few carpet sellers. If you've travelled to Istanbul, you may already be familiar with the scenario. If you haven't, then it's really just a Turkish version of whatever other con can happen around a tourist trap.
Don't get me wrong though, I'm glad that I have something to send my mother, even though I'm not 100% sure it's her style. However, I have been carrying the gift around for over seven months now, which is an issue given that I only travel with one bag. Luckily, the gift isn't terribly big, but I do think it would have been nice to have sent it much earlier.
Unfortunately, one of the cons of travelling from place to place frequently is not having a good idea of how things like mail work in the country that you're in. Plus, with some of my sits, I've been on the outskirts of the city and lacking any easy transportation, so the days in which I didn't mail the gift turned into weeks, and then months.
Finally, I decided to take today to visit a post office here in Ho Chi Minh City, Vietnam. Not only that, I chose to make an adventure out of it and visit a well-known 19th century post office built by the French. After all, it's not every day that a trip to mail a package can also involve a famous landmark, right?
Sadly, my day didn't go quite as planned…
Jul. 19, 2017
Comments Off on WAIW | Saigon Central Post Office
Related Posts