TBT | Manuel Antonio National Park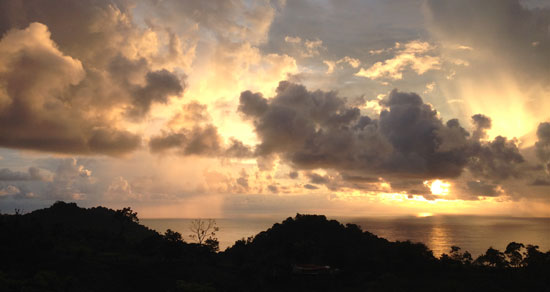 I've written a number of posts on the blog about my time in Costa Rica, whether it was about the first time I considered it home, the experience of living in Costa Rica as a vegan, or the great bread in my neighbourhood, there are plenty of reasons why I think of my time there fondly.
Funny enough, I don't believe I specifically wrote a post about one of the first trips my friends and I took outside of the town where we were living, Ciudad Colon, but it was one of the first moments where I came to realize just how beautiful CR was.
Plus, it was the first time I saw a sloth.
As if that wasn't enough, there were also monkeys, lizards, and various other wildlife that showed themselves while we walked through the jungle and hung out on the beach.
Of course, minus the sloth sighting, one of the best things about the trip was the sunset from the hostel just between the park and the nearest town. Needless to say, the picture I took doesn't do it justice, and I recommend you visit CR and the park to hopefully see many of these things for yourself.
Hopefully, I'll be back there at some point, and when I do you can bet I'll be filling up on gallo pinto and looking for more sloths in the trees!
Sep. 28, 2017
Comments Off on TBT | Manuel Antonio National Park
Related Posts