Press | xclusivx Loves T.O.F.U. #12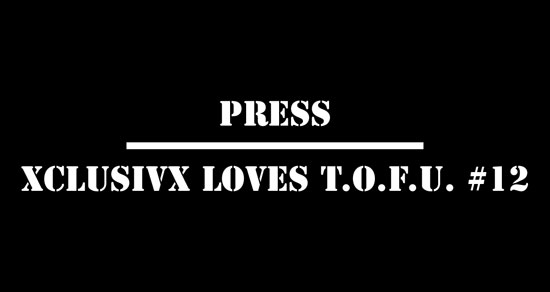 I've been a fan of xclusivx fanzine for a number of years now, and I guess it all started when they approached me about an interview for their fourth issue. Since then, they've continued to grow and release a great publication (in print!) that sells out with each issue. As someone who identifies as straightedge without being really vocal about it, it's been great to watch the popularity of the zine increase with each release, and I look forward to seeing just how far things go for them.
Of course, it's great to know that xclusivx returns the love with T.O.F.U., and it's always been nice to have their support. Connecting with other independent vegan publishers has been a great thing for me over the last few years, and being able to promote each other is always a nice bonus on top of talking about the industry and our struggles within it.
Plus, when releasing a new issue on a tight budget (or no budget at all), it's always great to have others choose to spread the word about your magazine. Given how keen Facebook is on making folks pay for views these days, I'll take all the friendly support I can get!
On that note, Kat was kind enough to offer her review of the latest issue of T.O.F.U., and I thought I would share it with you here in case you were interested.
I especially love, love, love the illustrations and pictures in this one, turned out amazing! And almost* all of the articles spoke to me, it is a great collection about vegans, veganism and mental health – reaching from anxiety and ADHD over depression to suicidal thoughts/feelings.
If you'd like to learn more about xclusivx fanzine, I recommend you visit their website. They offer all of their beautiful issues as free PDFs after each print run sells out, so there's plenty of reading to catch-up on.
Speaking of reading, if you still haven't downloaded T.O.F.U. #12, you can grab your own copy in the online store, and I'd love to hear what your thoughts are about it.
Oct. 14, 2017
Comments Off on Press | xclusivx Loves T.O.F.U. #12
Related Posts