Review | Bold Flavored Vegan Cooking by Celine Steen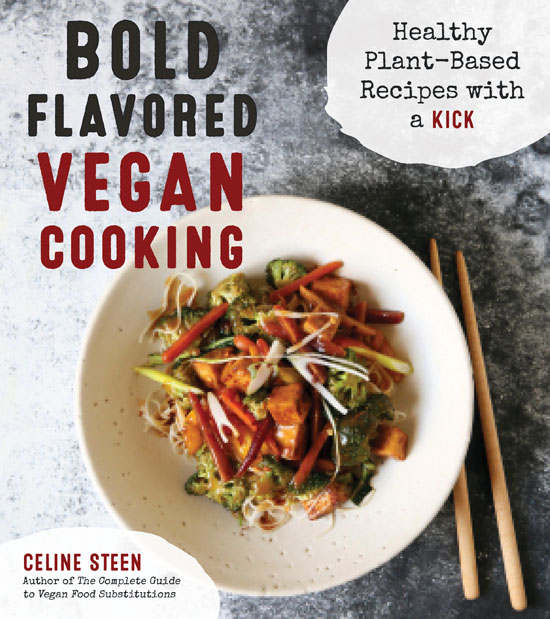 Every person's journey toward veganism is unique and perfect for them. Mine happened without me realizing, seemingly overnight. It also coincided with a period in my life where I was removed from the social and cultural structures I had cultivated for decades. Thrown in the deep end, I started exploring in the kitchen with the aim of satisfying myself not only through food, but also through ethics and well-being. Methodical to the core, I experimented with a plethora of techniques and cuisines, and came to realize that big, bold flavour was what I loved most. This is why when the prolific co-collaborator Celine Steen came forth with a solo book called Bold Flavored Vegan Cooking; I knew that I needed to test it.
Celine is the voice behind the blog Have Cake Will Travel, one of the first blogs I ever discovered. Her most frequent cowriter is the equally prolific and creative Joni Marie Newman, who among others wrote The Complete Guide to Vegan Substitutions, a book that was invaluable to me starting out. In her first solo effort, Celine starts with a very succinct two page introduction, highlighting why her book was written: to share her experience and knowledge for other vegans to shed the stereotypical steamed broccoli and tofu dinners for big, bold flavour. Chapters are broken down in terms of tastes: Savory, Spicy, Sweet, as well as Staples. There is an addendum called Meet and Greet your New BFFs (Bold-Flavored Friends), which is a rundown of the spices and mixes in the book. I loved this as a reference, and know the next time I find myself in a neat grocery experience I will be hunting down these spices. The Staples include the pastes, sauces, and pickles that are used throughout the book, although they could also stand alone. They're inventive and easy to throw together – much like this book! After I was done reading these reference sections, I went back to the book to plan my testing plan of attack. Fifteen recipes and two countries later, I had to call it just to write this review – but the cooking isn't done yet!
First up were the Matcha Tempeh and Pickled Veggies Sandwiches. The ingredient list looks daunting, but with three separate phases I pieced it all together one weekend for throw-together sandwiches during the week. The tempeh is prepared in a tangy marinade that includes lemon juice, brown rice vinegar, garlic, and matcha. The spread is a homemade amped up mayo, with wasabi, tamari, and more garlic. Quick pickles are added, and, when all together, an umami bomb explodes in your mouth. This dish made me think. It made me think so hard I made it twice. It's got a little something-something I just can't describe (umami!). The pickled veggies play with the creamy wasabi dressing/spread perfectly. The matcha makes the tang almost earthy. I think this is my new favourite sandwich. It's so odd it works – it's just one of those things!
Next I tried the Roasted Cabbage Slices with Chermoula and Chickpeas. This was another weekend project, with lots of not so difficult little pieces. The chermoula was perfect for someone moving: copious amounts of parsley, cilantro, and mint are blitzed with jalapeno, garlic, cumin, coriander, paprika, and some lemon tang. The chickpeas are roasted first, and then tossed with sumac and ras-el-hanout with the cabbage roasted in wedges soon after. The whole thing is served up with quinoa in an optional presentation somewhat like the Ukrainian stuffed cabbage I grew up with. The comparison stops there though. The Ras-el-Hanout is phenomenal, adding this savoury warm spice heat that I started adding to everything. The sumac adds a lemony tang to the chickpeas, elevated by the lemon in the chermoula. The veggies are crisp and crunchy, and the quinoa catches all the leftover yumminess. The whole thing is Kermit green from the fresh chermoula, something I love. My notes after devouring this on multiple occasions say "So very complex, it punches you in the face in all the best ways". I have nothing more to add.
A tough act to follow, but the Harira rose to the occasion. Less punch-in-face, more spicy-warmth so familiar to Moroccan food. The Harira is composed of mushrooms, carrots, onion, celery, and leeks in a tomato broth with both red lentils and chickpeas. The stew is spiced with harissa, ras-el-hanout, Baharat, ginger, turmeric, and salt. Fresh herbs as garnish finish off the dish. Overall, it's full of layers. First, the warmth of the ras-el-hanout hugs you. Then the other spices sneak up to join the party until your mouth is pleasantly on fire. The veggies are on point, and the combo of red lentils and chickpeas is a favourite. The red lentils make the soup much thicker than you think, and buoy up all the other ingredients in a rich velvety broth. I could not get enough of this! This recipe also made use of three spice blends found in the back of the book (harissa, ras-el-hanout, and Baharat), all of which were amazing.
The cookbook is bound in such a way that the pages fall open and stay open while cooking. This means that your second pot isn't used as a page holder, but rather as a … pot. Recipes are marked Gluten Free, Soy Free, Oil Free, and In a Hurry (under 30min from reading to eating) and are also organized as such in the index, something I value significantly. Recipes are easy to follow and not difficult to prepare (or so this home cook thought). A word on ingredients: many recipes call for items which require a special trip to the Middle East, Asian, Indian, and/or Latin American grocery stores. I personally love these adventures and have been known to hold weekend themed cooking orgies around my treasures. If this doesn't appeal to you (or you're unable to access such places), no worries – Celine offers up easy-to-replace substitutes for those special ingredients in most recipes. Finding myself in the midst of moving internationally and testing this book, I can say the subs result in a delicious end product!
Every dish was my favourite dish, making this book a keeper. The publishers have allowed for me to share one recipe, and I have chosen the Roasted Cabbage Slices with Chermoula and Chickpeas. I cooked this one twice: once as written and once with all the leftover vegetables in my fridge before I moved. I made the components in batches the second time and threw it all together while packing boxes. I love the boldness and textures, and hope you like this introduction to Celine's world as much as I did!
For more information on Celine and her cookbook, please visit her website.
Reviewed by Katie Hay
When Katie isn't exploring new cuisines and challenging food conceptions in the kitchen, she can be found at farmers' markets, building and designing bicycles, and planning her next life adventure.
Roasted Cabbage Slices with Chermoula and Chickpeas
Gluten-Free . Soy-Free
When you cut the head of cabbage, you should get 4 slices and leftovers from the sides of the cabbage. It might be wise to have a second head of cabbage handy in case your slices don't hold together well. Use caution when slicing. Reserve the leftover cabbage for other recipes, such as Quick and Easy Pad Thai (page 37). The freshness of the herbs combined with delicious garlic and zippy lemon make the chermoula the perfect accompaniment to virtually any dish.
Yield: 4 servings, 1 scant cup (195 g) chermoula
For the Chermoula
1 cup (70 g) lightly packed fresh parsley leaves and thin stems
1 cup (20 g) lightly packed fresh cilantro leaves and thin stems
1⁄3 cup (10 g) lightly packed fresh mint leaves
1 small jalapeño pepper, trimmed and seeded (optional)
2 cloves garlic, quartered
1 tsp (2 g) Aleppo pepper flakes
1⁄2 tsp sweet paprika
1 tsp (2 g) cumin seeds, lightly toasted and finely ground
1 tsp (2 g) coriander seeds, lightly toasted and finely ground
1⁄2 tsp coarse kosher salt, or to taste
1⁄4 cup (60 ml) lemon juice (about 2 medium lemons)
1⁄3 cup (80 ml) grapeseed oil or olive oil
For the Vegetables
1 1⁄2 cups (256 g) cooked chickpeas, patted dry
1⁄2 tsp coarse kosher salt
1 tbsp (15 ml) melted coconut oil or other oil, plus extra to brush cabbage slices
1⁄2 tsp ground sumac
1⁄2 tsp Ras el Hanout (page 159) or store-bought
1 small green cabbage, cut into 1⁄2-inch (1.3-cm) slices Maldon sea salt flakes or other salt
3⁄4 cup (128 g) dry quinoa, rinsed and cooked
1⁄4 cup (34 g) dry roasted pine nuts or pistachios
Garnishes: Fresh herbs, Aleppo pepper flakes, lemon wedges
To make the chermoula, place the parsley, cilantro, mint, jalapeño (if using) and garlic in a blender or food processor. Process to chop. Add the pepper flakes, paprika, cumin, coriander and salt. Pulse a couple of times. Add the lemon juice and process again, drizzling the oil in as the machine works. Alternatively, this step can be done with a mortar and pestle in several batches. Transfer to an airtight container, cover and store in the refrigerator until ready to use. It's best to use the chermoula within a day. Stir before use.
To make the vegetables, preheat the oven to 375°F (190°C, or gas mark 5). Combine the chickpeas with the salt and oil. Place in an even layer in a 9-inch (23-cm) baking dish and bake for 30 minutes, stirring once halfway through. Toss the chickpeas with the sumac and ras el hanout. Set aside.
Raise the oven heat to 400°F (200°C, or gas mark 6). Line a baking sheet with parchment paper or a silicone baking mat. Place the cabbage slices onto the paper, lightly brushing each side with oil. Sprinkle a tiny pinch of salt on one side of each slice facing up. Bake until golden brown and the core is tender, about 25 minutes.
To assemble, place chermoula to taste at the bottom of a plate, brushing it to cover some of the plate surface. Top with a cabbage slice; be careful when transferring because these can be a bit fragile. Add the quinoa divided into 4 portions, chickpeas divided into 4 portions and 1 tablespoon (9 g) of pine nuts each. Top with garnishes of choice and serve with extra chermoula.
Ras el Hanout
Gluten-Free . In A Hurry . Oil-Free . Soy-Free
Arabic for "top of the shop," ras el hanout is a rich and fragrant Moroccan spice blend. Its composition varies greatly, but a few typical spices are: coriander, cumin, cinnamon, nutmeg, peppercorn and paprika. Some blends can contain up to 100 spices! I kept things manageable here by using less, and put it to great use in several recipes, such as Very Tahini Teffballs (page 81), Moroccan-Flavored Stuffed Squash (page 95) and more.
Yield: Scant 1⁄4 cup (23 g)
1 tbsp (6 g) ground cumin (from toasted seeds)
1 tbsp (6 g) ground coriander (from toasted seeds)
Few turns white peppercorn grinder (optional)
1⁄2 tsp ground cinnamon
1⁄2 tsp ground allspice
1⁄2 tsp sweet paprika
1⁄4 tsp ground ginger
1⁄8 tsp ground nutmeg
1⁄8 tsp ground turmeric
Whisk the cumin, coriander, peppercorn (if using), cinnamon, allspice, paprika, ginger, nutmeg and turmeric in a small bowl. Transfer to an airtight container and store at room temperature for up to 1 month. The fresher, the better, so keep your yield small.
Nov. 21, 2017
Comments Off on Review | Bold Flavored Vegan Cooking by Celine Steen
Related Posts