Review | The Colorful Kitchen by Ilene Godofsky Moreno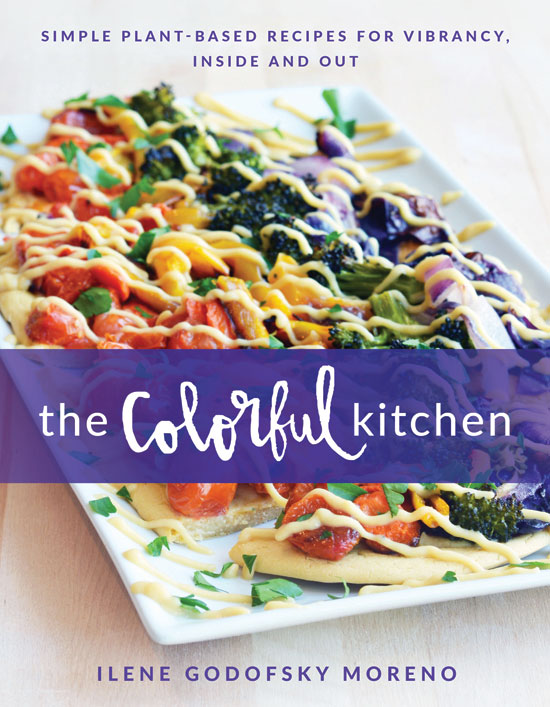 You eat first with your eyes, then your nose, then your mouth. A Chinese saying that I only discovered recently speaks to how I approach a meal. To me, a well-balanced plate is full of colour, textures, and tastes. Thus, when The Colorful Kitchen was offered to me to review, I couldn't resist. Ilene has an innate sense as to what colours go together with what textures and tastes. With a very short introduction and quick guide as to pantry stocking, Ilene jumps right into the recipes, teaching by demonstration. The book is separated into Smoothies, Breakfast, Salad, Soup, Sandwiches, Sides, Snacks and Appetizers, Entrees, and Desserts, with the Kitchen Staples and Sauces used throughout the book at the end.
Curiosity brought me first to the Kale and Avocado Pesto Pasta Salad. Curious because I was wondering how you would make kale and pesto, both very green, less monochromatic. The answer is with a kale salad studded with tomatoes, red onion, bell pepper, Kalamata olives, and any other veggies you have thrown in (I added sprouts). The veggie mix was perfect – a feast for the eyes and mouthfeels. But what sold the dish was the pesto. Made of kale, basil, avocado, lemon, nutritional yeast, garlic, and walnuts, this is a luscious pesto that I could bathe in. I especially loved the kale speckles in the pesto. I made this again with toasted pepitas instead of walnuts and perhaps loved it even more. The pasta salad is a great vessel for this pesto, although I won't judge if you eat it straight from the blender like I did. Spicing it up a bit, I next tried the Spicy Peanut and Kimchi Stew. The stew is composed of onion, broccoli, bok choy, and tofu, bathed in a rich broth. The broth is made up of non-dairy milk (I used coconut), kimchi brine, peanut butter, and tamari. The short ingredient list packs a whollop and is customizable to no end. I loved the combination of creamy broth and kimchi. I topped my bowl with more kimchi and some scallions, making it a very hearty stew. I also used silken tofu, which I don't normally like, but loved here: some of it added to the sumptuousness of the broth, and the rest was a creamy morsel to add to the crunch of al-dente broccoli. A fantastic canvas for those nights where you need to clean out the fridge. I closed out my testing with another pasta dish: Rainbow Cauliflower Alfredo Pasta. Never a big fan of alfredo, I loved this sauce. The cauliflower is what gives it volume and creaminess, blended with non-dairy milk (coconut again – had to use it up), nutritional yeast, tamari, garlic, and lemon. This sauce is poured over a pasta dish made up of cherry tomatoes, carrots, yellow bell pepper, broccoli, cabbage, and pasta. I added some red pepper flakes to make the whole thing pop. The result was comfort food at its best that hit all the right notes.
All this testing, and I still have my eyes on working through the super creative smoothie chapter, and the perfect cure for the February winter blahs: Harvest Butternut Squash and Apple Burger with Sage Aioli, Sweet Potato Chili, and Maple Mustard Squash and Lentil Bowl. I am not a big breakfast person, but even I am intrigued with all of Ilene's toast suggestions here, especially the Sweet Potato Toast. Also in the breakfast realm is Cinnamon Sweet Potato Fries with Maple Peanut Butter Sauce. I cannot imagine how that could go wrong, and will be making that for my next brunch potluck to share.
In the introduction she encourages the cooker to use the recipes as guidance and tweak as necessary. The recipes themselves lean towards fast and easy, with heavy use of the kitchen staples. This makes cooking on a time-crunched schedule super easy: I made the full recipe of all the staples, and then, during testing, just grabbed the items from the fridge and was good to go. As an extra bonus, all the Staples have a list at the end cross-referencing where they were used in the book. The downside of this is that some recipes seem daunting with more than one Staple recipe listed, but if you plan to make those recipes when you already have leftovers it turns from daunting to let's-clean-the-fridge-out-and-still-have-time-for-Game-of-Thrones easy. [Author disclaimer: I have never watched Game of Thrones. But you get my point.] Ilene is super creative in her fresh profiles with approachable recipes that are not complicated to make. Pleasing to the eye and belly, this is a fantastic addition to the cookbook collection. The publishers have let me share a recipe, and I have chosen the Rainbow Cauliflower Alfredo Pasta. I think this recipe highlights the creativity that Ilene brings to the dinner plate with a colourful twist.
For more information on Ilene and her cookbook, please visit her website.
Reviewed by Katie Hay
When Katie isn't exploring new cuisines and challenging food conceptions in the kitchen, she can be found at farmers' markets, building and designing bicycles, and planning her next life adventure.
Rainbow Cauliflower Alfredo Pasta
Total Time: 35 Minutes
Active Time: 20 Minutes
Makes: 4 Servings
I can vividly remember the stomachaches I used to get after eating pasta with Alfredo sauce. I loved it too much to give it up, but boy did I pay the price. This lightened-up cauliflower-based version is rich, buttery, and creamy, without any of the heaviness. Both my heart and stomach stay happy post-meal.
Rainbow Roasted Vegetables
1 cup cherry tomatoes, sliced in half
1 cup chopped carrot
1 yellow bell pepper, chopped
1 cup broccoli florets
1 medium red onion, sliced
1 cup sliced purple cabbage
2 tablespoons olive oil
Salt and black pepper, to taste
Alfredo Pasta
4 servings of your favorite pasta, uncooked
1 batch Cauliflower Alfredo Sauce (see below)
To prepare the rainbow roasted vegetables, preheat the oven to 400°F. Combine the cherry tomatoes, carrot, bell pepper, broccoli, onion, and cabbage in a large bowl. Add the olive oil, salt, and pepper and toss to combine. Spread the vegetables out on a baking sheet. Bake for 30–35 minutes, flipping the vegetables halfway through the baking time.
While the vegetables cook, make the Alfredo pasta. Prepare the pasta according to the instructions on the package.
Transfer the cooked pasta back to the pot it was boiled in, and stir in half of the Cauliflower Alfredo Sauce. Add more sauce as desired and heat until warm, about 5 minutes.
To serve, transfer the pasta to plates and top it with the roasted vegetables.
Cauliflower Alfredo Sauce
Total Time: 20 Minutes
Active Time: 5 Minutes
Makes: 2 Cups
1 small cauliflower crown,
broken into florets
1 cup nondairy milk
¼ cup nutritional yeast
2 tablespoons tamari
3 cloves garlic, crushed
Juice of 1 lemon
Salt and black pepper, to taste
Bring a large pot of water to a boil over high heat. Add the cauliflower and simmer until tender, 7–10 minutes. Drain the cauliflower and transfer it to a blender. Add the nondairy milk, nutritional yeast, tamari, garlic, lemon juice, salt, and pepper. Blend until smooth. Enjoy straight away or store in the refrigerator in an airtight container for up to 5 days.
Dec. 05, 2017
Comments Off on Review | The Colorful Kitchen by Ilene Godofsky Moreno
Related Posts