WAIW | 3 Tips For Easy Vegan Travel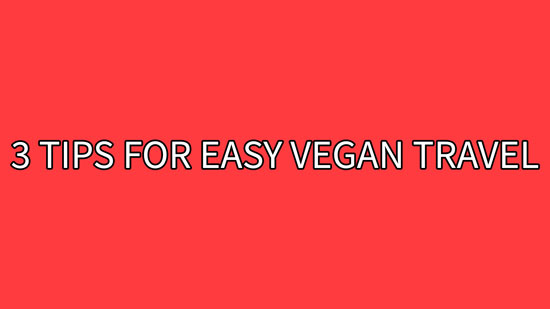 Over the last few weeks, I've had conversations with a number of vegans who were travelling, and I've come to discover that some of the things I do each time I'm headed somewhere new are maybe not the same as what other people do. With that in mind, I thought I would take this week's Where Am I Wednesday episode to talk about three tips that I think can make vegan travelling a lot easier for almost anyone.
#1 – Use the Internet
Seriously, if you think you're going somewhere no other vegan has been before, chances are you're wrong. It's also likely that at least one vegan has posted about it somewhere online, and all it takes is a quick Google search to find it. So, poke around before you leave, or stay connected while you're exploring, thanks to apps like HappyCow, and your chances of eating french fries or a lettuce and tomato salad as a meal will be slim. Of course, if that's what you want to eat, then go for it!
#2 – Bring Snacks
If you didn't know it already, food is important. So, make sure to always have access to some. While travelling, you never know when you'll be faced with few to no options as a vegan, but you can usually sneak something in a bag to ensure you don't go hungry until the next opportunity arises to try out that great restaurant you heard about while following tip #1.
#3 – Go With the Flow
Being able to adapt to situations that can come up (and they will come up) is important throughout life, but it's possibly even more important when travelling for a number of reasons. Both in terms of your own enjoyment, as well as those around you (including hotel and restaurant staff, transportation providers, customer service agents, etc.), finding the silver lining can help to ensure your travels don't wind up being a complete disappointment.
Of course, this isn't to say that you can't have bad moments or days while travelling! With so many different things that could go wrong, it's not likely that your whole trip will be perfect. What is important though is being able to recognize that things may not go as planned, and rolling with the punches can lead to experiences that make for great stories later on.
I've learned plenty while carrying my backpack around the world, but these three cover a lot of things in one way or another. Hopefully, they'll help you in some way, and your next adventure will be even better!
Related Posts