Review | Power Plates By Gena Hamshaw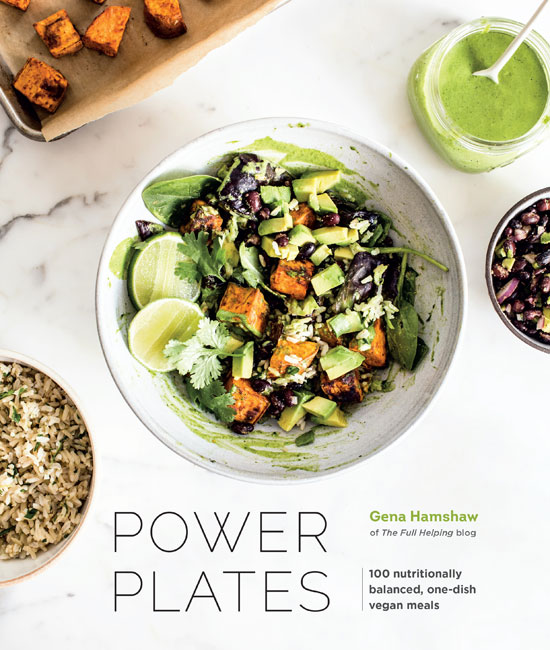 Gena Hamshaw of The Full Helping has just published her third cookbook Power Plates. This cookbook to me is more than a collection of recipes stuck between two covers with pretty pictures (although the pictures are pretty!). Perhaps by chance, Gena's blog and food evolution have resonated with me personally and where I am in my life journey. Her first cookbook, Choosing Raw, found me at the tail end of my Master's thesis, just back from living in a location that caused me to reflect on my own personal values. Her second book, Food52: Vegan, which focused on familiar flavours from my past, found me challenged by circumstance, but loving where I lived. It found me frustrated and ready to take a chance and a leap of faith into the unknown. In the kitchen, I was reaching for the classics, evoking the sense of my childhood, while venturing out into the unknown. This third cookbook, Power Plates, is no less meaningful in my own development as a human being.
I was a recipe developer for Power Plates. This cookbook has been a long time in development, a luxury that most do not have in this industry. Testing was seasonal, spanning almost a full year. In that year, I was challenged again, questioning what I value, what I stand for, and what I am searching for in life. I came out of this process quitting my job, moving back to my chosen home, and starting a new career there. Throughout this long journey, Power Plates was there. When I felt confused or conflicted, Gena somehow knew to create recipes with ingredients that on paper sound strange to put together, but in her hands turned out amazing. It's a small thing, but moments like those reaffirmed my own journey and process and eventual outcome. Some cookbooks are meaningful because they are almost like a growth mark on a wall: they reflect your state of being exactly in that moment, and are there to reflect upon after you inevitably evolve and move on. Power Plates is a mark on the wall for me.
Gena starts the book with a quick introduction to her own evolution and where she is at in her life journey in the kitchen. She focuses in this book on meals, making sure there's all the macronutrients represented: a carb, a fat, and a protein. The beginning of the book has a quick intro to some pantry staples that range from Korean chili paste to coconut milk. A section detailing how to cook grains and beans follows, and I can say they are successfully tested and sure-fire bets (I still struggle sometimes cooking these things. I am distracted far too easily). The end of the book has some seasonal meal plan suggestions: meal plans that look fantastic, balanced in both flavour and composition, and reflect the produce situation of the day.
The cookbook is split into Breakfast, Salads, Soups, Bowls, Skillets and Stovetop, and Bakes. No snacks or desserts, which is fine by me. During testing, I cooked a significant portion of the recipes, as the season arose. To review this cookbook, I revisited my favourites as ingredients would allow and dog-eared all the rest.
In Salads I found, among others, the Protein-Packed Caesar. I have a friend who ranks all restaurants by their Caesar salad, and I hear the critiques every time. I ate it all before they could weigh in, but I think they would be pleased. The salad itself is a mixture of romaine and kale, giving the greens a great texture combo and solid base for the rest of the salad. Sundried tomatoes are sprinkled on top, a special twist to the classic that lends a bit of smoky umami flavour. The dressing is tangy and bright – a cashew based cream dressing with capers, lemon, Dijon, and nutritional yeast for more umptiousness. To make the salad a meal, lemon-Dijon marinated tempeh is added, baked to perfection. I loved everything about this take on a Caesar. The dressing is creamy but light, zingy but still fresh, with just enough garlic. The lettuce textures are on point, and the cubes of croutons and tempeh add crunch and flair. This is a Caesar for all restaurant Caesars to be compared to (and perhaps found lacking).
I am a sucker for kimchi, and always have a batch from Vegan Eats World (Terry Hope Romero) in my fridge. Gena offers Kimchi Fried Rice, which uses a whole jar of kimchi (!) Leftover rice is stir fried with kimchi, edamame, and fresh green onions, bok choy, and sesame oil. Fast, simple, and delicious. The leftover rice crisps up nicely upon the sauté – I think it's because the rice is cold (or thawed, in my case). I don't know the alchemy, but I do know that the rice soaks up the gorgeous kimchi brine with a slight browny-crispness that I loved. The edamame adds some texture, and the fresh bok choy some colour. Quick and easy, this picks me up every time.
Borrowing from the Middle East, the Marrakech Bowls with Bulgur Pilaf and Harissa Roasted Vegetables was phenomenal. A greater time commitment than throwing together leftovers, Gena groups activities together such that the whole process took me just shy of an hour. The root vegetable medley is tossed together with chickpeas, fennel, cumin, paprika, harissa, and cinnamon and roasted to caramelized perfection. While that's cooking, a quick pilaf of bulgur wheat, currants, and shallots is created in what seems like no time at all. The bowls are composed of the pilaf, the vegetables, spinach, and Gena's Lemon Tahini Dressing, something she's been tweaking for years. (A very close version can be found here: Lemon Tahini Dressing). The end result: mind blowing depth, texture, and flavour. I loved the fennel and cinnamon combination in the roasted veggies – something I would have never dared to try myself. Although I believe that the tahini dressing would make my bike socks taste good, here it adds just enough umptiousness to the bowl without overpowering the other elements. The currants add some sweetness and a different texture element and is the first time (ever) I've enjoyed currants in something other than butter tarts.
The showcase of Gena's talent in the kitchen is however the Umami Bowls with Roasted Portobellos, Tofu, and Spicy Miso Dressing. This bowl came to me just when I needed it in my life, and has been a constant source of comfort, celebration, and inspiration since. Words will not do it justice, but I will try. Basically, it's a spicy umami bomb. Portobellos are marinated in balsamic vinegar, tamari, and garlic, and then roasted to toothsome perfection. Tofu is baked in a sauce of sriracha or gochujang, tomato paste, and rice vinegar at the same time. These two items are heaped upon a bed of spinach and joined by some optional ingredients: (I can vouch for all of these suggestions and advise to go for it) steamed broccoli, kimchi (or sauerkraut, which is equally delicious), nutritional yeast, and a spicy miso dressing that is addictive. The miso dressing includes almond butter (I found tahini to work as well one day), rice vinegar, tamari, sriracha, and garlic. This is all combined in one glorious mess of a bowl that is every comfort food I ever could want. This bowl is like a warm hug. A message that sometimes life is messy, but it turns out alright. A message that things can just work out, no matter how strange it sounds. Perhaps I am reading too far into this bowl, but it really is that good.
Reading this cookbook almost a year after testing was like catching up with a dear friend whom you haven't seen in a while over coffee. This book is balanced, not just in macronutrients, but also in flavour, ingredients, and occasion. There are quick recipes and elaborate recipes. Recipes that will challenge what you thought would taste good and recipes that instantly transported me back to my childhood. It is a cookbook that I know will stand the test of time in my kitchen and one I will cherish for a long time.
The publishers have generously allowed me to share a recipe with you, and I have chosen Harvest Bowls with Spelt Berries, Cider-Glazed Tempeh, and Roasted Root Vegetables. This recipe is a great example of so many recipes in Power Plates: a complete bowl built up of individual components that when combined create something new and exciting, but comforting at the same time. The roasted vegetables are your choice of veggies with fresh thyme and rosemary. The tempeh is marinated with a mustard-apple cider marinade that mirrors the dressing perfectly. With kale and your choice of wheat berries, barley, or farro, all textures are in this bowl, coated in a tangy creamy dressing. I made it for a potluck over the holidays, and it disappeared faster than I could say the whole title. I hope you enjoy the recipe and that it brings you as much comfort as it did for me.
For more information on Gena and her cookbook, please visit her website.
Reviewed by Katie Hay
When Katie isn't exploring new cuisines and challenging food conceptions in the kitchen, she can be found at farmers' markets, building and designing bicycles, and planning her next life adventure.
Harvest Bowls with Spelt Berries, Cider-Glazed Tempeh, and Roasted Root Vegetables
These bowls are all things fall: roasted root vegetables, earthy grains, maple dressing, and, my favorite component, tempeh infused with apple cider and Dijon mustard. Using cider as a marinade is both a seasonal touch and a great way to add sweetness to the tempeh without making it overly syrupy. As for the root vegetables, use a mixture of whichever types you like: parsnips, carrots, beets, rutabagas, onion, sweet potatoes, or celery root. Winter squashes, such as butternut or kabocha, also work well here.
Makes 4 Bowls
1 cup (about 200 g) spelt or wheat berries, barley, or farro
Tempeh
8 ounces (225 g) tempeh, cut into 1⁄2-inch (1.3-cm) strips
1 cup (240 ml) apple cider
2 tablespoons Dijon mustard
2 tablespoons tamari
2 cloves garlic, minced or finely grated
Roasted Root Vegetables
2 pounds (900 g) root vegetables, peeled if need be and cut into 1-inch (2.5-cm) pieces
2 tablespoons neutral vegetable oil
8 sprigs thyme
8 sprigs rosemary
Coarse salt and freshly ground black pepper
4 cups (120 g) firmly packed baby kale, spinach, or arugula
1⁄2 cup (120 ml) Maple Mustard Dressing (see recipe below)
Preheat the oven to 400°F (200°C), oil a 9-inch (23-cm) square baking pan, and line a rimmed baking sheet with parchment paper. Cook the spelt or other grain as directed on pages 12 to 13.
Meanwhile, prepare the tempeh. Put the strips in the oiled pan. In a small bowl or measuring cup, whisk together the cider, mustard, tamari, and garlic. Pour the mixture over the tempeh and cover the pan with foil.
To cook the root vegetables, put them in a large bowl, drizzle with the oil, and toss until evenly coated. Spread them evenly on the lined baking sheet (you may need two baking sheets) and nestle the herb sprigs among them. Sprinkle generously with salt and pepper.
Bake both the tempeh and the root vegetables for 25 minutes. Remove the foil from the tempeh and stir the vegetables well, then bake for another 20 minutes or so, until the tempeh is browning and the vegetables are tender; there will be some marinade left in the tempeh pan, but it should have thickened up considerably. If it hasn't, bake the tempeh for 5 to 10 more minutes.
To serve, divide the greens among four bowls and top each with one-quarter of the grain, tempeh, and root vegetables. Drizzle with the dressing and serve right away.
Maple Mustard Dressing
Makes 1/2 Cup (120 ml)
2 tablespoons olive oil or tahini
1 tablespoon maple syrup
1 tablespoon Dijon mustard
1 tablespoon tamari or Bragg Liquid Aminos
1 tablespoon apple cider vinegar
1 tablespoon balsamic vinegar
1 1⁄2 tablespoons nutritional yeast
1 to 2 tablespoons warm water, if needed
Combine the oil, maple syrup, mustard, tamari, apple cider vinegar, balsamic vinegar, and nutritional yeast in a small bowl or measuring cup. Whisk to combine. If the dressing is thicker than you'd like, whisk in the warm water as needed. (Stored in an airtight container in the refrigerator, the dressing will keep for 1 week.)
Jan. 24, 2018
Comments Off on Review | Power Plates By Gena Hamshaw
Related Posts