Review | Vegan For One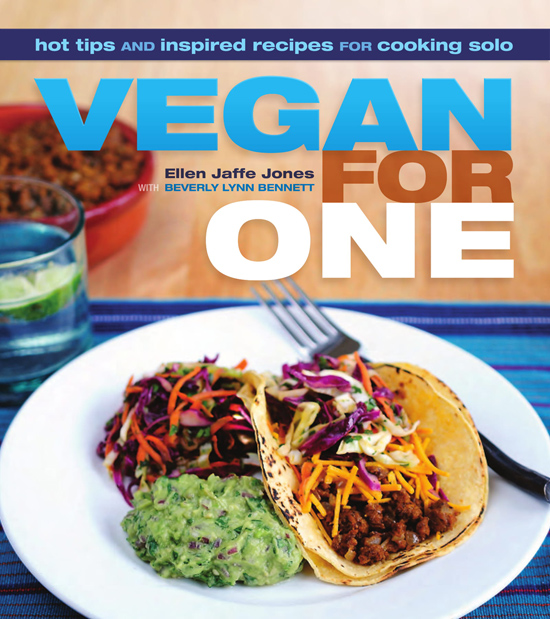 Vegan for One by Ellen Jaffe Jones fills a niche that few think are worth addressing. I'm talking the non-bachelor person who lives alone and would like to eat great food, but has freezer space smaller than a shoebox (or so it seems) and gets annoyed scaling down recipes. Basically, me.* So, when the opportunity arose to review the book, I happily accepted.
Before breaking out into Breakfast Ideas; Snack; Sauces and Gravies; Dressings, Salads, and Slaws; Soups; Wraps and Sandwiches; Side Dishes; Main Dishes; Cookies, Bars, and Sweet Treats; and Baked Goods and Desserts, Ellen starts the book with one of the most useful preludes I've read for a single cook: budgeting, buying ingredients, storage, and meal planning. These are skills that I've learned the hard way and would have loved this as a primer all those years ago. Even better, the information isn't geographic specific, so if you're growing season is six weeks or 52 weeks, the information is applicable and informative. Using the information on how to stock your kitchen and tips on saving leftovers, I started cooking.
It was easy to make many recipes from this book, and grocery shopping was so low overhead I felt motivated to do just that. One of my favourite meals was composed of two sides technically: Smoky-Bacon Brussels Sprouts and Garlicky Greens. The greens are pretty much sautéed greens in garlic- something that seems so obvious that I never do it. This recipe is a great reminder of how the simple things are sometimes what you crave the most. I found this dish strangely addictive – there were no leftovers. The sprouts are also amazing, and something I also needed reminding on how easy and great they are. Who can resist the siren call of roasted Brussels with vegan bacon (coconut bacon in my case) jazzed up with some red onion, sesame oil, and dried thyme? Not me! In addition to the 'smoky luscious flavour' that my stained review notes state, I also loved the changes in texture and mouthfeels to this dish.
A classic is the Portobello Mushroom Burgers. I will admit to a soft spot for portobello burgers: this dish has been a favourite of mine long before I became vegan. They have been a default to bring to BBQs for ages for me, and this recipe does them justice. Portobello's are marinated in a very basic marinade of balsamic vinegar, basil, oregano, and garlic powder, and then cooked in the skillet. I drizzled extra marinade on my burger to serve, like a balsamic reduction. This quick and dirty for one version was just as good as I remembered, and an amazing pick me up on a grey and drizzling Tuesday.
Battling a cold, I am convinced the Miso Noodle Soup helped cure my ails. Miso soup is another of my classics, and Ellen's version held its water broth. A simple and light soup with a warming broth of ginger, green onion, and miso, it impregnates the veggies of bok choy, mushrooms, and noodles to perfection. It was exactly what I craved!
Ellen included some little gems that the cooking-for-one comes to appreciate. First, the portion sizes are perfect for the dish. That is to say, your one meal salad is hefty, whereas your bean-and-rice centric dish fits in a cereal bowl. In each recipe, there's a callout box with tips on how to 'save for later' – this is critical to kitchen management and freezer space. The chapter Wraps and Sandwiches also include ideas on how to repurpose leftovers that are more creative than my go to of 'stick it in a tortilla and call it a day'. Although delicious (and sometimes necessary), Ellen goes a step further and changes the spice profile, or the texture, or the accompaniments to make your tired old leftovers something new. Recipes are straight forward and easy to understand. They are quick to execute, and I made minimum amounts of dishes – something I value highly with my current cutting-board-size free counter space. This is a great resource if you're cooking for one or two and are running a tight kitchen. I would also say it's a great resource for those who are cooking in a communal kitchen for themselves, as there is minimal footprint left and you're full of delicious food. I know that I would have appreciated it while living in my shared kitchen space homes!
The publisher has allowed me to share a recipe with you, and I have chosen the Smoky-Bacon Brussels Sprouts. The name says it all really. The second time I made these, I am not ashamed to admit that they were served on the cookie sheet and I ate them all. It was that kind of a gloomy day. Enjoy!
For more information on Ellen and her cookbook, please visit her website.
Reviewed by Katie Hay
When Katie isn't exploring new cuisines and challenging food conceptions in the kitchen, she can be found at farmers' markets, building and designing bicycles, and planning her next life adventure.
*scaling works 90% of the time. The leftover 10% is for baked goods, which whenever I try to scale I end up with messes or hockey pucks. Haven't figured out that magic yet.
Smoky-Bacon Brussels Sprouts
Think you hate Brussels sprouts? Think again. You'll go from a hater to a lover after tasting these Brussels sprouts, which are first cooked in a bit of vegetable stock and then sautéed in toasted sesame oil with a shallot and vegan bacon.
2 cups fresh Brussels sprouts, cut in half lengthwise, or 1 package (10 ounces) frozen Brussels sprouts, thawed and cut in half lengthwise
1⁄4 cup low-sodium vegetable broth
3 slices vegan bacon, cut into thin strips
1 small shallot, diced, or 1⁄4 cup diced red onion 11⁄2 teaspoons toasted sesame oil
1⁄2 teaspoon dried thyme
Sea salt
Freshly ground black pepper
Put the Brussels sprouts and vegetable broth in a large nonstick skillet. Cover and cook over medium-high heat for 5 minutes. Remove the lid and cook until all the broth has evaporated, 1 to 2 minutes.
Add the bacon, shallot, oil, and thyme and cook, stirring occasionally, until the Brussels sprouts and bacon are lightly browned, about 5 min- utes. Season with salt and pepper to taste. Serve hot.
Maple-Bacon Brussels Sprouts: Replace the toasted sesame oil with 1 1⁄2 teaspoons olive oil. When the Brussels sprouts are lightly browned, add 1 tablespoon maple syrup and 1 1⁄2 teaspoons balsamic vinegar or cider vinegar.
Apr. 24, 2018
Comments Off on Review | Vegan For One
Related Posts