Review | Vegan Yack Attack on the Go!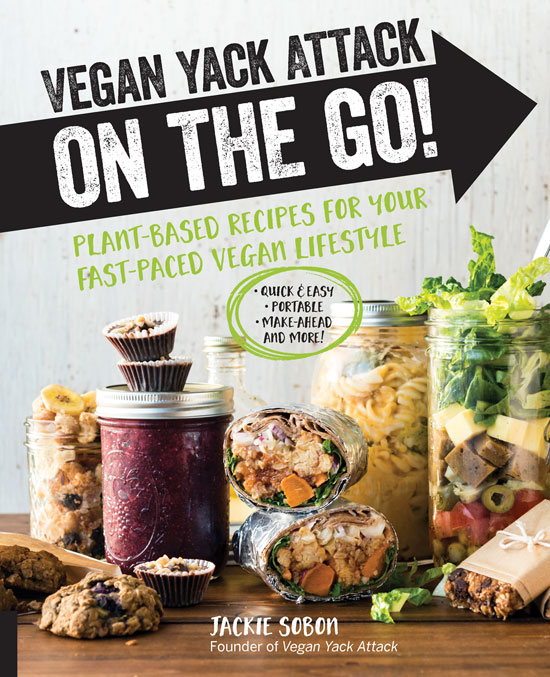 Jackie Sobon of Vegan Yack Attack is back with her second cookbook! A worthy successor to her first, Vegan Bowl Attack, this one focuses on delicious meals that can be made in a hurry for folks who ain't got time for that. Similar to Hannah's book, this review will keep with the theme and be quick and to the point.
Starting with the epic 'Camping' chapter (Food on the Move) I branched out from the BBQ Party Pack of Jackie's that I love (a version of the 2016 update is included in the cookbook: Cauliflower Curry Grill Packets with Yogurt Sauce) and made the Oyster Mushroom Bake Packets. Oyster mushrooms, corn, zucchini, potatoes, carrots, and other odds and sods are tossed in a tinfoil packet with Old Bay seasoning and dulse. Roasted in a packet to perfection, the end result is a delightful bundle of colours and textures. The Old Bay was the perfect spice for this veg mix, but surprisingly my favourite part was the dulse – I loved the slightly 'sea' flavour it imparted to an otherwise earthy vegetable combination.
Next up was the One-Pot Pasta, which was almost better as leftovers. This recipe is nothing less than genius. Pasta is joined with a quick tomato sauce, kale, artichokes, and red lentils for some body and protein. I deviated from the recipe a bit and used the Chunky Tomato Sauce instead of the written canned tomato sauce as I had leftovers (from the White Bean Marinara Penne). The dish is full of Italian herb flavour with basil and oregano from the tomato sauce and amped up with rosemary. Mediterranean umami is in abundance with black olives and capers. The red lentils add some thickness and some oomph to the sauce. The noodles are coated perfectly, and the kale brings a pop of colour to the party. It shocked me that something this impressive required just one pot and less than 30min to pull together!
Finally, I went fancy and made the Crustless Quiche Bites. These were phenomenal fresh, freeze amazingly well, and taste fantastic when thawed in a lunch container. They're closest to the pudla that I love so much, but with broccoli, spinach, sun-dried tomatoes, spices, and onion folded in. The texture is lighter than my usual pudlas, and slightly more quiche like (appropriate). I love the combo of broccoli and sun-dried tomatoes in a cheezy muffin bite, and the zing from the apple cider vinegar and onion powder is perfect. I've grabbed these on the run to the gym, for a snack, and with a huge salad for lunch (like croutons) and I love them every time.
Speed reviewing is tough. There are so many honourable mentions that I loved that I just lacked the time to write about. The White Bean Rosemary Hummus, Chimichurri Portobello Tacos, and Coconut Curry Sweet Potato Noodles all get honourable mentions. As soon as fall comes, and with it squash season, I'm going to be making the Sheet Pan Squash Tacos and Pressure Cooker Pesto Spaghetti Squash.
Jackie clearly has spent time with an active lifestyle and sub-par travelling food. The amount of creativity on every page is astounding. Simple hacks and tips like how to pack a salad for work are genius. The recipe tags under 10 ingredients and 30 minutes or less are accurate and fantastic for meal planning: the only improvement would be to have these categories included in the Index at the back. Most recipes are four servings, making leftover planning a breeze. Fast, fresh, and flavourful, I know I won't be bored when I want a meal in a hurry with any of the recipes in this book! It goes without saying; fast meals are simple meals to prepare: you don't need to have much culinary skill to ace these recipes. To try it yourself, the publisher has allowed me to share a recipe, and I have chosen the One Pot Pasta. Fast, delicious, and minimal dishes are 100% my style. Enjoy!
For more information on Jackie and her cookbook, please visit her website.
Reviewed by Katie Hay
When Katie isn't exploring new cuisines and challenging food conceptions in the kitchen, she can be found at farmers' markets, building and designing bicycles, and planning her next life adventure.
One Pot Pasta
• 30 minutes or less • one pan • gluten-free option • soy free • nut free • oil free • sugar free
When I think of one pot pasta, it reminds me of slow cooker meals, but done in a timely manner. I say this because all you have to do for this tasty meal is throw every ingredient in a large pot, cover it, and cook for nearly 20 minutes. Yes, 20 minutes! That's nearly a third of my commute to work some days; so, this dish is extra convenient.
8 ounces (225 g) whole wheat spaghetti noodles, gluten-free if necessary
3 to 4 cups (720 to 960 ml) water
1 can (15 ounces, or 425 g) tomato sauce
1 can (15 ounces, or 425 g) diced tomatoes
2 cups (80 g) chopped curly kale
1/2 cup (100 g) halved artichoke hearts
1/2 cup (90 g) red lentils
1/4 cup (30 g) chopped Kalamata olives
Three 3-inch (7.5-cm) long rosemary sprigs
1 tablespoon (10 g) capers
3 cloves garlic, minced
1/4 teaspoon crushed red pepper
1/2 teaspoon salt, or to taste
In a large, wide pot, place all the ingredients except the salt. Cover with a lid and bring to a boil over medium heat. Once boiling, adjust the heat to medium-low, and simmer for 15 to 20 minutes, stirring occasionally, until the lentils and pasta are cooked. If the pot looks dry before the lentils are done cooking, add ½ cup (120 ml) of water at a time, but do not add too much and make it a soup. Once everything is cooked, season with salt to taste and serve. Yield: 4 servings
Related Posts