Review | Rawsome Superfoods by Emily von Euw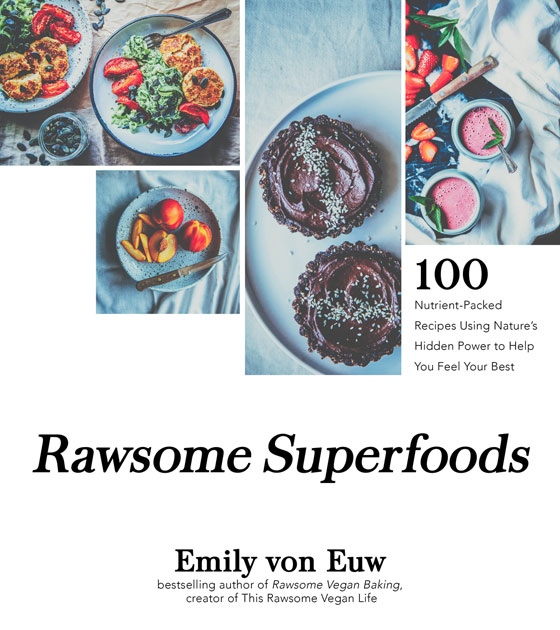 Rawsome Superfoods by Emily von Euw, the voice behind This Rawsome Vegan Life, is Em's third cookbook, and third cookbook I've had the pleasure to review. Em's website was one of the first I found as a new vegan about a decade ago, and I've followed it ever since fascinated by their journey and humbled by their thoughts, musings, and changing relationship with food and the definition of nourishment. I've always admired how Em can turn a thought, a mood, a philosophical idea, or even their self and create some drink, dish, or dessert that instantly reflects where they are at that moment and satisfies their needs at that time. This third cookbook is another tome in their library, bookmarking where they are today with straightforward and delicious dishes.
The book starts with a brief introduction: who Em is at this moment, their work to getting here, and the role that nourishment has provided. Following that is a brief reminder to use the book how you feel "do what works for you" and a super handy substitutions table that encourages creative freedom. The recipes are split into Drinks, Savoury Mains, Snacks, Satisfying Sweets, and Basic Recipes, Sauces and Syrups. For this review, I focused on the savoury dishes: every time I had scheduled (with ingredients purchased) for any of the mouth-watering sweets, such as Fudgy Dark Chocolate with Tahini or Lemon Ginger Vanilla Crème Tarts, I was not in the mood to devour the creations. I have my pantry prepped now though, so when the craving hits I am ready.
My first dish was the One-Pan Spiced Rice Noodle Sauté with Tahini Sauce. Immediately after tasting my first bite, my words putting into sentence doing skills disappeared. The spices of cayenne, turmeric, pepper, cumin, and coriander lent richness to the dish. The ratio of ginger, garlic, and onion is perfectly balanced, and the veggies are lusciously coated with a quick sauce of tahini, apple cider vinegar, and tamari. I loved how the apple cider vinegar and tamari intermingled for a funky umami sour thing. I added spinach and napa cabbage that wilted perfectly and got covered in the sauce. Nothing short of spectacular.
I was most surprised by the Quick Broccoli Spinach Soup with Sesame and Avocado. On paper this looks odd – herbes de provance, sesame oil, lemon, tahini … and broccoli? I don't know what alchemy is involved, but this combination is fantastic. Tangy and creamy and herby, but still broccoli-forward (I happen to love broccoli, so this is a good thing) I thought this was exceptional. My preconceived notions were proven wrong once again.
The Chickpea Yu Choy Stir-Fry with Baked Kabocha + Herbed Gravy was another winner. The crispy kabocha made my small apartment smell like fall for days, and I wasn't complaining. The gravy was the Rosemary and Thyme Gravy from the Basics section. Many a dish can be won or lost with the sauce, and this dish won. I have never tasted anything like this. The gravy is spiced with cloves, rosemary, thyme, and fennel, a combination I loved. Creamy from the tahini with umami from the mushrooms, this is an unique gravy. It screams holidays, but is guaranteed something you've never had before. The stir-fry is the perfect foil for that gravy. The combination of the swoon-worthy baked squash and the gravy alone would have made my evening. However the chickpeas, spinach, more spices, and lemon juice for acid turned this dish up to 11. Green onions put it over the top. This may be my new holiday table dish.
Em's recipes are very straightforward and easy to understand. Pretty much everything you need to know about what you will be eating is in the title. Some recipes do have multiple steps (primarily roasting vegetables), but I found that if I did a mass vegetable roasting on the weekend, the recipes I made during the week could be thrown together. There are pictures of almost every dish in Em's distinctive style; coupled with the binding that has the pages actually stay flat, if I owned a coffee table that is where this book would be stored. I appreciated the freedom granted to me to throw in what I thought would taste good, although for all recipes reviewed I first made them as written before tweaking to my current taste. Rare for a cookbook, most recipes were written to serve two. For those who would be cooking for more, they could be easily doubled. For me, the ease of leftovers for lunch and minimal fridge space required was a welcome perk. Most importantly, although the food was delicious, after eating these dishes I felt sated and satisfied.
The publishers have been kind enough to allow me to share one recipe, and I have chosen the One-Pan Spiced Rice Noodle Sauté with Tahini Sauce. A simple enough dish for a weeknight, I was won over by the aroma and bowled away by the taste. Enjoy.
For more information on Em and their cookbook, please visit their website.
For an interview with Em, please check out T.O.F.U. #12.
Reviewed by Katie Hay
When Katie isn't exploring new cuisines and challenging food conceptions in the kitchen, she can be found at farmers' markets, building and designing bicycles, and planning her next life adventure.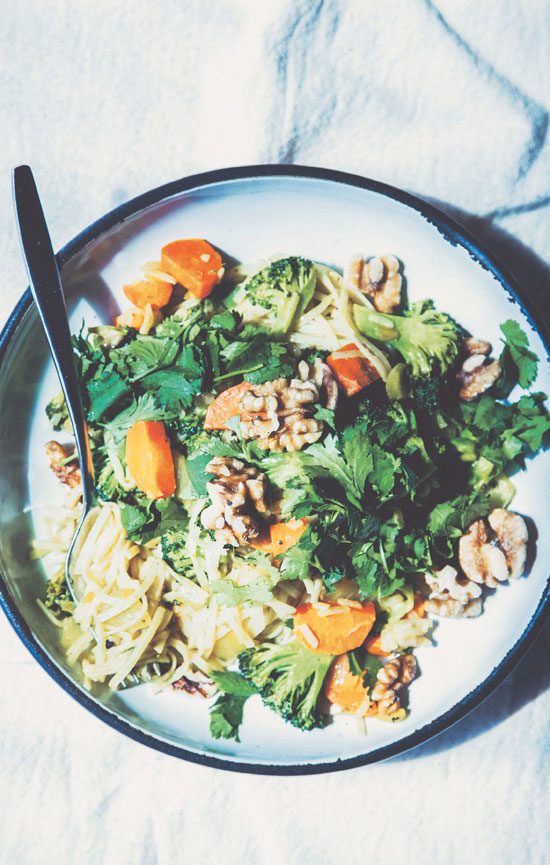 ONE-PAN SPICED RICE NOODLE SAUTÉ WITH TAHINI SAUCE
An easy meal on nights I wanna get in some broccoli and anti-cancer spices and veggies but crave something more substantial than a light, steamed bowl. As usual, the vegetables (besides ginger, onions and garlic) are pretty interchangeable here: You could use other cruciferous greens instead of broccoli, and beet instead of carrot.
SERVES 2
7–11 oz (200–300 g) rice noodles
1 tsp chunk ginger
2 onions
2 garlic cloves
1 medium head broccoli
1 carrot
3 tbsp (45 ml) extra-virgin olive oil
½ tsp cayenne powder, as desired
½ tsp turmeric powder
½ tsp black pepper
½ tsp cumin powder
½ tsp coriander powder
1–2 tbsp (15–30 ml) apple cider vinegar, as desired
1–2 tbsp (15–30 ml) tamari, as desired
1 tbsp (15 ml) maple syrup, optional
2–3 tbsp (30–45 ml) water, as needed
¼ cup (60 g) tahini, as desired
Sun-dried tomatoes (optional)
Cilantro, basil and seeds or nuts, for serving
Leave the noodles in a bowl of boiled water for 10 minutes or until softened slightly, but still firmer than you would enjoy them normally.
Mince the ginger, onions and garlic, and chop the broccoli and carrot into thin, bite-size pieces.
Heat the olive oil in a pan on medium-low heat. Add the ginger, garlic and onion and sauté for 8 minutes, or until translucent and beginning to brown.
Add the spices and sauté another 2 minutes.
Add the broccoli and carrot and sauté for another minute; then add the vinegar, tamari and maple syrup. Add water if the mixture is looking dry (it will also help steam the veggies).
Mix in the noodles and cook until the broccoli, carrot and noodles are as cooked as you prefer, and the liquids have been absorbed into the veggies and noodles.
Stir in the tahini and sun-dried tomatoes and turn off the heat. If your tahini is quite chunky and solid, you may need to add some water or lemon juice to make more of a sauce. Adjust the dish according to taste, adding extra salt if you like.
Serve with fresh cilantro, basil and seeds or chopped nuts.
Feb. 09, 2019
Comments Off on Review | Rawsome Superfoods by Emily von Euw
Related Posts