Review | Kiss or Cook? by LuLu Lotus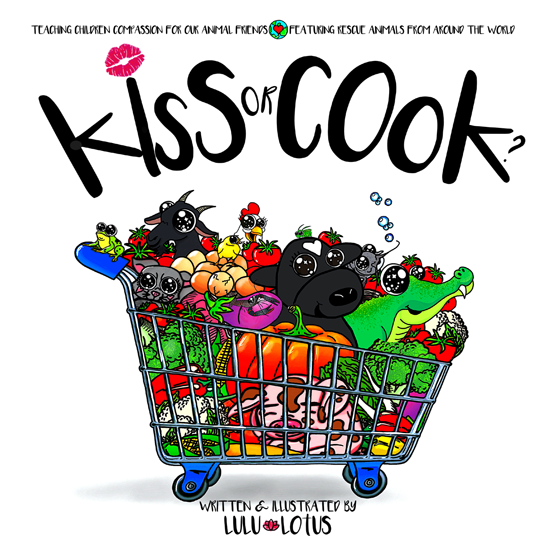 Kiss or Cook? Is an unbelievably charming and thoughtful book teaching kids about appreciating animals and eating foods from plants.
As soon as we saw the cover, my little one and I were both struck by how adorable the characters were, and my son really -and I do mean really- liked the animal drawings throughout the book. In fact, he states his favorite parts as being "the cat and the dog and seeing the names of the animals, and the chicks and the cute human babies". So yeah, he really enjoyed the pictures.
I, personally, along with the drawings, loved the repeating theme within the book that kept the concept simple, while swapping out the animals and plants being mentioned, and included other important learning points for kids. Along with the repeating theme of the book, Kiss or Cook? also mixed in counting and colours.
Kiss or Cook? ends with thoughtful quotes, a recipe, coloring page, and information about how to learn more about the animals selected for the book. These last few pages provide a place to allow for more interaction, and can be appealing to older readers.
With gorgeous artwork and a clear theme, Kiss or Cook? is a book that you can be sure will be enjoyed by toddlers and young kids alike. It is a book I look forward to reading again and again to little ones in my life, even though some of the drawings are so cute they make my eyes hurt (in a good way!).
For more information on LuLu and the book, please visit her website.
Reviewed by Amanda Lily
Amanda Lily is a vegan Health Coach and Personal Trainer that offers coaching to those who want to adopt a kinder diet, but struggle with the logistical and social challenges of fitting it into their daily lives. Through workshops and virtual coaching with one-on-one and group sessions, she helps people all over North America find a way to bring their choices more in-line with their values.
w: amandalily.com
Feb. 19, 2019
Comments Off on Review | Kiss or Cook? by LuLu Lotus
Related Posts