Review | The Colorful Family Table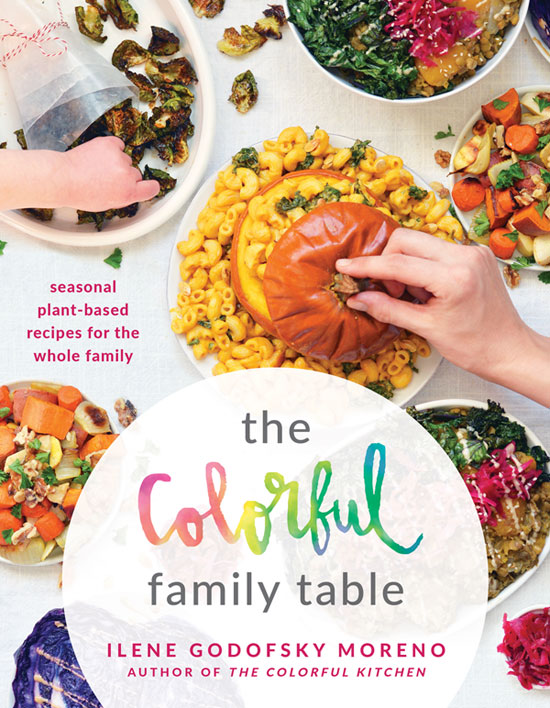 How many recipe books have you bought over the years and flipped through, with intentions of trying a recipe or two, but never got around to making any of the recipes at all? How many times was it because the new recipes seemed too complicated or used ingredients you didn't know? If you're like the majority of people wanting to eat vegan, then the answer is probably along the lines of this: far too many books. With kids pulling on your sleeves, and a partner or teenagers expressing their hunger, you're ready to just prepare any meal that will get food on the table and silence the hunger, even if it means sacrificing your intentions to eat more veggies or cook from scratch. So here's some good news: that won't happen with The Colorful Family Table since you'll be too excited to act, giving any recipe a try, because it will actually seem practical.
When I first received The Colorful Family Table for review I was blown away by the artful photography and bright colours of the food. The cover, and pages inside, draw you in with curiosity, if not a watering mouth. It was, admittedly, these photos that made me think at first that I was diving into another book full of complicated gourmet recipes that would likely take dozens of steps and hours to prepare. Thank goodness I was wrong.
No soaking nuts overnight, no sprouting seeds, no slow roasting for hours, and no ingredients I had to order from another continent. These recipes were looking better and better!
Flipping through the book, I found titles of recipes for every season. They were also intriguing with their originality and diversity -think: Pumpkin Pie Smoothie Bowl, or Easy Tofu 'Egg' Salad. Not to mention classics that brought me back to my childhood (only they were a vegan version), like Strawberry-Rhubarb Crisp. Yum!
The hardest decision was which recipe to try first, but my little one quickly made it for me: Fully Loaded Fluffy Pumpkin Pancakes. This recipe was at the top of my picks for two reasons:
because I LOVE the flavour of both pumpkin and spelt flour, but have never had the two together;
and the recipe used only a couple tablespoons of maple syrup as a sweetener for the whole batch.
What a treat! The pancakes came out sweet and soft, with bites of crunchy (the pecans I added for the nut option were delicious!), and oh so fluffy. When I say fluffy, I mean SUPER fluffy, batter-getting-taller-even-before-the-pan fluffy. I followed the recipe (which is not something I do often) and made the pancakes with all the fixings, and topped them with maple syrup, which, in hindsight, you don't need to do because they are already so tasty and sweet. I was also pleasantly surprised by how satisfying and filling they were. We all enjoyed them so much -kids and adults alike- that this is definitely a recipe I will be making for my family again!
As you follow the recipes in The Colorful Family Table, you're sure to be as relieved as I was by the simple (and few!) steps required to prepare each dish. Like I mentioned, these recipes look gourmet, without the hours of meal prep. Some provide the perfect dessert for visiting friends or family, and others are great for whipping up at home on days you weren't sure if you were even going to cook at all.
Many recipes in The Colorful Family Table also offer serving options to make the presentation as simple or gourmet as you like, taking you from a quick family meal to food fit for a fancy dinner party. There are even suggestions for putting together meals for all seasons and types of events, including fall lunches and summer BBQs.
Basically, The Colorful Family Table is a recipe book that has it all: great photos, easy recipes, simple steps, and preparing food from scratch with ingredients you are sure to be familiar with (and may already have in your cupboards!). Not only that, it also contains some of the most refreshing and creative recipes I have ever seen! Shepard's Pie with Tahini Turnip-Carrot Mash, anyone?
So, it doesn't matter if you're looking for hearty winter family dinner meals, breakfast smoothies, dessert crisps, or "egg" salad sandwiches for lunch, you'll find a version in The Colorful Family Table that you can make for your family, and have the kids help, too!
For more information, please see Ilene's website.
Reviewed by Amanda Lily
Amanda Lily is a vegan Health Coach and Personal Trainer who offers coaching to those who want to adopt a kinder diet, but struggle with the logistical and social challenges of fitting it into their daily lives. Through workshops and virtual coaching with one-on-one and group sessions, she helps people all over North America find a way to bring their choices more in-line with their values.
w: amandalily.com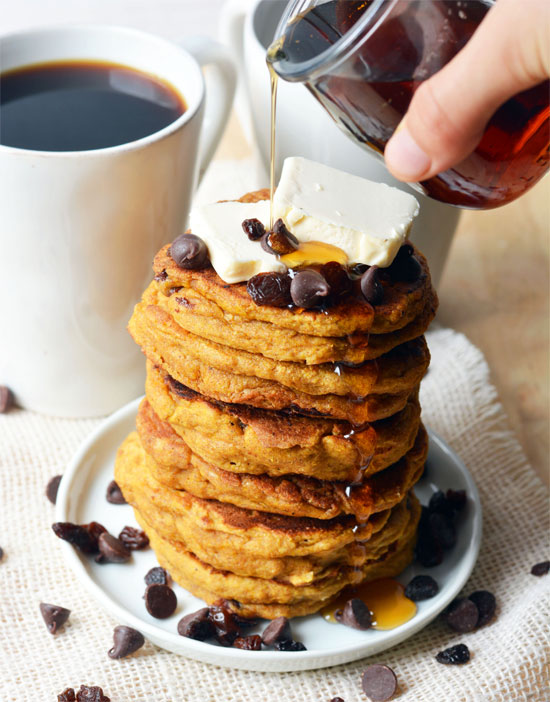 Fully Loaded Fluffy Pumpkin Pancakes
Total time: 30 minutes
Active time: 30 minutes
Makes: 4–6 servings
When I think of my family gathered around the breakfast table, pancakes are always the first meal that comes to mind. They're guaranteed to make everyone happy, even the pickiest of picky eaters. This fall-inspired version of our favorite family breakfast is a truly special treat—fluffy; studded with raisins, nuts, and chocolate chips; and chock-full of fall's sweetest flavors.
Dry
2 cups spelt flour
1 tablespoon plus
1 teaspoon baking powder
1 tablespoon Pumpkin Pie Spice (see below or store-bought)
1/8 teaspoon salt
Wet
1 1/4 cups nondairy milk
1/2 cup pumpkin puree (see below or store-bought)
2 tablespoons coconut oil, melted
2 tablespoons maple syrup
1 teaspoon apple cider vinegar
Fold-Ins
1/4 cup chopped nuts
1/4 cup raisins
1/4 cup vegan chocolate chips
Oil for Cooking
Vegan butter or coconut oil
Optional Toppings
Vegan butter
Maple syrup
Nondairy yogurt
Whisk the dry ingredients together in a large bowl. In a small bowl, stir the wet ingredients together. Add the wet mixture into the dry mixture until everything is mixed. Fold in the nuts, raisins, and chocolate chips.
Heat a griddle or large cast iron pan over medium heat. Add enough vegan butter or coconut oil to coat, then spoon 1/4-cup portions of the batter onto the griddle (the number of pancakes you can cook at once will vary depending on the size of your griddle).
Cook until the centres of the pancakes start to bubble and the bottoms are lightly browned, 4–5 minutes. Use a spatula to flip the pancakes, then continue to cook until the other sides are lightly browned, 4–5 minutes more. Repeat until all the batter is used.
Serve warm, with desired toppings
PUMPKIN PIE SPICE
Total time: 5 minutes
Active time: 5 minutes
Makes: Slightly less than 1/2 cup
1/4 cup ground cinnamon
4 teaspoons ground ginger
2 teaspoons ground nutmeg
2 teaspoons allspice
1 teaspoon ground cloves
Mix all the ingredients together. Store in an airtight container for up to 6 months.
ROASTED PUMPKIN PUREE
Total time: 1 hour
Active time: 5 minutes
Makes: Amount varies depending on size of pumpkin
This method will work for cooking any variety of pumpkin or squash. Sugar pumpkin and pie pumpkins are often the most common types you'll find—just be sure to steer clear of the giant pumpkins we carve for Halloween, as they aren't the tastiest. Look for pumpkins labeled "Sugar Pie," "pie pumpkin," "Cinderella," "Fairytale," or "Cheese Pumpkin."
Preheat the oven to 375°F. Line a baking sheet with parchment paper.
Slice the pumpkin in half, and scoop out the stringy parts and seeds. Discard.
Place the pumpkin pieces sliced side down on the baking sheet. Bake for 40–55 minutes, until the flesh is tender. The amount of time will vary depending on the size of your pumpkin.
Note: To make homemade pumpkin or squash puree, follow the steps above, then scoop the flesh into a blender and blend until smooth.
Nov. 12, 2019
Comments Off on Review | The Colorful Family Table
Related Posts