Review | The Pig Who Made It Big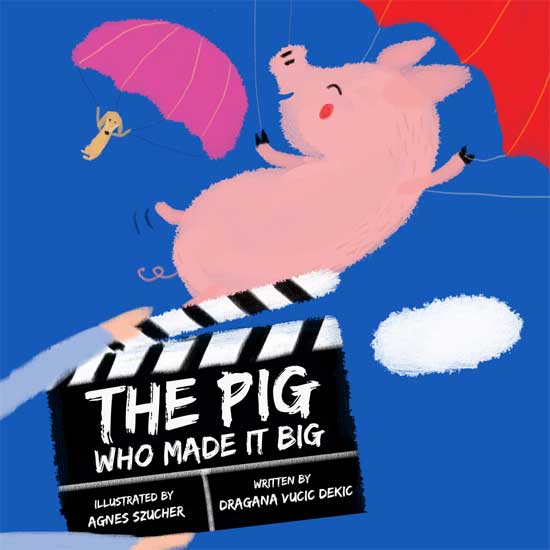 Recently, I had the pleasure of reviewing another kid's book for T.O.F.U. Like many of the others I've read, The Pig Who Made It Big by Dragana Vucic Dekic attempts to make a connection between the things humans love about animals, and how we treat them. Thanks to its rhyming nature and other qualities, it's an excellent example of how to do this well while also being enjoyable for all ages.
The Pig Who Made It Big is about a pig who is the star of a movie, and whose presence is enjoyed by those who work with her, that is until the filming is over. Like many big movies, when her role as the star is over, she faces the fate of many animals we don't consider companions in North America: death in the animal processing industry. Luckily, the director decides to bring her home and continue treating her well, just as he does his dog. The story doesn't say all this in detail, but it is implied and, thus, the story encourages us to consider such things without any gory details. It makes us question the differences between how animals are treated, including dogs being treated differently than pigs. 
The rhyming nature of the story, carefully plotted storyline, and colourful pictures make it fun to read and appropriate for all ages. It allows you to read a story as a story, and if your little ones should have questions about what happens then it allows an opportunity to make some connections, too.
The book's kid-friendly storybook nature meant that I felt comfortable reading it with my little one who, even though we have talked about where meat comes from before, made a deeper, more solidified connection. "Bacon is made from pigs? That's weird to say out loud", he said in astonishment, even though he had already known it to be true. Ah, from the mouths of babes.
To find out more about this book, and the others written by Dragana, please visit their website.
Reviewed by Amanda Lily
Amanda Lily is a vegan Health Coach and Personal Trainer who offers coaching to those who want to adopt a kinder diet, but struggle with the logistical and social challenges of fitting it into their daily lives. Through workshops and virtual coaching with one-on-one and group sessions, she helps people all over North America find a way to bring their choices more in-line with their values.
w:Â amandalily.com
Feb. 11, 2020
Comments Off on Review | The Pig Who Made It Big
Related Posts