#OurNewNormal | Ryan Patey of Saigon, Vietnam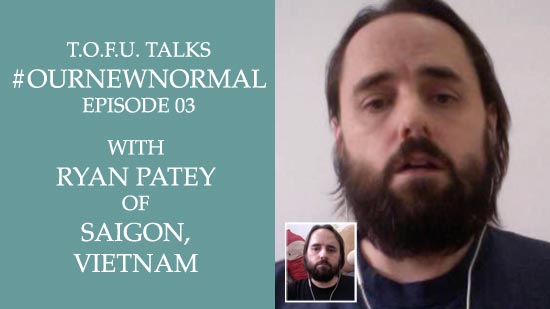 Although I'm certainly not running out of people to interview for #OurNewNormal, a T.O.F.U. Talks limited series, I did decide today to chat with a very close friend about his experience here in Ho Chi Minh City, Vietnam.
Not surprisingly, a lot of what he mentioned is similar to what my new normal is like here in Saigon.
Basically, I couldn't have said it better myself.
Speaking of saying things, you can find more of Ryan's thoughts on the pandemic and Vietnam's place in it on his Medium page here.
Podcast: Play in new window | Download (Duration: 5:00 — 8.5MB)
Subscribe: Apple Podcasts | Android | Google Podcasts | Stitcher | TuneIn | Spotify | RSS
Apr. 22, 2020
Comments Off on #OurNewNormal | Ryan Patey of Saigon, Vietnam
Related Posts