Review: Dauphin Bakery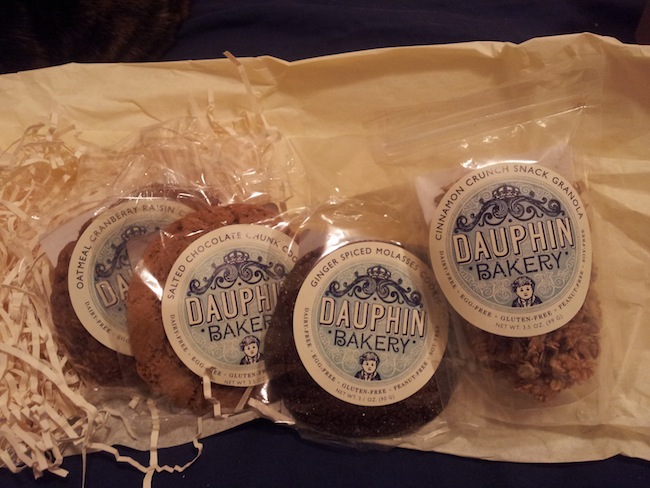 Last month a lovely package arrived at my door full of vegan surprises from Brooklyn's Dauphin Bakery. In the box were three cookies and a crunchy snack: the Salted Chocolate Chunk Cookie, the Ginger Spiced Molasses Cookie, the Oatmeal Cranberry Raisin Cookie and a Cinnamon Crunch Snack Granola. The baked goods were buried inside exciting wrapping paper my feline companion The Banshee enjoyed immensely.
The story of Dauphin Bakery
"Once upon a time, there was a very little prince whom all the king's subjects called the Dauphin. Although he couldn't rule the monarchy, he was curious about all things. He wanted to be an explorer of everything the universe had to offer and started by wandering to the king's bakery to taste every sweet. He quickly discovered that nothing in the king's bakery agreed with him, so he decided to issue a challenge to the bakers in the land: Recreate these good things without any of the non-agreeables. And so the bakers worked and re-worked until everything the dauphin had asked for was made right again."
Cute right? So now founder and chef Cynthia Dominguez and pastry chef Megan LaMarca handmake gluten-free, soy-free, vegan, wheat-free, peanut-free, refined sugar-free goodies in Brooklyn using local and organic ingredients. Their website even indicates if products are fair or direct trade and I want to give them so many pats on the back for this!
Indulge me one moment in an aside. When I hear the word "Dauphin" I always think of the modern remake of the film Marie Antoinette with Kirstin Dunst. I imagine her as Dauphine, kicking up her heels eating what I suspect are non-vegan macaroons and pastries after marrying her quite disinterested, very possibly gay Dauphin.
Anyway, anyway, anyway, back to the review!
So, how does the cookie crumble?
Ever a fan of the classic chocolate chip cookie, I immediately went in for the Salted Chocolate Chunk Cookie. The texture, for a packaged cookie, was pleasant, though the salt chocolate combo I usually love didn't quite deliver as I'd hoped. More flavorful of the three were the Ginger Spiced Molasses Cookie and the Oatmeal Cranberry Raisin Cookie, both once again getting the texture right on. I loved the kick of ginger combined with the more subtle but sweet molasses. And what a pleasant surprise – the oatmeal cookie has pumpkin seeds!
The Cinnamon Crunch Snack Granola presents granola in an interesting way. It would be neat to have this snack in your purse or backpack for mid-day crunching but I dumped it into a cereal bowl with some almond milk and it was my favorite of all the samples.
I haven't tried their Espresso Brownies or their Banana Mini Loaves but they both look and sound absurdly delicious. Also adorable are the I ♥ Cookies and I ♥ Chocolate $25.00 gift boxes. Please note, "Wrapping paper may vary. Our current stock is sustainably crafted in Nepal from the renewable bark of lokta bushes and jute, then silk-screened with festive paints" so that's a bonus!
Overall, I give the ladies a thumbs-up for bringing more vegan goodies on the market, with an eye towards those who need to stay gluten, soy and/or peanut free. I love their aesthetic and I appreciate supporting a small business run by women.
Now when I hear the word Dauphin my mind will wander to this Brooklyn bakery and their tasty vegan treats. Maybe colorful vegan macaroons fit for the Dauphin are on the horizon?
Reviewed and recommended by Jamie J. Hagen
Twitter | Website
Jun. 19, 2013
Comments Off on Review: Dauphin Bakery
Related Posts