Review: Looly's Pearls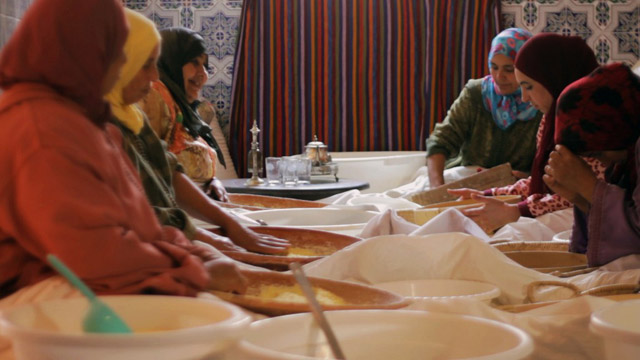 Couscous is one of my favorite foods. As a light meal, side dish, or occasional snack, it's ideal for those with an on-the-go schedule and little time to regularly prepare meals. So, it's no surprise what a thrill it was receiving a box with over a pound of couscous to review.
Inspired Flavor
Looly's name is from the Arabic word, "Lou'Lou'", meaning "pearls". From the packaging, the product is "handmade & heartmade by Looly's women couscous-artists in Morocco…" It comforts me to know this is a wholesome product filled with tradition and a personal touch.
Looly's sent me two different bags to try. One bag's ingredients were whole-grain non-GMO wheat, thyme, and turmeric; the other had non-GMO wheat with cinnamon. I like an ingredient list that's pure and simple. However, it would be helpful if the bags came titled in accordance with the type of seasonings inside.
As many know, couscous preparation is easy. Just pour one cup of boiling water over one cup of Looly's fine pearls of couscous. Cover for two minutes—yes, just two, and enjoy! The thyme and turmeric couscous was flavorful and savory all by itself. I only added some sea salt and olive oil, because that's what I always like on my couscous. The couscous seasoned with cinnamon was definitely different, as Looly's aims "to give you the unique experience of a traditional couscous with a twist." I like cinnamon, and it never occurred to me to combine the two. It's a subtle flavor with a sweet aroma. I'm not sure what I'd pair cinnamon couscous with, but perhaps it's ideal for dessert.
Beyond Fair Trade
Along with interesting flavours, Looly's is also on track to build a better community. Their packaging and website state their mission for sustainable social impact on health, education, leisure, housing, and vocational training. For every bag sold, the people devoted to making Looly's receive 20 minutes of literacy courses, in addition to 30 minutes of educational support for one child from Looly's community or 24-hour healthcare coverage for an entire household. That's impressive!
With natural ingredients, made by hands full of value and tradition, you can't go wrong with socially-conscious, creative couscous from Looly's!
For more information on Looly's and to keep up-to-date on when they'll be available near you, please visit their website.
Reviewed by Jason
Mar. 19, 2015
Comments Off on Review: Looly's Pearls
Related Posts