Review: YumUniverse by Heather Crosby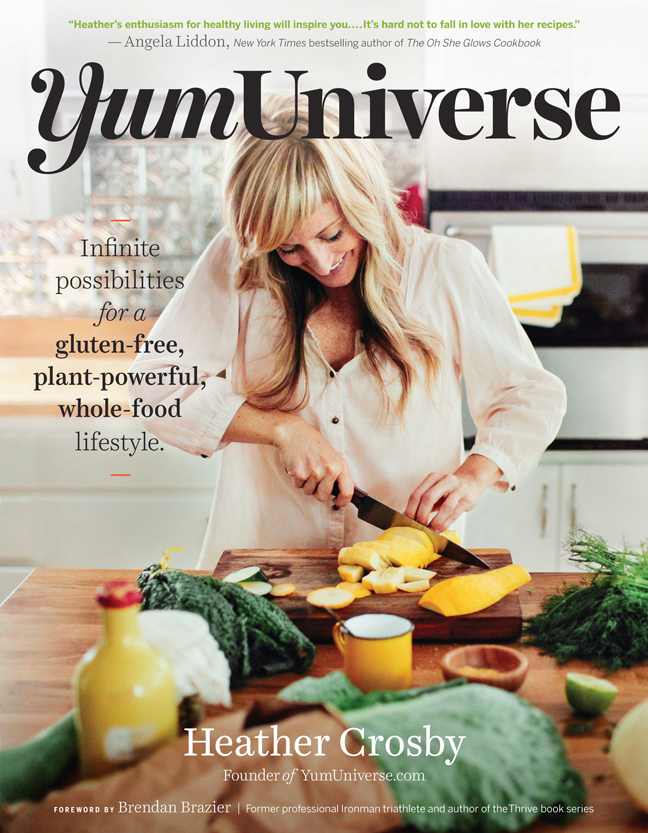 YumUniverse by Heather Crosby is much more than a cookbook: it is an introduction to a holistic lifestyle, to tune the 'static' of our busy lives out and return to the basics: listening to yourself, your body, and paying more attention to the natural world around us.
Making the Journey
The book starts with a lengthy introduction: the whys and the hows of a plant-powerful life. Heather goes into great detail as to her own personal journey, and shares with us some of her early missteps. Her unassuming words tell us how she slowly transformed her "processed" life to one focusing on whole foods. Focusing on one step at a time, Heather is clearly in our corner with her words of encouragement and suggestions. Meant to be dog-eared, used, and loved, this book has everything a cook curious about whole foods cooking wants to know. From kitchen basics (including how to take care of a cast iron pan) to how to cook, soak, and sprout beans (and more importantly, why we want to do so), the transition to a whole-foods diet seems less daunting. Significant attention is paid towards every sort of replacement, from standard vegan items to nuts and creams. She encourages us to play around with the substitutions to find our favourites. For those that read the entire introduction (it is over 150 pages) there are bonus recipes tucked into the folds, highlighting how easy the small step could be. Also included is a suggested week schedule, so the excuses that lead to convenience food don't pile up. Indeed, in the how, she also quickly introduces the concept of habit breaking, and provides some tools to help us break free of whatever habits we have. The final section in the introduction pertains to emotions, and provides guidance as to how to prepare for the doubtful and perhaps downright hurtful comments of people and naysayers. Again, Heather is with us on the journey, and her calm encouragement is all you need to begin to explore the recipes.
The cookbook is already gluten and processed soy free*, so what sort of icons are there? Optional, Make it Raw, Omnivore Opp., Make it Oil Free, YU Classic, Swap Opp, and One Pot Meal are the icons used, making every recipe adaptable to every kitchen circumstance. In addition to the icons, every recipe has suggestions as to alternate swaps or add ins: for instance, if you don't like squash, in one recipe Heather encourages swapping in potatoes. In the introduction, Heather also gives us tips to swap out the cashews used for cashew crèmes, including pureed beans or cauliflower, for those with nut allergies. Throughout the book, Heather strongly encourages to make these recipes your own, and the text merely a road map. She even goes so far as to say that eyeballing amounts is A-Okay when cooking, and the extensive substitution suggestions clearly illustrate that she isn't kidding.
Discovering New Favourites
So of the recipes, which were my favourites? Of the many I tried, the following stood out, for various reasons. I was blown away by the simplicity of the Snap Pea and Radish Salad with Ginger Miso Dressing. Fresh and vibrant, this salad was fantastic and made me think it was spring. The Pad Thai was a solid rendition – an instant weekday stand-by. The Sweet Potato (or Butternut squash substitution in my case, potato-hater that I am), Kale, and Lentil Stew was simple and comforting. The Shredded Brussels Sprouts and Kale with Miso Dijon Sauce was surprising: most of the ingredients are in the title, and I was shocked at how so few ingredients could taste so delicious. This was a common theme throughout the book – the recipes are simple, and truly allow the integrity of the ingredients to shine through, making them all surprisingly delicious. No recipes highlight this better than the Roasted Red Pepper and Tomato Bisque and Roasted Butternut Squash Soup. With only a couple of ingredients, the magic of roasting vegetables is brought to light in these wonderful soups. Rosemary makes the red pepper bisque pop, sage the squash soup. Both are quick weeknight meals that are as comforting as they are simple.
As some may know, almost every vegan cookbook has a tofu scramble. So what does a soy-free cookbook have? A Buckwheat Scramble, of course! I eat buckwheat congee for breakfast every day, and this scramble was a fantastic treat. A simple departure, it was amazing how much a bit of nooch and some vegetables will jazz up my favourite pseudo-grain. However, the winner in the breakfast category was the Beautiful Breakfast Paddy's. Breakfast burgers made from mushrooms, buckwheat, and quinoa, liberal use of sage and fennel make these toothsome burgers feel more like the classic breakfast sausage served at pancake breakfasts everywhere. Classic recipes included are Hummus, Black Bean Soup, Chickpea Flatbread, Roasted Veggies and Strawberry-Banana Crunch Wraps (or Apple Peanut Butter wraps as I love them). There are pages with 10-15 quick recipes for various flavour combinations of dressings, sauces, cashew cheese, sammies, mylks, green smoothies, and homemade spice mixes as well. All of these flavour combinations are unique and creative, breathing in fresh air to my apple-cucumber-spinach smoothie rut. Already dog-eared and stained, these go-tos will be heavily used. Still to make include the Jerk Lentil and Avocado Wraps, Almond Dulse Crackers, and Toasted SuperSeed Power Bread.
Take the First Step
There is no comprehensive index of recipes, which had me flipping to the index once or twice. With a focus on beans and pseudo-grains, this cookbook is a valuable resource for the new and veteran cooks. It may seem daunting to a new whole-foods cook to switch from a classic American diet to one proposed in this book right away, but Heather encourages the small steps, the simple changes. Rome wasn't built in a day, and with her guidance and wonderful whole-foods approach to cooking, small successes will be guaranteed delicious.
The publishers, BenBella Books, have been kind enough to let me share one recipe. Embracing the upcoming spring season, I chose one of my favourites: Snap Pea and Radish Salad with Ginger Miso Dressing. I have made this more than once, and each time tweaking it a bit to make it more my own. Fresh and vibrant, the ginger miso dressing is the perfect amount of umami from the miso, crisp spiciness from the ginger, and tang from the rice vinegar. I omitted the honey in this case for preference, but you could make it your own with agave, maple syrup, or your other favourite liquid sweetener if you like. It pairs wonderfully with fresh radishes and cilantro, but I have also loved it over top of the Asian Cabbage Slaw (in lieu of the suggested dressing). Enjoy this bright, cheerful ode to spring!
For more information on YumUniverse, and other recipes from Heather, please visit her website.
If you wish to purchase the book through Amazon, you can find it here
.**
Reviewed by Katie Hay
When Katie isn't exploring new cuisines and challenging food conceptions in the kitchen, she can be found at farmer's markets, building and designing bicycles, and planning her next life adventure.
* The book is not strictly vegan, as honey is used in some recipes, including the Snap Pea and Radish Salad with Ginger Miso Dressing provided above. It is used sparingly, and easily substituted in all cases with maple syrup, agave, brown rice syrup, or even fruit purees.
** This post contains affiliate links. If the product is purchased by linking through this review, T.O.F.U. receives a modest commission.
Mar. 10, 2015
Comments Off on Review: YumUniverse by Heather Crosby
Related Posts