Review | The Rawsome Vegan Cookbook by Emily von Euw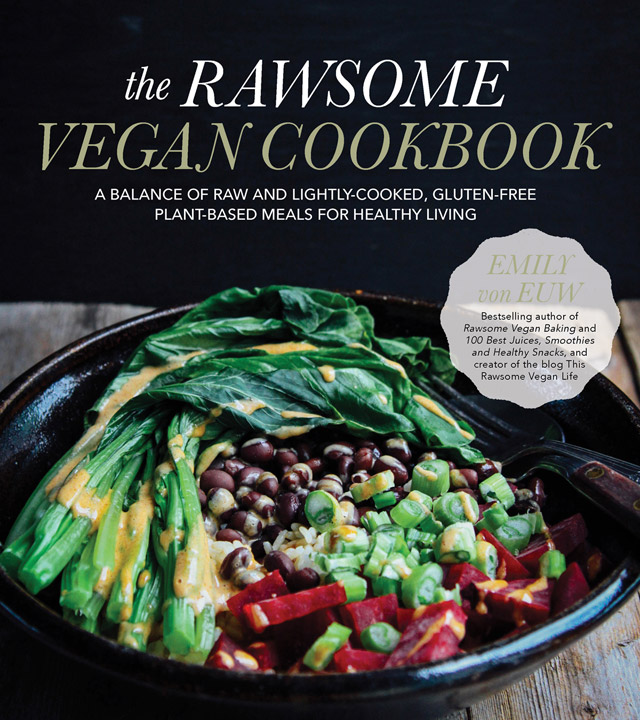 The Rawsome Vegan Cookbook by Emily von Euw of This Rawsome Vegan Life is her third cookbook in two years. For someone as young as Emily, you would be forgiven to expect rote recipes, standard flavour profiles, and a lack of creativity. You would be proven wrong. This book is brimming with simple entrées that surprise and delight the senses, creative and unique flavour profiles, and stunning photographs. Emily welcomes you into her kitchen starting with the dedication "This book is dedicated to you", and reads like two best friends catching up in the kitchen on a rainy afternoon with a good farmers market haul.
Separated into two categories, Raw and Cooked, recipes are almost haphazardly laid out, much like I imagine the creative genius was. The Raw section is full of simple entrée ideas, all fresh, vibrant, colourful, and creative. Importantly, there is minimal use of anything more complicated than a knife and cutting board. Cooked is just as simple and just as flavourful. Not a sweet tooth by any means, this cookbook immediately won some brownie points with 100% savoury recipes. As someone who will eat a salad with fruit as an ingredient for dessert, this was a welcome change from the standard "meal/baked/dessert" cookbook formula. I couldn't narrow it down, so I took a joyful month sampling almost every recipe in the book.
First up was the Epic Portabella Yam Burgers. I wanted to make this first and foremost, due to the drool-worthy pictures I had spotted on Instagram. The pictures do not do this justice. It is a giant sloppy mess of deliciousness. Simple yet complex, there is tons of brightness and umami. I made them two nights in a row. The 'bun' of marinated portabella, the patty of yam with green onion, miso, cumin, paprika, and herbs, and the toppings of shredded carrot, beet, and parsley make for a colourful sandwich. I felt like an artist, with all the colours of the rainbow held in my hand (and later dripping down it). I was most surprised by the Sweet + Sour Bok Choy. A pasta dish, it features seared bok choy, which in my opinion is much better than the grilled romaine craze of summer 2015. What makes this dish utterly unique and borderline genius is the sauce. Miso, lemon juice, garlic, sundried tomatoes, rice vinegar, tamari, and fresh basil compose the sauce and sumptious add-ins, resulting in a bowl that I can only describe as the lovechild of classic Asian Miso Soup and Italian Bruschetta. Somehow sweet and sour, with the smoky bok choy it is out of this world. I never thought I'd say this, but the noodles are almost not necessary.
An example of simple deliciousness comes from the Baked Eggplant. Honestly, I don't know why I didn't think of this before. Eggplant is roasted with simple seasonings, becoming lusciously creamy and slightly smoky. Drizzled on top is tahini-garlic dressing, and with some fresh herbs this is nirvana on a plate. Almost sinfully decadent, this is a splurge you can feel great about. More decadence came in the form of Mac + Cheeze. In this simple version, the cheese base is a delightful concoction of yams, garlic, nutritional yeast, tahini, and apple cider vinegar. Different from the mustard and smoky versions, this one is what I wish I grew up with. Double creamy from the yams and tahini, it has just the right amount of tang and perfect noodle to sauce ratio. I served mine studded with some broccoli, because why not? I made many a wrap and whole meal salad bowl as well, but followers of the blog know how strong Emily is in this area already.
As the introduction states: "This book is about finding happiness by eating plants". I have developed a tried and true ranking system for these reviews and recipe developments. Spreadsheets, colour coding, and post-its are all involved. My personal verified ranking system of 1 (I wish this to be my last meal ever) to 5 (worthy only of the compost) was blown to pieces with this book. My lowest ranking of all recipes tested was 1++++. Perhaps it was the fresh, vibrant ease of the recipes. Perhaps it was the simple serving sizes (2-3 for every recipe in the book). Perhaps it was the liberal use of tahini. However, when joyfully eating these fresh vibrant flavours that are simple and creative, while feeling like I just had a meal with a friend, I do not care to dissect the magic that happens in Emily's kitchen. I am happy to enjoy the fruits of her creativity. I invite you to enjoy the following recipe, which the publishers have graciously allowed me to share. I had difficulties choosing just one, and settled on the Pho Bowl. One of my absolute favourites, it smells like my favourite Vietnamese place. Clean and simple, the flavours shine and the veggies are perfect. I added mushrooms and cabbage on a whim, but if you added bean sprouts and lime it would be better than any Pho I've had in a restaurant. Welcome, friend.
For more information on Emily, as well as her new cookbook, please visit her website.
If you wish to purchase the book through Amazon, you can find it here
.
Reviewed by Katie Hay
When Katie isn't exploring new cuisines and challenging food conceptions in the kitchen, she can be found at farmer's markets, building and designing bicycles, and planning her next life adventure.
*This post contains affiliate links. If the product is purchased by linking through this review, T.O.F.U. receives a modest commission.
Pho Bowl with Basil, Mint, Chives, Bok Choy + Leeks
I love the aromatic broth in this recipe; I could drink it all by itself. When you're craving greens, this bowl will satisfy.
Broth
5 peeled garlic cloves
3 tbsp (43 g) chunk peeled ginger
1/3 cup (51 g) roughly chopped onion
3 cloves
1 tsp cinnamon powder
1 1/2 tsp (4 g) coriander powder
3 cardamom pods
4 cups (946 ml) hot vegetable broth
1 to 2 tsp (5 to 10 ml) gluten-free tamari (optional)
Veg
2 zucchinis
2 cups (140 g) baby bok choy
1/4 cup (12 g) finely chopped chives
1/4 cup (38 g) finely chopped leeks
1/2 cup (20 g) fresh basil leaves
1/2 cup (20 g) fresh mint leaves
To make the broth: blend everything together until smooth. Taste and adjust accordingly, adding more spices or some tamari if you'd like.
Slice the zucchini into noodles on a mandolin slicer or by hand. Place the bok choy in a bowl of steaming water for a few minutes so it softens.
Throw all the veg and herbs into a bowl, then pour the broth over everything and enjoy! If you want it to taste a little heartier, go ahead and simmer this in a pot before eating; it'll soften the bok choy and noodles.
Feb. 14, 2016
Comments Off on Review | The Rawsome Vegan Cookbook by Emily von Euw
Related Posts