#TBT | An Interview With Jo-Anne McArthur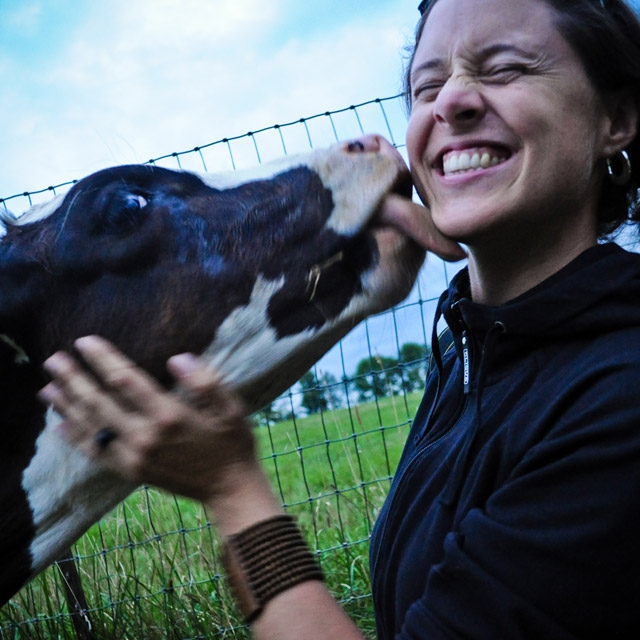 Since this interview for issue #5, it's hard to believe how much Jo-Anne has accomplished. She released a book called We Animals, which T.O.F.U. held its first giveaway for, she was featured in a great documentary called The Ghosts In Our Machine, she's part of a great group of women behind the Unbound Project, and she's still carrying her camera around the world to bring attention to the animals that too often go unseen.
Basically, Jo-Anne is continuing to be an amazing activist, and I couldn't be happier to have chosen her as the second recipient of the T.O.F.U. Grant so many years ago. Of course, if it wasn't for the author, Kathryn Asher, having suggested an interview with Jo-Anne in the first place, I'm not sure when our paths would have crossed! So, it seemed fitting to choose this great piece as part of the Throwback Thursday series here on the blog.
————
Jo-Anne bears witness to the life of animals in the human environment with her lens. Her images uncover the often ignored relationships we have with the animals we abuse. If you find yourself upset by the haunting scenes Jo-Anne captures, you can follow her suggestions for helping animals on the project's website, which offers an exhaustive list from the personal to the political. Also, consider supporting her efforts by making a donation or purchasing a print. Since We Animals' 1998 inception, Jo-Anne's photographs have been the face of dozens of animal advocacy campaigns and have pulled her from her backyard in Toronto to some 40 countries around the globe. She shares some stories and images with us here:
Are you aware of how We Animals has impacted individual people, animals, organizations, or industries?
Hearing from people about the impact that We Animals (WA) has had on their lives and decision-making is one of the things that keeps me going. I receive emails from friends and strangers alike that let me know how the project has affected them and that's really exciting for me. It would be disheartening to be working away on this with no audience. My favourite emails are those that say someone has shifted their eating habits to a vegetarian or vegan diet.
The most concentrated form of cruelty on this planet is the industrialized farming industry; when people adopt a vegan diet they are boycotting a system that needs to end, sending a strong message to others, and helping to stop this form of cruelty to animals. I also love getting letters from all parts of the globe, saying that groups would like to use my images to help animals. That's also my goal with WA, to get the images out there, everywhere, seen and discussed. Recently a woman from Japan wrote to ask if she could have high resolution images of my fur farming photos, which they would print into placards for their anti-fur demonstrations. Wonderful!
Have your initial objectives been altered as the project developed?
Absolutely. Part of the original intention of the project was to collect enough information to produce WA books on various animal- related subjects. I see now though that a much better way of syndicating the work and helping animals is through working on campaigns with any group who needs me and needs good photography. They will get the photos and message to a much wider audience, and faster. I am a photographer by profession and that part of me wants to focus on the development of that path through the conventional methods of career-building, but I have become an activist first and foremost, which means putting the animals and the goals of WA first.
How do you cope with photographing animals in such misery and stave off activist burnout?
I'm still working on that one. I keep meaning to read Rettig's "The Lifelong Activist" and other books that I'm sure will help me. I need to achieve some balance. This pace I'm going at, and the misery I'm documenting is taking a toll on my health for sure. Luckily I have a wonderful community of activists, friends and family. As for photographing all the misery, it just has to be done. This is my "calling," if you will; exposing these problems, and our relationships with animals, through photos. So, onward I go!
How do you gain access to the "hidden" places animals are kept far from view?
Each shoot is different. Access is often gained through a lot of surveillance and with the help of other activists. There is trespassing involved, or entering facilities at night. Often I say I am a photojournalist, doing a story on our relationships with food and/or animals, which is true, and I am granted access. Sometimes I pose as a tourist. Sometimes I just push my luck and go into places in broad daylight and just get as many photos as I can before getting caught (like the bear bile farm in Laos).
What advice do you have for those looking to take on this type of front- line animal advocacy?
This work needs to be well planned and well thought out. Know the consequences of your actions, for yourself (Jail time? A criminal record? Denied access to a country?) and for future activists who might want to do an investigation or film at the same place. If you mess up, a place might enhance security or lock down any kind of public entry, which can really harm a campaign or make it dangerous for others.
What's one of the most inspiring animal stories you've captured?
Dr. Carole Noon, Founder of Save the Chimps, has an absolutely epic story. She successfully sued the US air force on behalf of the 21 chimps who were used for their missions and then sold to biomedical research. She then rescued 266 chimpanzees from the Coulston Foundation in New Mexico, which was infamous for its infringements to the Animal Welfare Act. This is, to date, the largest primate rescue in history. She then appealed for and received funding from the Arcus Foundation to build the largest primate sanctuary in the US. Today, over 250 chimpanzees have been retired to her sanctuary islands and will never be exploited for biomedical research or entertainment again. Epic! I've had the good fortune of documenting at both the New Mexico facility and her wonderful Florida sanctuary. Last week actually, I was there to document the most recent arrivals to the sanctuary; ten more chimpanzees.
One of the most disheartening?
The worst part of my work is leaving animals behind. Documenting the factory farms, zoos, animals in entertainment, etc., means entering a facility with sometimes up to 25,000 animals. I take their photographs in hopes that my work will influence people and reduce future numbers of animals in these hellish places. But I take the photos and then leave them behind. It almost feels like I'm using them; it's awful. There was a dog being sold for food at a market in Vietnam. He was an adult and had been carried there on a stick, hanging upside down, his legs tied together. I took his photo while he lay on the ground whimpering. Sometimes I can help the individuals and other times it's just not possible. As a result, the wounds are deep. When I am hurting about the things I've seen, I remember the individuals that I couldn't help and it motivates me to keep going.
How about some interesting humans you've met along the way?
I'm lucky to know, work with and be inspired by many animal heroes. Some well known, others not. Among them are Jill Robinson (Animals Asia Foundation), Dr. Carole Noon (Save the Chimps), Gloria Grow (Fauna Foundation), the founders of Igualdad Animal in Spain, Lorena Elke, Amber Jade Paarman, Matt Dunn, Lauren Corman (Animal Voices), Susie Coston (Farm Sanctuary), Jane Goodall, Patti Mark (Animal Liberation Victoria), Pam Ahern (Edgar's Mission), Guna Subramaniam, Dr. Devi (Animal India Trust), Karol Orzechowski (film maker), Rachel Hogan (Ape Action Africa). But to really answer your question, the "interesting ones" are those who are choosing to live compassionate lives—those who see the intrinsic cruelty in our use of animals and don't choose to turn their backs.
Which people have most influenced your work artistically?
Sue Coe is so dedicated and prolific. Actually her demeanour inspires me as well. When I spend time with her she's so bubbly and I can't help but wonder how she can do it, considering the subject matter she deals with all day long, and it inspires me to be the same. Other artists who have inspired me are Patrick Brown ("Black Market") and Frank Noelker ("Captive Beauty"). Actually there is a single image that inspired WA, shot by the amazing Sylvia Plachy. I have a copy of her book "Unguided Tour" which isn't necessarily about animals, but there is a photo of a rhinoceros in a zoo, her beautiful horn chopped off, and a camera crew leaving her enclosure. She is completely disregarded. The photograph illustrated how I felt about our treatment of all animals—disregarded, objectified—and I knew that I wanted to make a whole project of photos like this.
If time and money weren't a constraint, what project(s) would you tackle?
Oh wow. The "if I won the lottery" question. This is easy. I would officially make We Animals my full-time job—which it already is, but I also have to do commercial work to support myself and the project. I would have more time to edit, syndicate, work on more campaigns and focus on writing. I have so many stories, thousands of stories about the individuals I have met along the way. They absolutely all need to be told. I would make photo books on countless animal-related subjects. I would dedicate some time this year to building the WA Humane Education program and I'd start talking at schools at least once a week. This would grow into a really big program with comprehensive materials that many teachers could use. I'd hire an admin assistant.
Hmm…this has been an interesting exercise. I don't need to win the lottery to do these things, I just need to wake up earlier, focus, and work harder!
I'd also spend more time advocating for factory farmed animals. Animals produced for food are killed by the billions each week and spend their lives in deplorable conditions. There is an urgency to ending factory farming because of the staggering number of individuals suffering, and also because industrialized farming is one of the leading causes of pollution on Earth. If time and money weren't a constraint, I'd also spend more time writing and just getting all the photos I have out there, more visible, into more campaigns, on more websites and magazines.
How has the exploitation of animals changed since you started the project in 1998 and what do you think this means for the future?
The main difference between then and now is that people are more aware of the exploitation. A few industries have changed for the better but most have not; in fact, many have grown, despite an increased awareness of cruelty. What needs to happen now is the movement from knowledge to ACTION. If we want to change things (and we have to, now, the Earth depends on it, NOW), we have to put our care and our compassion into action. This means an animal-friendly and earth-friendly diet, it means thinking about our purchasing power. Our wallets fuel every industry and things can only change if we shift our spending away from cruel and destructive industries.
How do you think the future will unfold for you—what twists and turns might your career take?
I rarely think about that. I used to have a 12 – 18 month plan but now I seem to be flying by the seat of my pants. However, the We Animals project is my life's work and I don't foresee ever stopping, though I do imagine it growing from an archive of photos into a really powerful humane education program. Whatever happens, I want my future and my career to be entwined with the changing of hearts and minds about our treatment of animals around the globe.
For more information on Jo-Anne and her work, please see her website.
Editor's Note: This piece was originally published in the fifth issue of T.O.F.U. Magazine, which you can purchase in the online store for whatever price you want to pay, including free.
Photo credit goes to Karol Orzechowski of Decipher Films.
Mar. 31, 2016
Comments Off on #TBT | An Interview With Jo-Anne McArthur
Related Posts