Review | Pure & Beautiful Vegan Cooking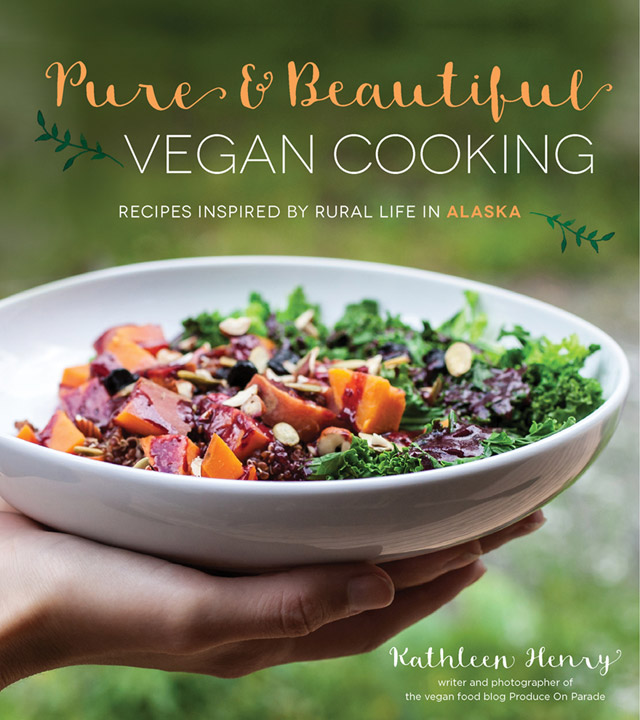 I judge a cookbook by its cover. There, I said it. I also judge cookbooks by their design and photographs, and Kathleen Henry's Pure & Beautiful Vegan Cooking: Recipes Inspired by Rural Life in Alaska does not disappoint. The book is beautifully designed and there is an image accompanying every single recipe. Before I even started cooking from this book, I was in love with it. I was inspired to get into the kitchen and cook just from flipping through the recipes and reading the descriptions, which, to me, is the sign of a great cookbook.
Henry lives in rural Alaska and this cookbook, as the title suggests, is influenced by her location. Yet, as Henry explains in her introduction, this location offers limitations: there are no Trader Joe's or Whole Foods in Alaska, and there is only one Costco in the entire state. You will not find many specialty vegan foods in this cookbook and I love this because it makes the cookbook more accessible. In fact, I was actually able to make many of these recipes without having to do a grocery shop as most of the ingredients were items I already had on hand. The best part is that Henry uses them in fresh and new ways, resulting in recipes that are not only delicious, but also original.
I made several recipes from this cookbook and did my best to make a few things from each section. However, I am celiac and as a result there were some recipes I could not try. Other than the Bakery section, there were actually many gluten-free recipes, or recipes that could be easily adapted.*
The first two recipes I made were the Forest Bowl w/ Blueberry Balsamic Vinaigrette and the Baked Sage Risotto w/ Mushrooms & Chard, both of which are included in the Evenings section of the book. These were my two least favourite recipes initially, but, with some slight adaptations, they have actually become recipes I have returned to more than once. The Blueberry Balsamic Vinaigrette is divine. I have since made it in batches and kept in the fridge and tossed it onto all sorts of salads. For the Forest Bowl, the vinaigrette gets poured over steamed sweet potatoes, quinoa, kale, and then is topped with nuts, seeds, and dried blueberries. Even though the vinaigrette was great, the rest of the dish was bland. Roasting the sweet potato and toasting the nuts could have easily enhanced the flavour of this dish. That same evening, I tested the risotto. I make risotto at least a couple times a month, but I had never had baked risotto. Needless to say, I was excited because throwing risotto in the oven as opposed to constantly stirring it on the stove sounded much easier. Yet, I was a little weary at the recipe—there was a lot of liquid and not a lot of rice. I had my hopes up, but the result was a very liquid and glutenous risotto that had a similar texture to overcooked oatmeal. Despite the texture, it had a great flavour so I gave it another shot later in the week, using less than half the liquid suggested in the recipe, and it turned out great. I am certainly no scientist, but perhaps geographic location and altitude had something to do with it?
I made several other recipes from the Evenings section and one of my favourites was the Walnut-Chickpea Tacos w/ Chipotle Aioli. The taco meat is made from a base of pulsed walnuts and chickpeas and a mixture of your typical taco seasoning spices. The aioli is fresh and tangy and compliments the taco meat well. Instead of the traditional lettuce topping, this recipe calls for green cabbage and I loved it. Not only was the recipe delicious, it was really fast and easy to prepare. Another favourite was the Flaky Coconut Tofu w/ Creamy Chard Jasmine Rice. The coconut tofu was good but nothing special, but the creamy chard jasmine rice was brilliant and wasn't like anything I had ever had before. Steamed chard is blended together with coconut milk, miso, soy sauce, rice vinegar, and ginger, and then mixed into cooked jasmine rice. The result is a beautifully coloured and flavourful dish. I also highly recommend the Chickpea Thai Curry; a simple Thai curry that is packed with flavour and easy to prepare on a busy night.
As for snacks, the highlight for me was the Vegan Queso Dip. I served this dip on two different occasions: at a sangria-drinking gathering with my friends and as an appetizer for a family dinner. Both times, it was a huge success and the omnivores in my life were asking for the recipe. There is no vegan cheese in this recipe, which is a nice change as I tend to throw Daiya into all of my fake-cheese concoctions. I've thrown this queso dip on steamed broccoli and even on veggie burgers. In fact, I'm munching on it with some corn chips as I write this.
The Bakery section of this book contains recipes that make me sad to be celiac (as if I wasn't already). If the pictures and ingredients are any indication, they are sure to be worth trying. The Sweets section had several gluten-free options, which is always a nice surprise. I have never really been one to choose custards or puddings over baked goods, but I had all the ingredients for the Cardamom & Clove Custard so I thought I would give it a try, and am I glad I did! This custard is decadent and the cardamom gives it a cozy and warm feeling. While I have already made this custard a few times, I am sure that it will become a staple this fall. It'll be the perfect companion to scarves, boots, and the smell of bonfires. I also tried the Spiced Rum Banana Pudding, but I found the banana flavour to be overpowering and will therefore be sticking to the custard. One of the last recipes I tried was the Cappuccino Meringues. I had previously found some success making vegan macarons, but I had never had success making meringues. I borrowed my neighbour's electric stand mixer and gave it another shot with this recipe. It is a time consuming journey, but they turned out well. I did not like the coffee flavouring as it left a bitter after taste, which is surprising since I am a coffee addict. Yet, I will definitely be trying these again, perhaps with some vanilla or rose water instead of instant coffee.
When I am trying to decide what to cook, whether it is for a Sunday morning breakfast, a quick weeknight meal, or for a weekend dinner party, I tend to pull out my staple cookbooks and Pure & Beautiful Vegan Cooking will certainly be joining this collection. I highly recommend you grab yourself a copy of this book, but in the meantime, here is the recipe for the Cardamom & Clove Custard to try for yourself!
* For the recipes I tried, if they called for things such as soy sauce or pasta, I just subbed a gluten-free option.
For more info on Kathleen and her book, please visit her website.
Reviewed by Marieke Gruwel
Marieke is a long time vegan and feminist. She loves cats, all things winter, and coffee.
Cardamom & Clove Custard
I have a certain penchant for all things spiced with cardamom and clove; when combined, the two are an elegant pair indeed. If I hadn't thought of the name Produce On Parade, I think Cardamom and Clove would have been an exceptionally fitting name for my food blog!
This dreamy, silky soft custard is firmed up with a bit of coconut oil and spiced with the nostalgic scents of vanilla, cardamom and clove. I love how quick this is to prepare and it's refreshing to dive into a super protein-packed dessert. This custard is as easy and speedy as making a smoothie!
Serves 2
1 (12.3-oz [349-g]) box of firm silken tofu (see note)
1/4 cup (60 ml) melted unrefined coconut oil
1/4 cup (60 ml) maple syrup or agave nectar
1/2 tsp vanilla extract
1/4 tsp table salt
1/4 tsp ground cardamom
Pinch of ground cloves
Drain the tofu of any liquid and place in a blender along with the remaining ingredients. Blend on low to combine everything, then increase to medium speed; blend for 1 minute.
Pour into two small bowls and place in the fridge, covered, for at least half an hour to set. Serve chilled.
Note: I like to use the Mori Nu tofu that comes in a box and is shelf stable, as opposed to the kind that comes in the plastic bin. The tofu must be silken. It's creamy, as opposed to the type of firm tofu you'd use for a tofu scramble. It can be found at Amazon.com, but I buy mine at our local grocery store.
May. 31, 2016
Comments Off on Review | Pure & Beautiful Vegan Cooking
Related Posts