Review | The Great Vegan Protein Book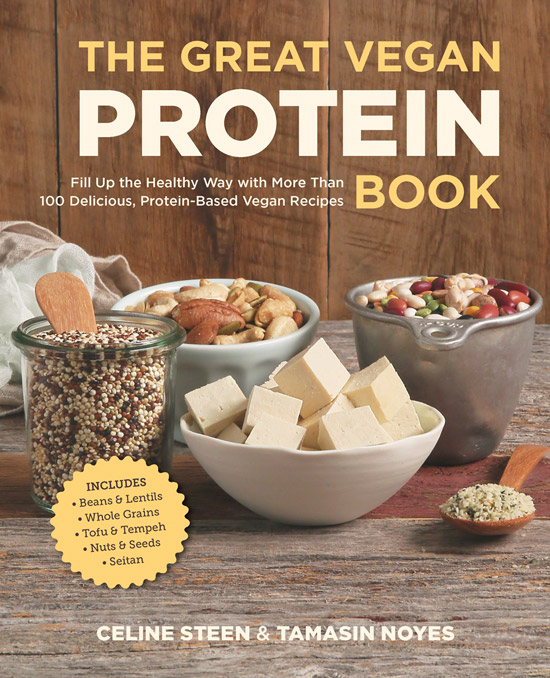 But where do you get your protein?!? How many times has a vegan heard that? People don't care about your protein unless they discover you're vegan. Well prepared vegans can rattle off sources in their sleep: but what if you're a new vegan? Or transitioning? Or stuck in a rut with those pesky proteins? Enter Celine Steen and Tamasin Noyes with their Ode to Protein: The Great Vegan Protein Book. Joining Terry Hope Romero with Protein Ninja and Hilda Jorgensen with her copious library, this cookbook offers up variety, creativity, and tasty dishes.
A thorough introduction walking the reader through all the answers to But Where Will You Get Your Protein? is quite informative: it includes how much protein you actually do need (guidance from the WHO), resources, and in-depth details of all the protein sources included in the book. I found the table of protein/serving to be especially useful when I wanted to up my protein game. Chapters are sorted by protein type: Beans and Legumes; Grain, Nut, and Seed; Tofu and Tempeh; and Seitan, with breakfast, lunch, dinner, and everything in between covered.
Being somewhat stuck in a rut when it comes to my own protein sources, I tackled this book with the lofty ambition to try out some recipes from each section. I almost cooked every bean recipe in the book, such was my indecision. The two that stuck out from all the rest though were the Hummus Bisque and the Spicy Chickpea Fries. I personally feel that hummus should be a food group, so a soup version was definitely on the books. I was very skeptical: hummus is sacred, and to mess with it takes courage. This hummus bisque however was a fantastic lunch. It is pretty much what the name implies: hummus in soup form. The surprises are the addition of sesame oil to amp up the tahini flavour, and the harissa to spice it up a notch. I ate mine with crudités, because old habits. A delightful bowl, and I am so happy that I know that hummus soup is officially a thing. Also from the Beans was the amazingly mind-blowing Spicy Chickpea Fries. I had gotten into a chickpea flour Pudla rut (also included here), and wanted to explore some more with my favourite flour. With a slight tweak to the flour to water ratio, a completely different texture is achieved. With a hefty dose of spices (paprika, cumin, coriander, and garam masala among others) you start by making a Burmese Tofu. Once that is set, fry type shapes are made, coated in corn flour, and baked until crispy on the outside and creamy on the inside. I had to hide the pan, lest I eat them all in one sitting.
The Grain, Nut, and Seed chapter is heavy on baked goods. Being in California at the moment which missed the whole "it's fall, so cool down" memo, I've yet to try any from this chapter. Earmarked for when I can turn the oven on are Nuts and Seeds Breakfast Cookies (who can resist a cookie for breakfast?), the Seed Crackers, and the Crispy Amaranth Patties. What I lacked in the Grain section, I made up for in Terrific Tofu and Tempeh. For the purposes of testing, I made all but 3 so far from this section. To choose my favourites was tough. First up has to be the Reuben Scramble 'Wiches. I think this recipe has everything and the kitchen sink in it, and the result is a tangy, noochy, creamy 'wich (or salad) that I now eat at least twice a week. I can't even begin to try and explain how it all works: It Just Does. Culinary magic. Another favourite that I eat when not eating Reuben 'Wiches is the Well-Dressed Tofu Bowl. This is delightful, and reminds me of my favourite bowls at the Bye and Bye in Portland. The Asian-inspired peanut dressing is light and zingy with the perfect amount of peanut butter. The tofu and vegetable medley match perfectly to the sauce, and the ratio is spot on. Sitting on top of rice (or noodles), this is a lovely bowl to beat the late summer heat. Winner of the "Marinated tofu that's actually worth the effort" award is the Caribbean Tofu. Here they suggest serving it with pasta further amped up with the same spices, and I have no disagreement. The tofu marinade seems to be a mile long, but it includes the island warmth of allspice and nutmeg with hue of turmeric and the spice from cayenne. Liquid smoke, ginger, and white wine join the party for a unique spin on tofu that you just have to try. When tossed with some more of the same spices, vegetables, and pasta, this dish was a lovely surprise and quite a bit different from the traditional Italian sauce approach that I assume when it comes to long noodles.
The Seitan section also is full of creativity. Being gluten intolerant however, I had to substitute the seitan for mushrooms or beans. Lucky for me, Celine and Tamasin realize that there are some folk out there who can't do seitan, and they offer up gluten-free suggestions that match their intent for some dishes. One such dish was the Seitan Saag, which I made with chickpeas (and thus a Chana Saag). This Saag had everything I look for in a quick and dirty meal: heaps of vegetables, tons of flavour and spice from the cumin, coriander, and garam masala trinity, some gentle ginger heat, and a tang of acid from lemon. Great for a quick weeknight dinner and even better when you eat the leftovers the next day.
Recipes are marked with soy free or gluten free "potentials": some substitutions may be required to make them free. All recipes also include protein per serving, furthering the argument that vegans can get plenty of protein (thankyouverymuch). Table of Contents are included at the front of each chapter only, best organized for when you are staring at your pantry, know you crave [protein], and have no idea what to do about it. All recipes are very pantry friendly – I don't think I had to make a special trip once. Very easy and approachable, this book is perfect for the college student with access to a shared kitchen, a timid cook, someone on the move all the time, or someone seasoned in the kitchen but yearning for different ideas. The publishers have let me share a recipe with you, and after some considerable waffling, I have chosen the Reuben Scramble 'Wiches. Try it for yourself: I have no idea how it all works, but it does. It's magic I tell you!
For more information on Celine Steen and Tamasin Noyes, please visit their blogs:
Have Cake Will Travel | Vegan Appetite
Reviewed by Katie Hay
When Katie isn't exploring new cuisines and challenging food conceptions in the kitchen, she can be found at farmer's markets, building and designing bicycles, and planning her next life adventure.
Reuben Scramble 'Wiches
Whether you choose to make these for a savory breakfast dish or a light dinner, you'll love 
the way the spices in the tofu mingle with the sauerkraut to create this very satisfying 
open-faced sandwich. 

For the scramble:
1 to 2 tablespoons (15 to 30 ml) high-heat neutral-flavored oil
1 pound (454 g) extra-firm tofu, drained and pressed, then crumbled
1/2 cup (72 g) chopped bell pepper 
 (any color)
1/3 cup (53 g) chopped red onion
2 teaspoons ground cumin
1 teaspoon ground coriander
1 teaspoon caraway seeds
1/2 teaspoon paprika
1/2 teaspoon ground allspice
1/2 teaspoon chili powder
2 tablespoons (15 g) nutritional yeast
10 cherry tomatoes, halved
2 teaspoons capers, drained
2 cloves garlic, minced
1 1/4 cups (178 g) sauerkraut, drained but not squeezed (some juice reserved)
3 tablespoons (45 ml) reserved sauerkraut juice
3 tablespoons (45 ml) vegetable broth, or water
1 tablespoon (16 g) tomato paste
1/4 teaspoon liquid smoke, or to taste
Salt and pepper
For the 'wiches:
4 slices of rye bread, toasted
Dijon mustard
2 handfuls baby spinach
3 dill pickles, sliced thinly
Yield: 4 servings
Protein content per serving: 16 g
To make the scramble: Heat 1 tablespoon (15 ml) of the oil in a large skillet over medium-high heat. Add the crumbled tofu, reduce the heat to medium, and let cook until browned, stirring occasionally. Add the additional tablespoon (15 ml) of oil if the tofu is sticking. Cook until well browned, about 10 minutes. Add the bell pepper and onion, and cook until the onions soften, about 3 minutes. Add the spices, nutritional yeast, cherry tomatoes, capers, garlic, and sauerkraut. Cook for 3 to 4 minutes, stirring to combine.
Whisk together the sauerkraut juice, broth or water, tomato paste, and liquid smoke in a small bowl. Pour into the tofu and cook for 4 to 5 minutes, stirring occasionally. The liquid should be absorbed by the tofu. Season to taste with salt and pepper.
To make the 'wiches: Spread each slice of toast with a thin layer of mustard. Divide the spinach evenly on the toast, and then layer with the dill pickles. Divide the tofu mixture evenly over top and serve immediately.
Oct. 18, 2016
Comments Off on Review | The Great Vegan Protein Book
Related Posts