TBT | I May Be Vegan, But I'm Not PETA Totes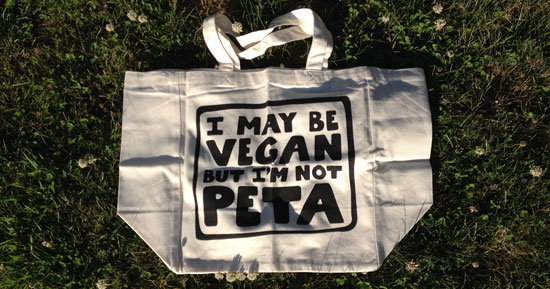 Around the time I was planning The Wild T.O.F.U. Tour, I was also working on some merchandise to bring along with me. Since I had previously printed shirts, and knew how much of a pain it was to stock different sizes, I decided to avoid the whole mess and go with something a little simpler.
So, I settled on totes and aprons, and then went about looking for a supplier. Obviously, like everything else I produce through the magazine, I wanted to make sure the merchandise was ethical, so I focused on finding a company that offered fair-trade and organic cotton. Once I found them, I made arrangements to have both the aprons and totes shipped to a friend of my tour mate, Amanda Rogers, in Syracuse, NY, USA, and he screen printed the logos and related text.
For both the aprons and totes, I relied on another friend, Lance Hancock, to do the lettering needed for the main portions. In the case of the totes, the logo was simply a modified version of one he had designed for me for T.O.F.U.'s tumblr page, I May Be Vegan, But I'm Not PETA.
And so, once the pieces were in place, all I needed to do was make it across the border and pick everything up with Amanda before I started the tour. Of course, just what happened on my way over said border is another story.
Regardless of that, I'm happy to say that the totes sold well, and I was soon faced with the fact that I had no more of them. To this day, I debate printing another run, but other things keep demanding my attention first.
With that in mind, if you're interested in one, please let me know in the comments, and I just might make it happen.
May. 12, 2017
Comments Off on TBT | I May Be Vegan, But I'm Not PETA Totes
Related Posts