TBT | Winnipeg's Boon Burger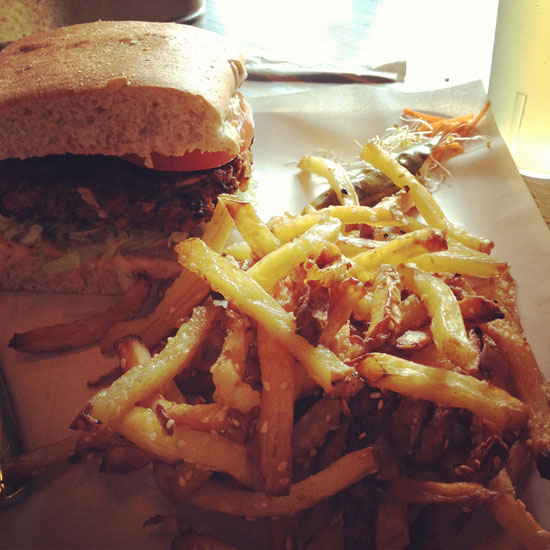 It's possible that I chose this picture because it feels like it's been forever since I had a good burger, but for those who have ever talked burger with me, the fact that I'm throwing back to a pic from Boon Burger in Winnipeg, Manitoba, Canada probably won't be a big surprise. Reason being, no matter how many other burgers I've tried during my travels, Boon continues to reside high on my list. In fact, I might even be willing to say that it's my favourite, but that would mean forgetting about just how good the Big Wac is at Green in Tempe, Arizona, USA.
Speaking of favourites, those who talk to me about vegan travel know that my home away from home away from home continues to hold a special place in my vegan heart, and some are probably tired of hearing me praise Winnipeg over and over. To say that Boon plays a major role in that would be understating things, and I think all one has to do is start with the fact that they offer four choices of patties for their burgers. After that, you can dig into the menu a little more to see things like chili cheese fries, poutine (this is Canada…), soft serve ice cream, and pizzas.
Of course, the place isn't exactly named after its pizza. So, let's talk about the burgers, shall we?
Well, once you've chosen your favourite patty, there's 26 different burger styles to pick from. I'm not going to bother to do the math on this, but I'm confident that four patties and 26 different styles leads to a whole lot of burgers before you get back to eating the same one again.
Did I mention that the patties are all made from scratch, you can buy them frozen in some local stores, and there are also gluten-free options?
So, maybe it's no wonder that publications like Vogue and National Geographic have both trumpeted life in Winnipeg over the last few years? I mean, when you've got this many vegan burger options at a place that doesn't have a line down the block or a waiting list to get in, why wouldn't you pack your bags for it as well? Obviously, that's how these places are being judged, right? Shouldn't all cities be judged based on their vegan burger options?
After all, it was a burger in Halifax that made me feel better about the future of veganism.
*For full disclosure, Boon does now have three locations in Ontario, but your chances of running into a member of Propagandhi at those spots is far slimmer. So, why bother?
Jul. 06, 2017
Comments Off on TBT | Winnipeg's Boon Burger
Related Posts