TBT | Banh Mi Please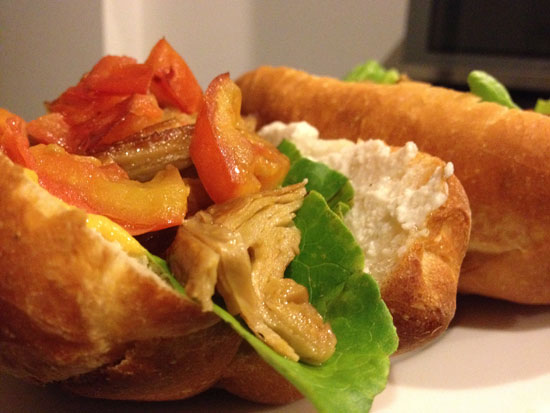 It's only been about a week, and I'm already throwing back to my time in Ho Chi Minh City, Vietnam. Of course, if I was being completely honest, I was thinking about this sandwich pretty much since the moment I finished it, which was far too long ago. Granted, I made a lot of sandwiches during my last house sit in HCMC, and that was partially due to having all the ingredients I needed within an easy walk of the apartment, but I'm fairly certain I could have gone for many more.
Now, as I settle-in to a long-term sit just outside of Chiang Mai, Thailand, I'm not quite sure when I will have another sandwich. As I've mentioned before, I'm travelling and eating on a strict budget, so my time in Thailand mainly consists of either eating beans and rice at home or going to food courts and other cheap options when possible. Bread isn't exactly a common thing here, which means it's not terribly cheap. Plus, if I'm being honest, it's usually not that great either. Well, it at least doesn't compare to the last bit of bread I talked about on here.
In the case of this sit, my options for cheap restaurants are not nearly as plentiful as they were when I last sat in Thailand. Plus, despite so many people proclaiming Chiang Mai to be the vegan heart of SE Asia, the house I'm in right now is far away from where that heart beats. In fact, I'm probably located around the knee or the big toe, if one is to take that metaphor a little further.
Granted, the sound of frogs, lizards, and various insects is great to fall asleep to at night, but I wouldn't mind having a food court just down the street too. Needless to say, the last week here has consisted of me eating at home, along with one visit to a 7-Eleven soon after I arrived. Despite the fact that it may very well be cheaper to eat out in Thailand than to buy groceries, I'm not really in the mood to walk for 40mins to get a cheap curry each evening. Sure, as I get further into the sit, I very will might change my mind (especially if I start using the bicycle here), but for now I'm hanging out with the dogs and sticking with a basic menu.
Of course, that also means that I'm sitting here reminiscing about the time I had a half dozen or so banh mi buns in the kitchen and plenty of veg meats, tomatoes, lettuce, vegan mayo, and mustard to pile on top. Basically, I'm missing HCMC, and I'm not afraid to say it. Okay, I guess I've already said it plenty, but if you had at least one of those sandwiches, I think you would understand why!
Aug. 17, 2017
Comments Off on TBT | Banh Mi Please
Related Posts