Review | Veganism in an Oppressive World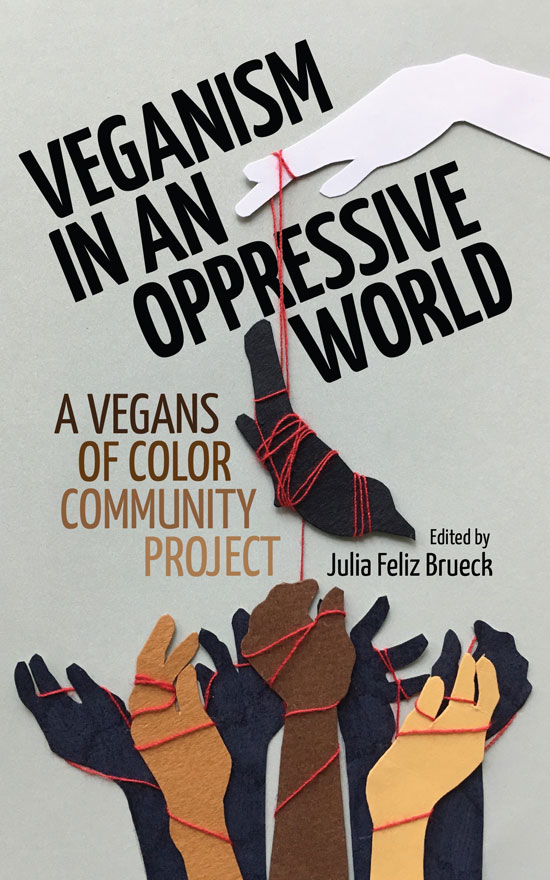 In my limited experience, veganism is a term that is either met with a lot of disapproval or lots of support. Personally, I have mostly been on the fence about the topic as it has always sounded elitist, especially since I have limited economic power and a lack of resources around me. Luckily, thanks to Veganism in an Oppressive World: A Vegans of Color Community Project, I now understand that another reason why I've been on the fence about veganism is that I don't know enough about the subject.
By placing itself as a book which is "a community‐led project by vegans of color in an attempt to use our own voices to raise those of nonhuman animals", Veganism in an Oppressive World separates itself from the elitism that I have always been wary of due to the binaries created by veganism. Instead, through incorporating the lens of race, the book advocates for a broader approach that is "intersectional, consistently anti‐oppression, and understanding of all communities."
Within this framework, veganism is shaped as a movement that clearly outlines the oppressor versus the oppressed relationship of humans and nonhumans. The editor, Julia Feliz Brueck, actually defines it as a political movement that seeks justice for an oppressed group, and looks for possibilities within the veganism paradigm for defining the specific guidelines that will aid humans in achieving liberation for nonhuman animals from human animal exploitation.
Through considering oppression, the book also illustrates that the mainstream vegan movement is oppressive in nature and unwilling to take into account the very real struggles and racialized history that keep whole communities of people from embracing a lifestyle that is easily attainable for some. For myself and others, understanding that easy access to grocery stores, farmer's markets, and other venues that offer fresh foods are privileges not always afforded to many people is a crucial step that the vegan movement needs to take.
Along with this, the book also questions the promotion of veganism in terms of health or the environment as a driving force for its adoption. Critiquing such motivating factors as "human-centric", the introduction argues that health or the environment puts human needs above those of nonhuman animals, which is counter to the purpose of the movement itself. Through poetry, short reflections, and essays, the rest of the book goes further to connect the dots of struggles across different nationalities and ethnicities by criticizing other things such as the pervasiveness of whiteness within the movement, and the problem of labelling products "cruelty-free" when they exist within a capitalist system that oppresses workers (frequently people of colour) in order to be created.
Overall, the book is a good read for anybody seeking to educate themselves through the words and work of those outside of the contemporary vegan movement, which I hope includes you.
For more information about the book, please visit Sanctuary Publishers' website.
Reviewd by Anuj Sharma
Anuj Sharma is a communications professional with a keen interest in the environment and ecology. In his current attachment with Government of India, he is helping to publish, restore, and digitize Gandhian literature.
Facebook | Linkedin
Editor's Note: Sanctuary Publishers and I thought it might be good to include a short interview with the artist behind the cover of the book, so you can find that below.
Why did you choose to be involved with the project as an artist?
For a long time I've been interested in finding a way to mesh my art practice with my work in vegan and anti-racist activism. This opportunity provided a unique way for me to use art in a meaningful and collaborative way to promote justice for both humans and nonhumans. I was also very interested in the concept; ensuring that VOC were involved in all aspects of the book. I'm very excited to have been a part of this project!
What was your inspiration behind the elements included in the cover?
I worked with Julia with the initial idea, which was a bird tangled up and suspended by a single thread. The thread was meant to symbolically represent the often subtle and intricate workings of white supremacy, colonization, and capitalism. Thus, the white hand symbolizes the concept of whiteness as having a direct influence on nonhuman animals and POC, who are entangled in the same system.
The pieces in the composition appear to have been made by hand. If so, is this reflective of your usual style as an artist? How would you describe your style of art?
Yes, this image was made by hand using paper-cutting as the medium. This is actually not reflective of my usual style; I used this opportunity to branch out and experiment with materials that I'm not typically drawn to. I felt compelled to use paper-cutting because it lends itself well to highly symbolic images where realistic rendering is not necessary to communicate the message. I think of my style of art as illustrative and narrative. If you're interested, you can see more on my website or follow my new greeting card business on Instagram.
Meneka Repka is an artist and teacher living in Calgary, Alberta. She holds a PhD in education, and is an instructor at the University of Calgary.
Website | Instagram
Feb. 27, 2018
Comments Off on Review | Veganism in an Oppressive World
Related Posts