Review | Real Food, Really Fast by Hannah Kaminsky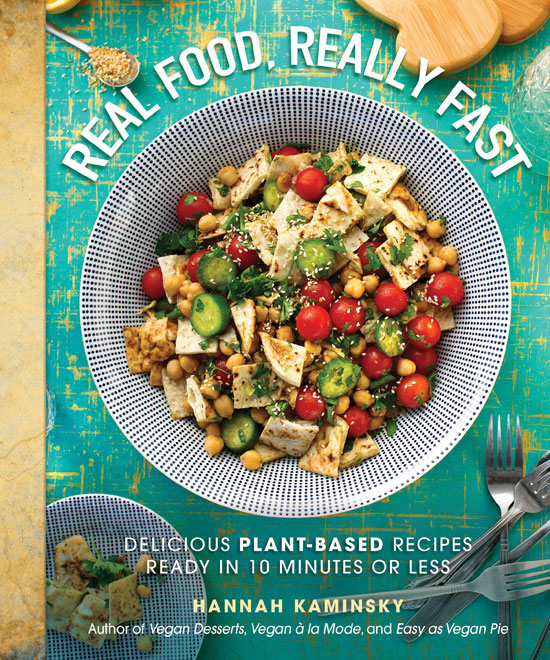 Real Food, Really Fast is the newest cookbook by Hannah Kaminsky of the blog Bittersweet. Perhaps best known for desserts and the photography talents she has lent to many projects, this cookbook ventures into the realm of cooking in a hurry. The byline of the cookbook is 'Delicious Plant Based Recipes Ready in 10min or Less' and in my testing I found that to be true. In keeping with the theme, this review will be a stream of consciousness written in 10 minutes or less. And … GO!
Hannah starts out with extremely useful tips of how to actually cook in 10 minutes. Cook – not throw things together and hope for the best. My three main takeaways were:
approach the kitchen with a plan. A mindset to kick some serious butt.
Never underestimate the powers of canned goods.
Pre-made spice blends are amazing.
Broken out by meal type, I created my game plan to tackle speed cooking.
I was immediately floored by the Jamaican Jerk Chili. A giant flavour bomb, this exceeded all expectations and set the tone for the rest of the book. The Jamaican flavour comes from the made on the spot spice mix that is somewhat lengthy. Clock in mind, I pre-measured out all spices and put it in a 1/4c. measuring cup to dump in later. The chili has both beans and tempeh for protein and texture. Molasses adds a rich depth, and tamari a different source of salt. The flavours are layered and complex and downright delicious.
Next was the Pho King Salad, which can best be described as a salad pho drizzled in Thai peanut sauce. I made the version with Hannah's recommended add-ins of cucumber, cabbage, and bell pepper to join the saucy noodles, sprouts, fresh basil and cilantro, and a super simple peanut lime sauce. I actually managed to make it in eight minutes, a new cooking personal best*. I loved the contrast of the noodles and the crunchy veggies and greatly appreciated the colour. The spices lent a surprise to the typical quick-and-dirty Thai peanut sauce that had me slurping up all the noodles. A winner for sure.
Finally, the Grilled Caesar Salad was phenomenal. A very short and super simple ingredient list did not compromise on flavour. I love charred broccoli for the flavour the char brings and am now a convert to grilling romaine – same effect, less time. The dressing gets body from pureed white beans, which is fantastic – the dressing is light and creamy simultaneously. The capers add the brininess that comes to mind with Caesar's, balancing out the umami from the nutritional yeast nicely. A deceptively simple recipe bursting with flavour.
Time is almost up – 10 minutes goes by fast! I loved this cookbook. It is by necessity very simple to execute. Hannah writes the recipes in an easy to follow manner with steps that flow so you can Get It Done. This cookbook is for the days when takeout seems like too much effort. When you've had A Day and all you want to do is curl up with Netflix and have dinner magically appear. No magic here – just 10 minites for bold flavour and dishes to suit most of my cravings.
The publishers have allowed me to share a recipe, and I have decided on the Jamaican Jerk Chili, as I have made that no less than five times since completing my (first round of) testing – so pretty much every meal last week.. I hope you enjoy this glimpse into speed cooking, and see how fast doesn't have to mean lettuce mix + Sriracha with hummus dressing dinners (that just may be me …).
*I tested over 20 recipes during the Olympics, and may have been overly inspired by them. I clocked everything.
For more information on Hannah and her cookbook, please visit her website.
Reviewed by Katie Hay
When Katie isn't exploring new cuisines and challenging food conceptions in the kitchen, she can be found at farmers' markets, building and designing bicycles, and planning her next life adventure.
Jamaican Jerk Chili
Makes 6–8 Servings
Sound the alarm! It's hard to say where this Caribbean-inspired stew might rank in terms of pure Scoville units, but it definitely brings the heat. Unassuming little habaneros contribute the blistering blaze, turning up the heat with even the smallest addition. If you'd prefer a full-flavored blend that simply has a bit less fire power, feel free to omit the fresh pepper entirely. The unique Jamaican-style seasoning still packs a spicy, savory punch.
1 Tablespoon Olive Oil
8 Ounces Tempeh, Crumbled
1/2 – 1 Habanero Pepper, Seeded and Finely Minced
2 (14-Ounce) Cans Black-Eyed Peas
1 (14-Ounce) Can Fire-Roasted Diced Tomatoes
1 (6-Ounce) Can Tomato Paste
2 Tablespoons Molasses
2 Tablespoons Soy Sauce
1 Tablespoon Dehydrated Onion Flakes
1 Tablespoon Garlic Powder
2 Teaspoons Dried Thyme
1 Teaspoon Ground Allspice
1 Teaspoon Hot Paprika
3/4 Teaspoon Ground Black Pepper
1/2 Teaspoon Cayenne Pepper
1/2 Teaspoon Crushed Red Pepper Flakes
1/4 Teaspoon Ground Cumin
1/4 Teaspoon Ground Cinnamon
1/2 – 3/4 Teaspoon Salt
Set a large saucepan over medium-high heat and add the oil and crumbled tempeh. Sauté for a minute or two, until lightly browned, before adding in the minced habanero. Cook for a minute longer to release the volatile oils of the pepper that contain all its fiery flavor.
Simply incorporate all the remaining ingredients, starting with 1/2 teaspoon of the salt, and stir thoroughly to combine. Cover and bring to a full boil. Reduce the heat to medium and simmer for 3–6 minutes, stirring periodically, until slightly thickened and hot all the way through. Add the remaining salt to taste, if needed.
Quick Tip: Don't have a particularly well-stocked spice rack? Grab a bottle of Jamaican jerk seasoning blend and use 3 tablespoons of the mix instead of the individual spices called for, from the onion flakes straight through to the salt.
Apr. 03, 2018
Comments Off on Review | Real Food, Really Fast by Hannah Kaminsky
Related Posts