T.O.F.U. Talks: Fat Positivity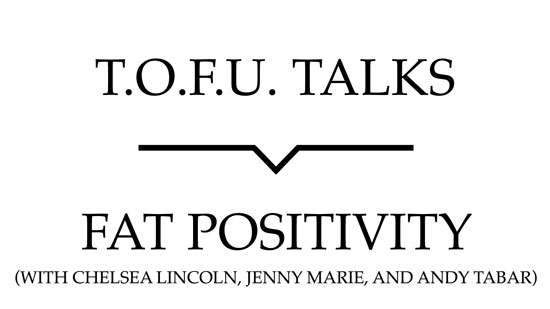 I've been so caught-up with finalizing articles for the next issue and hopping around Saigon, Vietnam from housesits to hostels that I forgot to post on the site about the next T.O.F.U. Talks live chat. So, here's the info:
Sunday, 9 December 2018
11:30PST
Continuing the T.O.F.U. Talks series, T.O.F.U.'s Editor, Ryan Patey, will be talking with Chelsea Lincoln of Fat Vegan Voice, Jenny Marie, and Andy Tabar of The Bearded Vegans and Compassion Company about fat positivity and the importance of it within the vegan community (and the world in general). Over roughly an hour, Ryan will ask the guests a series of questions before opening it up to the audience.
Note: The event will be happening on the Face2Face platform, not through Facebook. When the event starts, you will be able to join here.
For those on a mobile device, you can view the chat on T.O.F.U.'s YouTube channel. However, you unfortunately will not be able to post questions.
About Chelsea Lincoln
Chelsea Lincoln has been doing social justice work around veganism and fat acceptance for over 20 years. She recently started the Facebook page and corresponding blog, Fat Vegan Voice, as a platform to dismantle fatphobia in the vegan community and share insight from fat vegans.
About Jenny Marie
Jenny is a fat vegan living in Manchester, UK. She is passionate about fat-positive and anti-oppression veganism. Jenny lives with M.E. and Borderline Personality Disorder which means she's super fun at parties (if she ever makes it to the party). Her fat heroes are Lindy West, Jes Baker, Virgie Tovar, Ragen Chastain, and Rachele Cateyes. She thinks we need more high profile fat vegan heroes.
About Andy Tabar
Andy is the co-host of The Bearded Vegans, a weekly podcast featuring nuanced discussions regarding all things vegan. Additionally, he is the founder of Compassion Company, an organic, USA made, sweat shop free, vegan clothing line.
For more info, please see the Facebook event page here.
Dec. 09, 2018
Comments Off on T.O.F.U. Talks: Fat Positivity
Related Posts