TBT | Fat Positivity and Veganism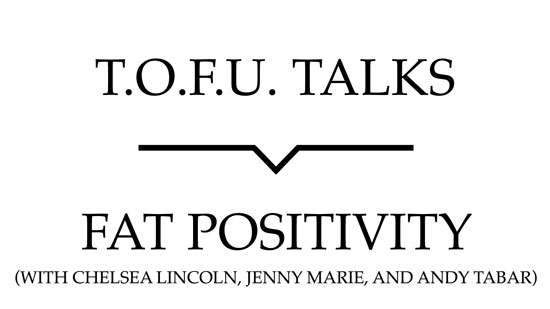 I know I've done a TBT in relation to fat positivity before, but this time I've got something else to reference outside of the issue on body image. This time around, I've got the last T.O.F.U. Talks live chat, which focused on fat positivity, and a number of resources in case you might want to learn more from plenty of folks involved in the fat positive community.
First, I recommend that you watch the chat to hear what Chelsea Lincoln of Fat Vegan Voice, Jenny Marie, and Andy Tabar of The Bearded Vegans and Compassion Company had to say about fat positivity, the vegan community, and so much more.
Are you done? You're not trying to skip a step, are you? Seriously, it was a really great chat, and I highly recommend that you watch the whole thing. I'll wait.
Alright, I trust by this point that you've watched it. So, as Jenny suggested, I'm including a bunch of folks and sites that you can check out to learn more about the fat positivity movement.
From Chelsea
Websites
Fat and Vegan IG Accounts
Fat Positive IG Accounts
From Jenny
Vegan Folks
HAES-Friendly Vegan Accounts (Thin People I Think)

General HAES/Fat-Posi

Non-Vegan (I Think), But Inspiring Fat People
There are also quite a lot of articles on the Big Fat Vegan Zine page.
If you've got any other suggestions on folks to follow or websites to check out, please feel free to leave them in the comments.
Feb. 21, 2019
Comments Off on TBT | Fat Positivity and Veganism
Related Posts